Myrtle Beach, South Carolina
The Beach Is The Center Of It All
It's easy to see why Myrtle Beach isn't just any beach, it's The Beach! Filled with wide beaches, top-notch restaurants, dazzling theaters, thrilling attractions, excellent accommodations, and more, Myrtle Beach is the perfect beach destination. With so much to see and do, everyone can find their best self here at The Beach!
There's A Reason People Call Myrtle Beach "The Beach"
Here, you become your best self. It's a place where you can let loose, let it ride, and go with the flow.
On Location: Myrtle Beach, South Carolina
Explore the unique neighborhoods of Myrtle Beach.
Pirates Voyage in Myrtle Beach is Always Fun to Visit! Especially on National Sea Lion Day!
Welcome to the Places, Faces and Tales of Myrtle Beach Seafood! | On the Hook
On the Hook is where you can find the answers to all your questions! How do I clean a fish? What seasonings should I use on grouper? Why does fish taste like this? What's life like as a shrimp boat captain? Learn all this and MORE from Dylan Foster, our seafood expert right here in the Seafood Capital of South Carolina. Trust us ... your cooking game will be changed forever. Check out www.visitmyrtlebeach.com/onthehook for more!
Important Pool Safety Tips
Keep your kids safe at the pool while on vacation in Myrtle Beach by remembering these key safety tips.
Things To Do In Myrtle Beach
Myrtle Beach Boardwalk
Stroll along the Atlantic Ocean on the Myrtle Beach Boardwalk and Promenade, a mile long stretch of restaurants, attractions and shops with stunning views.
Myrtle Beach
Featured Places
Places to Eat In Myrtle Beach
Myrtle Beach offers a wide variety of restaurants from kid-friendly places to high-end eateries and everything in between. Grab a drink al fresco or try a new international cuisine ranging from Thai to Dominican. Or bring the whole gang to one of our many all-you-can-eat seafood buffets and enjoy a plate of crab legs! With over 2,000 restaurants across the Grand Strand, your next perfect bite is waiting for you at The Beach.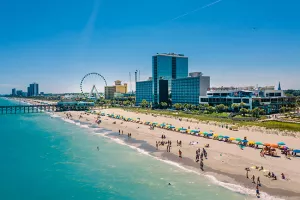 Places To Stay
A relaxing Myrtle Beach vacation is at your fingertips - and the perfect place to recharge for all your fun vacation adventures is at the top of your wish list! There are a variety of accommodation options to choose from in Myrtle Beach, whether you are looking for a resort or hotel, condo, or campground.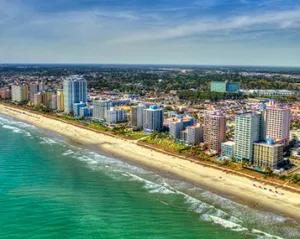 2023 Deals On Places To Stay
Make your perfect vacation to The Beach even more affordable by using these savvy deals on Places To Stay for your trip to the Myrtle Beach area.
Myrtle Beach
Featured Places