From families to fraternities, your group belongs at The Beach
When you're looking to reconnect with family or friends there isn't a better place to meet than Myrtle Beach, South Carolina. Within our 14 unique communities and 60 miles of sandy beaches, there are endless ways to have fun, reminisce and relax.
With pleasant weather year-round, your group might enjoy guided or self-guided tours of historical sites, botanical and sculpture gardens, or state parks. More active groups might prefer catching up over a round of golf at one of 90 area courses or fishing from a chartered boat.
When your group gets hungry, they'll find over 2,000 restaurants to choose from in the Myrtle Beach area. From morning pancakes to seafood lunches to evening cocktails, your options are plentiful.
Every group is different, and that's where Myrtle Beach shines. There are endless ways to personalize a trip, so check out our guides and ready-made itineraries to begin planning. The best way to get started is to contact someone from our team so we can offer hands-on help.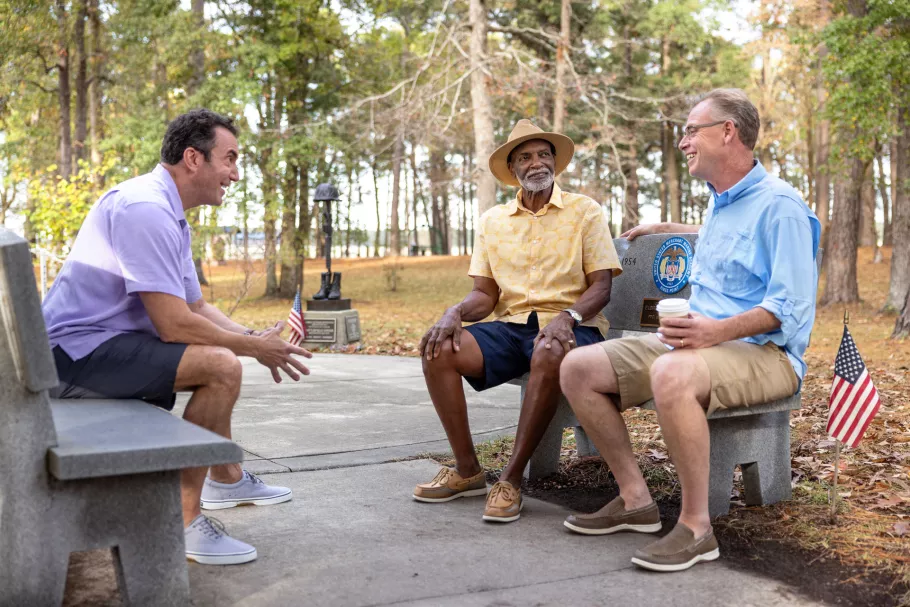 Military Units
Active and retired military units will enjoy the Myrtle Beach area's idyllic surroundings and pleasant weather.
Our world-class golf courses and exciting live entertainment are loved by many veterans throughout the year, while tours of historical sites and day trips to nearby attractions allow them to get out and explore.
Groups wanting a low-key experience can take advantage of the many hospitality suites found in our outstanding hotel properties.
This makes reconnecting and enjoying one another's company much more relaxing and memorable.
Family Reunions
Anyone that has planned a reunion in the past has most likely experienced the frustration and time-consuming ordeal of deciding where to stay, what to eat and what to do.
The Myrtle Beach area has long been known as a favorite family beach destination, providing 60 miles of beautiful, sandy beaches and thousands of restaurants and attractions to those visiting our shores.
For those interested in worshipping together on Sunday morning, the Myrtle Beach area boasts hundreds of churches. No matter the size, reunions along the Grand Strand leave an unforgettable impression that has members eagerly awaiting next year's trip.
Reunion Planning Resources
Contact our reunion specialist about lead service for your group. Through this service, your reunion's requests will be supplied to area hotels, facilities, restaurants, and attractions. In turn, these businesses will submit bids directly to you with information about their options and costs. This service can save you time from phone calls and research.
Click here for other complimentary benefits available through the CVB including The Official Myrtle Beach Area Visitors Guide™, VIP Discount Card, bags for registration materials, and welcome letters from local officials.
In addition to complimentary services, if you would like to provide your group with a special souvenir to commemorate the occasion, official Visit Myrtle Beach™ memorabilia is also available for purchase (at wholesale prices) here.
Click here for our reunion specialist or click here to request a copy of the Group Planner Guide. For 15 rooms or more per night click here to request a proposal. For 15 rooms or less click here to plan your vacation.
Inspiration Guide
Get your Official Myrtle Beach Area Meetings and Groups Inspiration Guide.
Reunions & Specialty Groups Guide
View the Reunions & Specialty Groups Guide.
Student Guide
View the Myrtle Beach Student Guide.