Surfside Beach, South Carolina
A Town Where Quality Time Comes Easy
Incorporated in 1964, Surfside Beach has long been known throughout the Grand Strand as a "family beach." For a game of tennis, bocce, shuffleboard and much more, you don't have to look further than the town's seven public parks. Surfside's pristine beaches are cleaned daily and supervised by lifeguards and police, and there are several beach access points that offer showers, restrooms and accessible ramps for persons with disabilities. In 2016, the Surfside Beach town council signed a proclamation to make Surfside Beach the first autism-friendly travel destination, thus further establishing their reputation as a beach for families.
Did You Know: Myrtle Beach & Surfside Beach are Autism-Friendly Destinations
Paul and Mary Stein with Daxton share their autism-friendly Myrtle Beach vacation story.
Myrtle Beach Karaoke in Surfside Beach
Julio hits "The Family Beach" for an offseason excursion, taking in the beautiful weather October brings and hanging with some families on Fall Break in Surfside Beach.
The Beach's Best Bagels
In this episode, Johanna visits Benjamin's Bakery in Surfside Beach. Benjamin's is a staple of the Grand Strand community, known for their baked goods and coffee. They have been supplying breads and other baked goods to restaurants in the community for years and years - so chances are you've eaten a roll from Benjamin's Bakery!
Visit Surfside Beach, South Carolina
Surfside Beach is an excellent little beach community just south of Myrtle Beach, SC! For amazing rental homes, quaint restaurants and more, check out Surfside Beach. It's also an "Autism Friendly" destination, and has been since 2016.
Surfside Beach
Featured Places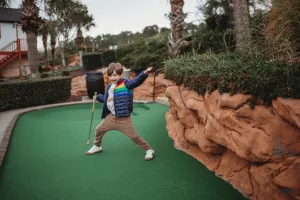 Sensory-Friendly Vacation Guide
Did you know that Surfside Beach was the first sensory-friendly certified destination in the country? Surfside Beach became a certified autism-friendly destination in 2016, with the Myrtle Beach area following shortly after. Check out how the Myrtle Beach area supports autism families.
Sensory-Friendly Travel Tips
With almost 100 businesses across the Myrtle Beach area pledged to be sensory-friendly, The Beach's mission is to help autism families travel to the area together, and have a great time. If you are a family with limitations due to autism, here are some travel tips to make the trip go smoothly before you even arrive.