Best Restaurants in Surfside Beach
Surfside Beach, SC – AKA The Family Beach – is home to a bevy of popular restaurants and eateries. They have everything from fresh seafood to Italian delicacies and certainly something for every appetite. There are plenty of great restaurants for date nights, birthday celebrations or just a fun, family dinner so it can be hard to narrow down where you want to eat. I've compiled a list of my personal favorites around Surfside to check out on your next vacation right here.
Valentino Original Italian Restaurant in Surfside Beach is celebrated by both locals and tourists and stays busy year-round. The cozy, casual atmosphere is the perfect hangout for friends and family and offers tasty, scratch made entrees, appetizers, desserts, pizzas and more. I recommend the Grouper Pescatore simmered with clams in marinara sauce over pasta or the Lobster Ravioli. They have some seriously good pizza too!
Crabby Mike's Calabash Seafood Buffet is one of the top-rated buffets not just in Surfside but all over the Grand Strand as well. They've been serving hungry folks on the Grand Strand for more than 30 years with Alaskan Snow Crab legs, roasted Prime Rib, grilled steaks, steamed crawfish, fried okra, shrimp pasta salad and so much more. They have a hot and cold food bar, soup station, salad bar and fruit and dessert bar with homemade cakes and pies.
Scatori's Pizzeria and Restaurant has the best of both worlds in one place – one side is a fun pizzeria and the other is a quaint dining room. Call ahead to make reservations for a dinner you won't regret as you take a risk on the Chef's Tasting Dinner. Chef Kevin creates a new menu for each tasting that can include pasta, seafood, steaks and much more. The regular menu highlights include Fried Shrimp and Cheddar Risotto; Prosciutto Crusted Veal and Shrimp; and Chicken Scatori layered with prosciutto and fresh mozzarella. Local tip - their garlic knots are something to write home about!
Dagwood's Deli and Sports Bar has some seriously good grub and a long list of craft brews. The sports bar offers more than your average appetizers like the Blackened Shrimp or Mahi, Chicken Fritters, Lexi's Favorite Soft Pretzels and their famous "Smokin Joe" Frazier Fries topped with ranch, BBQ and a mixture of cheeses. They serve a ton of amazing Phillies, hot and cold sandwiches and specialty subs. I love the Southwestern Chicken Sub with grilled chicken, red and green peppers, onions, melted provolone and a special ranch sauce.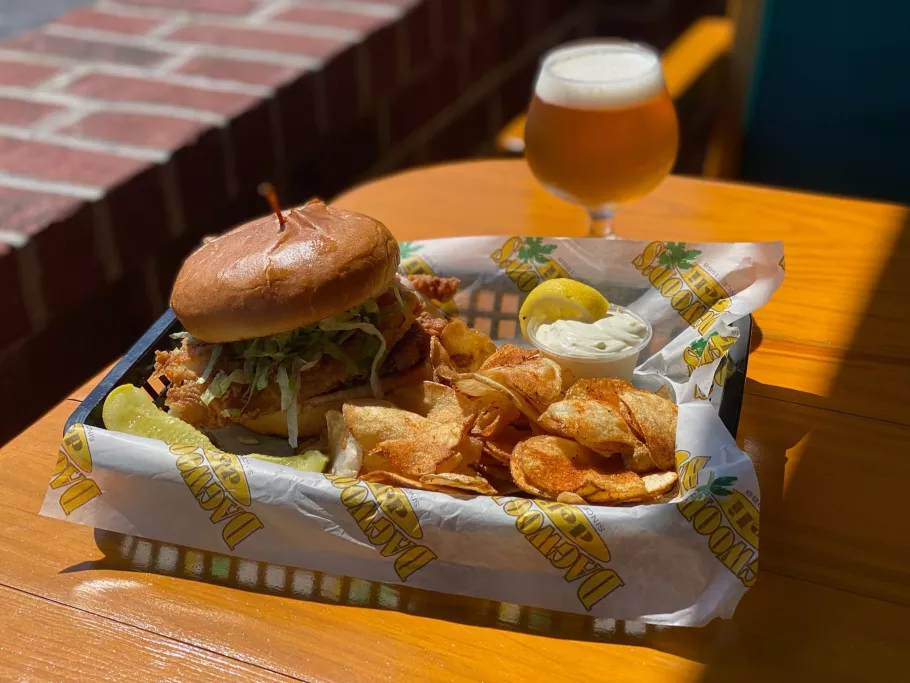 California Dreaming has been open since 1984 and is a great option for date nights, family dinners, lunch with friends and basically any other occasion where food is necessary. Their menu has plenty of great options for even the pickiest of eaters and even those with a more sophisticated palate. Try the steaks, ribs, chops or even the New Orleans Po' Boy with your choice of flounder, fried shrimp or oysters. It sounds simple but they make some of the best salads topped with broiled chicken, salmon, fried shrimp or fried oysters and served with your choice of homemade dressings.
Voted "Best on the Grand Strand," this wacky pizza shop is like no other in the area! All of their pizzas are 10 inches and "WILD" fired Neapolitan style in a 700-degree oven. A local favorite is the Sour Puss pie topped with garlic sauce, dill pickles, fresh mozzarella cheese and dill weed. Other pies include toppings like pork belly, gyro meat, smoked gouda, kale pesto and even carnitas pork. The restaurant also has sammies, salads and a great list of apps.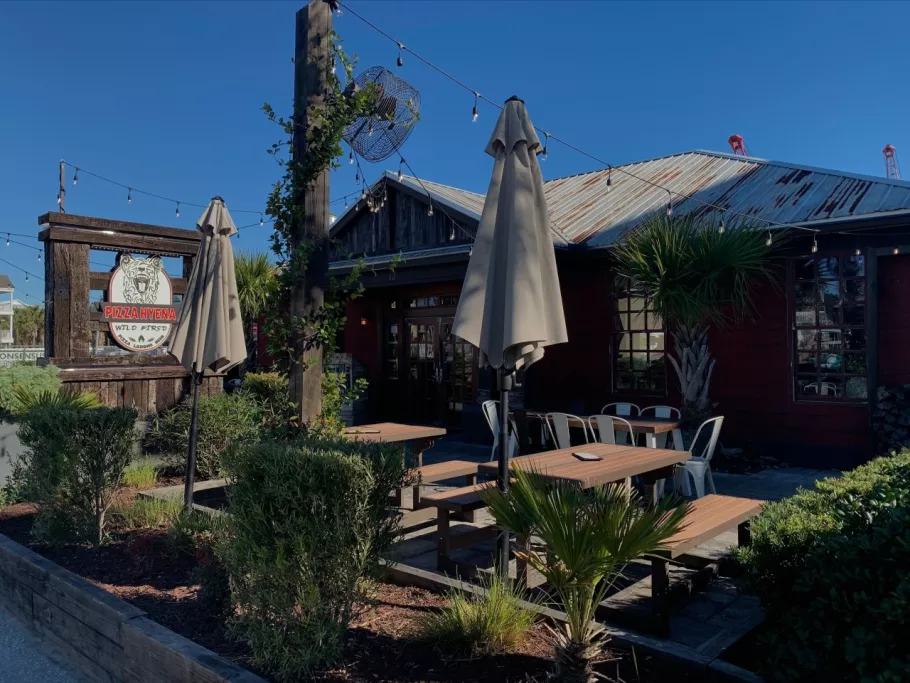 River City Café is arguably one of the most popular burger restaurants and has several locations throughout the Grand Strand. This Surfside Beach location is one of our favorites because of the amazing ocean views. With more than two dozen burgers to choose from, you're going to need advice from a local on which one to pick. My go-to is the Nacho Crunch Burger topped with Doritos, jalapeños, Pepper Jack cheese, lettuce, tomato, onion, guacamole and a spicy chipotle mayo! They also have salads, sandwiches, chicken burgers and a long list of appetizers.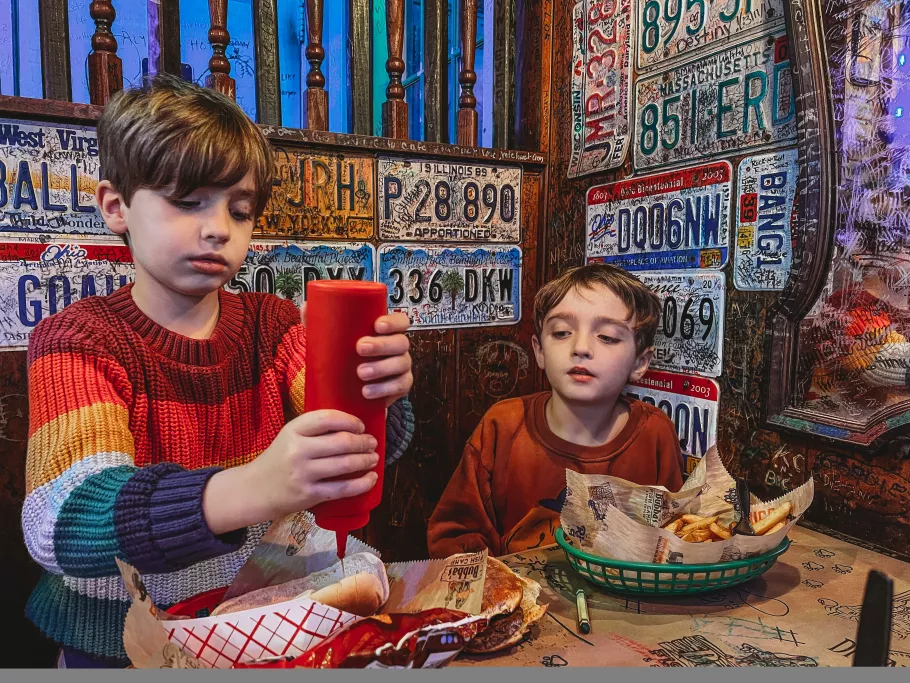 The Hickory smoked barbeque from Bar-B-Q House in Surfside Beach is best described as "lip-smackin' and mouth waterin'" and can be served with your choice of Eastern NC vinegar sauce, Lexington-style red sauce, SC mustard sauce or their super-secret homemade sauce served original or spicy. Bar-B-Q House offers chopped BBQ pork, brisket, smoked chicken, fried chicken and smoked BBQ ribs served with your choice of two sides and Hush Puppies.
Joey Dogg's
Joey Dogg's Dog, Burgers and Fries are always a great choice when your family can't decide where to go when you're visiting Myrtle Beach. It's located just across from Ocean Lakes Campground and offers hamburgers, wings, chicken options, hot dogs, wings, sandwiches and more in a super casual setting. Everything at Joey Doggs is made fresh and never frozen!
This family-run restaurant is a great spot to treat your loved one for a special date night or just a fun night out. Serving up traditional Italian cuisine, it's definitely a top choice restaurant in Surfside to check out. You can expect amazing dishes like eggplant rollatini, fried calamari, Penne Putanesca, Shrimp Risotto and Chicken Parmigiana. Weekly specials include Surf and Turf; Sunday Sauce with Short Ribs; Pork Chop Parmesan and Butternut Squash Manicotti. Reservations are suggested.