North Myrtle Beach, South Carolina
Home Of The Shag Dance
The nine-mile long beach community of North Myrtle Beach continues to thrive, almost 50 years after its inception. In 1968, four existing communities – Cherry Grove, Windy Hill, Ocean Drive, and Crescent Beach – were combined to form the city. Let's see what this fun beach town has in store! 
Myrtle Beach Karaoke at Music on Main Street
Julio is shaggin' on the boulevard in North Myrtle Beach this week for the Music on Main concert series featuring The Catalinas.
Myrtle Beach Karaoke at House of Blues
Music is in the air as Julio explores one of the area's biggest and best live music venues, the House of Blues in North Myrtle Beach. Come join the fun as we sing with Chocolate Chip & Co., and get down to tunes including "Play That Funky Music", "Enter Sandman", "Shut Up & Dance" and many more.
Explore North Myrtle Beach
North Myrtle Beach is one of 14 neighborhoods that comprise the greater Myrtle Beach area (also known as the "Grand Strand." It's a vibrant community and well worth a visit.
How to Cook Maryland Crab Cakes with On the Hook
Dylan joins the chef at Bar 19 Twelve in North Myrtle Beach and fellow Maryland native to cook the best Maryland style crab cakes!
Things To Do In North Myrtle Beach
Prominent annual festivals celebrate everything from St. Patrick's Day to the end of summer. North Myrtle Beach is also the birthplace of the Shag dance, which became the official state dance of South Carolina in 1984. Strains of beach music can be heard in the Ocean Drive section nearly every night as those who love the Shag dance the night away.
While Duplin Winery offers entertainment for adults, Action Water Sportz offers fun on the water for the whole family!
You'll love the small-town charm of this community, which is home to Barefoot Landing and a wide variety of restaurants, entertainment, and shopping options. Right next to Barefoot landing, you'll find the Alabama Theatre, home to dazzling live entertainment ranging from country numbers to comedy shows. 
North Myrtle Beach
Featured Places
Barefoot Landing
From restaurants to live music to shopping, Barefoot Landing is perfect for the entire family. Sit back with a local craft beer at Crooked Hammock Brewery or enjoy live music all year long. 
Restaurants In North Myrtle Beach
North Myrtle Beach is full with amazing restaurants to try, from salty beachfront hangs to exquisite fine dining. North Myrtle Beach boasts some of the freshest seafood around and is known for its laid-back atmosphere throughout Main Street. If you are looking for kid-friendly places, North Myrtle Beach has that too! 
North Myrtle Beach
Featured Places
Looking for more info on North Myrtle Beach?
Explore more things to do, places to stay and restaurants on their website. 
Places to Stay in Myrtle Beach
North Myrtle Beach offers a variety of accommodation choices and plenty of things to do for a perfect beach vacation. There's the perfect beach house big enough for the whole family, or a cozy condo with all the essentials right on the beach. Check out a few of the featured places below.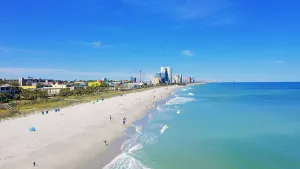 2023 Deals On Places To Stay
All the Best Deals on Places To Stay for your trip to the Myrtle Beach area.
North Myrtle Beach Chamber
City of North Myrtle Beach
Learn more on the city of North Myrtle Beach