Local Seafood Restaurants in North Myrtle Beach and Little River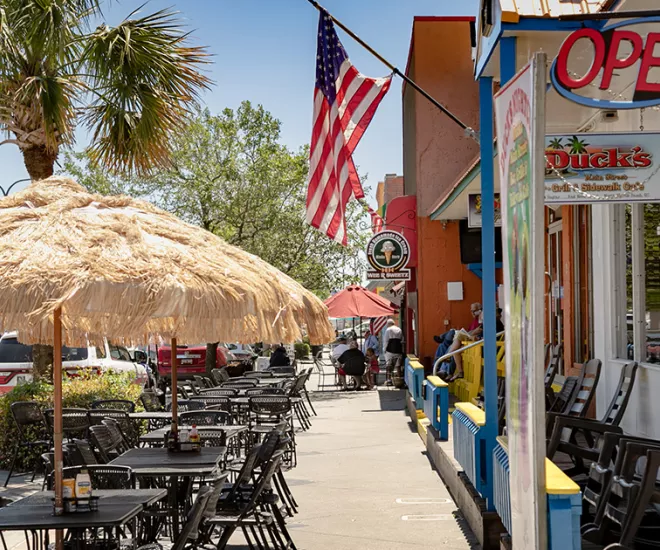 Here at the beach, we take our seafood pretty seriously. I've continued our series of best restaurants for fresh seafood and moved onto the North Strand - technically I broke it down even further to include just Main Street and Cherry Grove to Little River. Here's a taste of where you can get some of the freshest local seafood made up every which way you could imagine along with classic dishes around North Myrtle Beach!
Duffy Street Seafood Shack
Chances are if you've visited North Myrtle Beach, you've already eaten at Duffy Street Seafood Shack on Main Street! The casual restaurant offers a Steam Pot, Low Country Boil, Low Country Crab Dip and oysters served steamed or raw. The Pirate's Plate is great for anyone looking for a variety of seafood including steamed crab claws; fresh, broiled fish; broiled scallops and a quarter pound of steamed shrimp. Duffy's closes for a few weeks during the winter season.
Enjoy a fine dining experience with fantastic food and waterway views. Clark's offers a long list of appetizers and entrees with the focus on fresh seafood as well as high quality beef and steaks. Start with options like Ahi Tuna, She Crab Soup or the Coquina Crab Dip with fresh lump crab, roasted garlic and a Chablis cream sauce. The Carolina Crab Cakes are a huge hit as well as the Clark's Combo featuring your choice of two items like fried select oysters, flounder or shrimp prepared your way.
From fresh sushi rolls to classic Po Boy sandwiches, you'll never leave Boardwalk Billy's without a full stomach! This popular North Myrtle Beach restaurant is tucked away on the Intracoastal Waterway and has more entrees and foods than we can count. A few favorites include the Low Country Boil, Steam Pot, Fried Platter with a choice of three – shrimp, flounder, oysters or crab cakes- and so much more. You may find you need try Boardwalk Billy's more than once!
The award-winning menu at SeaBlue Restaurant and Wine Bar is ever-changing based on the freshest seafood they can get. Specials can include any type of seafood at any time like Oysters Casino with red peppers, shallots, bacon, Panko and Parmigiana or a Crispy Fried Lobster Cake. The dinner entrees have options like Seafood Risotto with scallops, shrimp and lobster; Local Fresh Catch prepare perfectly by the chef; or a mixed seafood platter with lobster tail, lobster cake, shrimp and sides.
This casual Little River waterfront restaurant is loved by locals and visitors and offers endless options of fresh seafood for lunch or dinner. Their fresh fish bites or homemade crab cakes are a great way to start your meal followed by steamed shrimp or Alaskan King crab legs. They serve a variety of sandwiches as well as signature entrees like the North Carolina Flounder or their Grouper special deep fried and topped with onion and a cheese sauce.
Capt. Juel's has been serving up some of "the best seafood in South Carolina" since 1945! They are famous for their Stuffed Flounder which has been on the menu since they opened. Other classics include Shrimp and Grits, Fried Oysters, Fried Scallops, Fried Shrimp, Combo baskets and crab legs. They also offer an extensive sushi menu with appetizers, sashimi, traditional rolls and specialty rolls.
Filet's is located at the famous Swing Bridge along the Intracoastal Waterway in North Myrtle Beach and offers diners a combo of steak, seafood and sushi. Kevin's Ho-made Lobster Bisque (it's good eatin') or the Old Bay Blackened Shrimp Cocktail are great ways to start your dinner. Follow those tasty bites up with local Trigger Fish lightly blackened then broiled topped with jumbo shrimp and melted brie cheese, or the Shrimp and Scallop Scampi.  
Snooky's on the Water is tucked in a private spot along the Intracoastal Waterway with plenty of public docking if you want to take the boat out. Take it from my personal experience and start with the Captain Lance Tower featuring red crab claws, peel and eat shrimp, seasonal oysters on the half shell, tuna poke, jumbo lump crab salad and snow crab legs – the perfect taste of everything from the sea! They have tons of amazing raw bar options as well as delectable entrees like Lobster Mac and Cheese and the Grouper Oscar.