Sensory-Friendly Travel Tips for The Beach
The Grand Strand boasts some of the most beautiful beaches you will ever visit! The sugar sand, warm sun, constant breeze and splashing waves are a big draw! These very same things can also be huge triggers for people with autism. If you are a family with limitations due to autism, there are some things you can do to make the trip go smoothly before you even arrive.
Be Ready for the Beach
Let's start with protecting your child from sun, sand and wind. The beach is beautiful, but it can also be otherworldly and challenging for sensitive kids. Some tools you should invest in before arriving are sunglasses or sun goggles, a swimming body or surf suit (to protect from sand and sun), some sort of shade device like an umbrella or cabana. Each beach has its own rules about sunshade devices so be sure to check on-line to see what is allowed before you invest. A cooler for snacks and drinks is helpful as well. Also keep in mind that not all beach access points have bathrooms so check carefully.

Have a Mock Beach Day
Before leaving for your trip, schedule a mock beach day at your home. Pull out a big towel and set it on the floor or lawn. Set up the shade device, put on your bathing suits, goggles and sun block and play with the hose or pool. If you can access some sand to play with that would be great too. Be sure to rinse your feet off with the hose as there are rinsing stations at many of the beach entrances just for that.
Get Prepared for the Airport
If you are flying into Myrtle Beach International Airport, consider using the autism quiet room before running to baggage claim. There you can catch your breath, grab a snack, and make a plan for what happens next. If you have a map-loving child, check out the airport map and determine your route together. Turn the task of identifying baggage claim signs into a treasure hunt! Myrtle Beach International Airport was one of the first airports in the nation to provide this special room.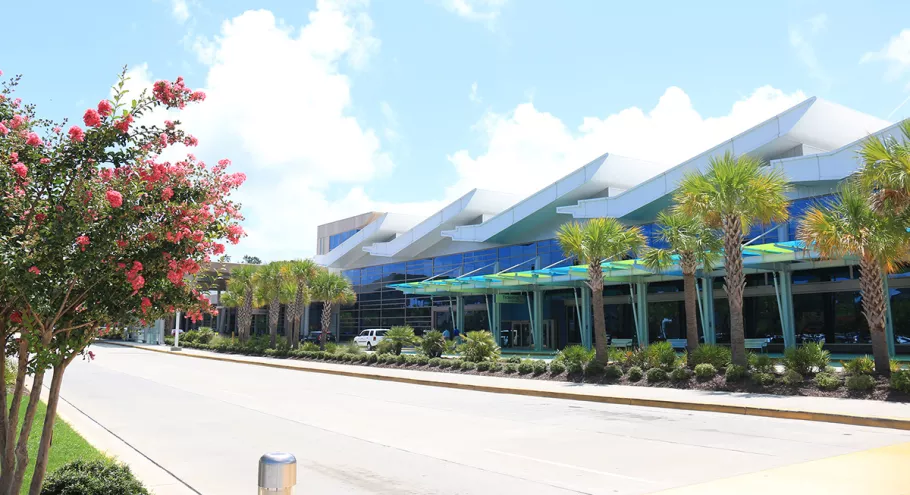 Check the Tides
There are definitely busy times at the beaches. Morning and evenings are the quietest. Evenings are particularly nice as the sun is less harsh and the population is considerably smaller. If you access the tide schedule on-line, look for low tide. This is when the tidal pools appear and make for safer, waveless swimming and opportunities to see a few sea creatures too!
Find Other Places for Swimming
If the ocean just seems too daunting, there are numerous locations for swimming in pools such as the water parks and probably even at your hotel or resort. Many other hotels in the Myrtle Beach area are both certified autism-friendly and have fun waterparks - indoor and outdoor! Myrtle Waves Water Park has a lovely children's area, a lazy river and more exciting rides for thrill seekers.
Check the Firework Schedule
If your child struggles with loud noises such as fireworks, you may want to vacation in Myrtle Beach or Surfside Beach where they are illegal. Some large attractions, such as Broadway at the Beach, have weekly fireworks shows so check their schedule so you can avoid those times. Other places that can be triggering are arcades. Use your best judgement as you know your child best.
Plan Fun Adventures
If you anticipate needing some water adventures, Good Vibes Surfing is skilled at teaching children with special needs how to surf. And if there are some aspiring pirates in your party then make a reservation with Pirate Adventures- Children's Treasure Hunt. This quaint boat brings joy and smiles to both parents and the kids as they go on a treasure hunt and even fight a villain! Even though this boat is targeted for kids age eight to ten, an adult whose emotional development is closer to a child's, is very welcome to come aboard.
For a less rowdy adventure but no less magical, consider a dolphin watching cruise with Blue Wave Adventures. Their small boat and 360 degree viewing ability lets visitors get very close to dolphins. Safety is foremost for them but feel free to call ahead with any concerns. Whatever attractions you chose to invest in, purchase your tickets before you arrive to avoid the long ticket lines and spend more time playing!
Explore Beyond the Beach
A very nice half day trip to consider is Hopsewee Plantation. This beautiful plantation is kept very close to its original state with beautiful moss draped oaks surrounding the historic home. There is plenty of space for running and an overgrown garden provides inspiration for adventure, fantasy play and exploration. Parents can read the historical placards as the kids run off some steam. It's a beautiful, peaceful spot, great for some down time.
Use the CAN Card
And finally, be sure to purchase a CAN card for discounts at local restaurants and attractions. Champion Autism Network collaborates with businesses to provide autism families with special perks. Additionally, throughout the year, CAN sponsors sensory friendly events which are listed on their website. Visit the Champion Autism Network to get your discount card.