Best Burgers in Myrtle Beach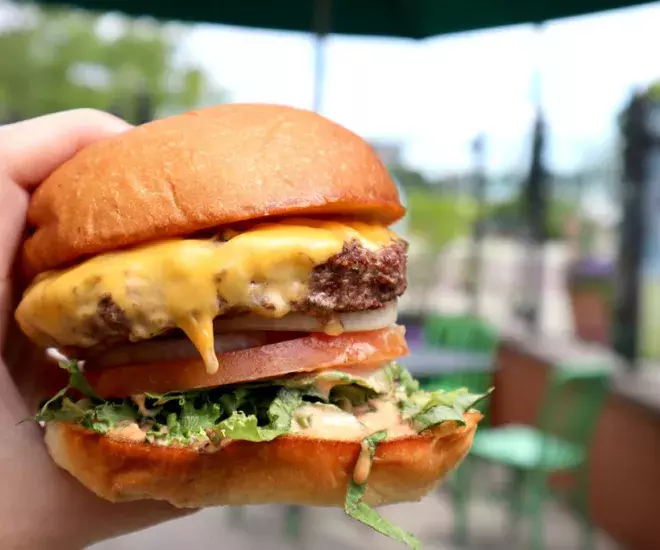 There's nothing like biting into a big, juicy cheeseburger after a long day at the beach! With so many options around Myrtle Beach, it can be tricky to find the best restaurant for a good old cheeseburger. Lucky for y'all, I've picked a few of my favorites from up and down the Grand Strand for you to check out!
local's fav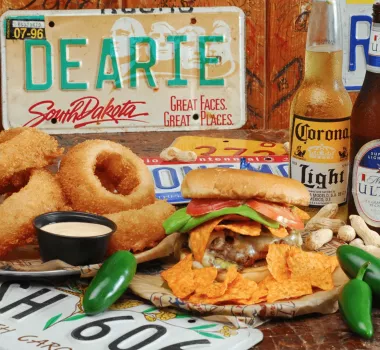 River City Café claims to serve "Myrtle Beach's Best Burger," and for good reason. They've won nearly every "Best Of" contest in town! They use fresh, never frozen burger meat and top it with everything you can think of. Try the Continental Burger topped with a fried egg, hickory smoked bacon, American cheese, and whatever fixings you like. There's even a burger topped with fried Mac and Cheese!
Burky's Grill has been a staple in Myrtle Beach for more than 20 years with its classic diner feel and affordable meals. They take pride in making "good food quickly" and they welcome everyone with a smile. Their griddle-style burgers melt in your mouth and even come as a double if you're really hungry. They're also known for the all-beef hot dogs, Car shows, and ice cream socials!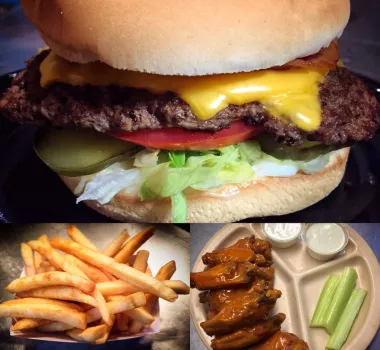 Whether you're near the south strand in Surfside, or visiting North Myrtle Beach be sure to check out Hamburger Joe's. They serve their burgers with "The Best Buns on the Beach" all the way with slaw, chili, and onions. If you're a traditionalist you can also ask for mayo, lettuce, tomato, pickles, extra cheese or extra bacon.
local's fav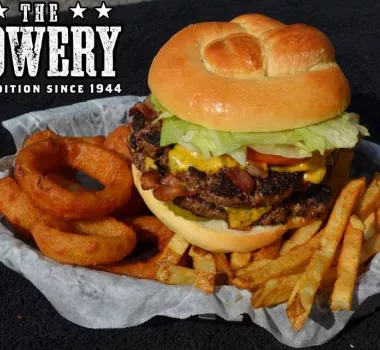 The Bowery is located right along the Myrtle Beach Boardwalk and offers nearly 10 different burgers on its extensive menu. There's Jeff's Fire Alarm Burger with hot sauce, Marks' Bleu Cheese Burger, Randy's Bacon Cheeseburger, or Teddy's Mushroom Swiss Burger. Then there's The Eighth Wonder which is a full pound of fresh Angus hamburger topped with cheese, bacon, and whatever other toppings you like.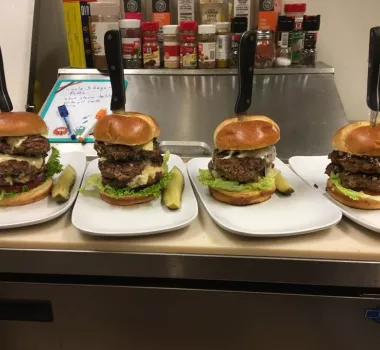 This cool local joint is tucked away in a plaza but packs a powerful punch with a great happy hour, live entertainment, and of course, great burgers. They have nine different options to choose from including a Reuben Burger, Baja Burger, Bacon and Cheddar Jack Burger, Greek Burger with Tzatziki sauce, and an Island Burger with teriyaki, grilled pineapple, and American cheese.
local's fav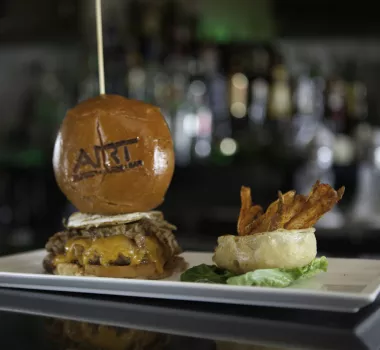 Art Burger Sushi Bar is a downtown charmer! They display local artists' work throughout the restaurant and have burgers named after famous artists and their pieces. The burgers themselves are a piece of art! Try the Munch which is a local SC beef patty topped with thick-sliced roasted pork belly, whole grain mustard, a fried egg, and cheddar cheese. They even have chicken, turkey, tuna, and veggie burgers.
7.
Greg's Cabana Bar and Grill
Whenever the question of where to get a great burger at the beach gets brought up, Greg's Cabana Bar and Grill is always mentioned. The South Strand restaurant has 10 different burgers to chow on, including two newbies recently added to the menu. The Carolina Burger comes char-broiled smothered in homemade chili, sliced onion, coleslaw, mustard, and American cheese. The Steakhouse Burger is char-broiled and topped with a Burgundy steak sauce, caramelized onions, Swiss cheese, and bacon strips.
8.
Backyard Sports Bar and Grill
The juicy burgers at Backyard Sports Bar and Grill are seven-ounce, hand-pressed patties cooked your way. Try the My Boy Blue which comes topped with bacon, crispy onions, bleu cheese crumbles, and a horseradish steak sauce. Other notables include the Roy Rogers, All That Cheddar, and Spice in Your Life. There's even a Keto-friendly burger called the Keto Guido (no bun of course).
local's fav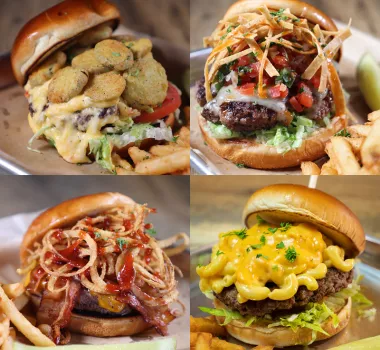 The extensive burger list at Tavern in the Forest can surely cure any craving! There's a traditional burger with your traditional toppings but then they've got some pretty epic concoctions listed after. Check out the Hibachi Burger which is a hand-formed craft burger blend with teriyaki sauce, zucchini slaw, and a white sauce. The Pimento Cheese Burger is hard to beat with its pimento cheese, crispy fried pickles, lettuce, tomato, and ranch!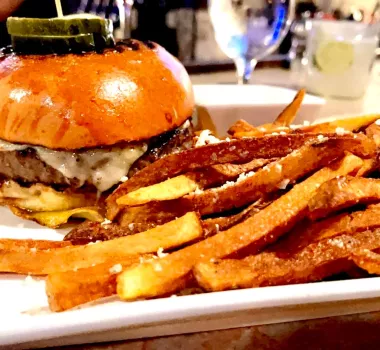 10.
Fire and Smoke Gastropub
Fire and Smoke Gastropub has a unique and ever-changing seasonal menu. One thing you can always find is their famous Chophouse Truffle Burger. This magnificent burger is a half-pound of course ground prime blend, prepared to your liking, and topped with black truffle aioli, applewood smoked bacon, Vidalia onion jam, and Gruyere served on an Artisan Brioche bun.