Thanksgiving Recipes from The Beach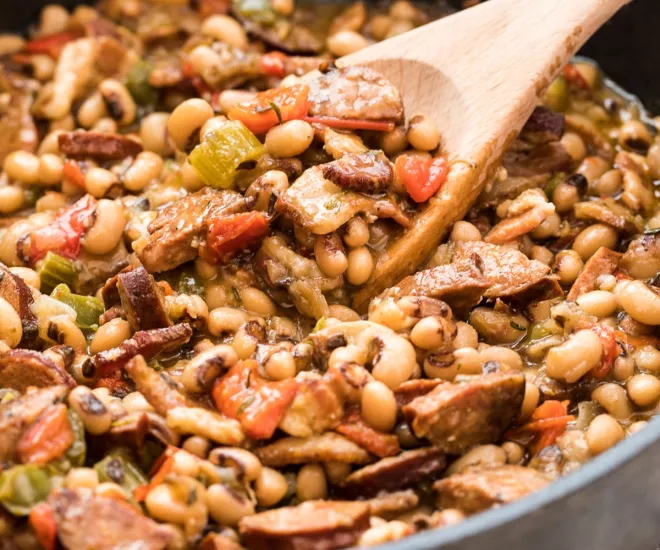 Thanksgiving Recipes from The Beach
Here at The Beach, food is a serious business with over 2,000 restaurants and hundreds of different flavors to try. One flavor that shines through all the dishes across the Grand Strand is from our traditional Southern and Gullah Geechee roots, with a heaping helping of hospitality. We created a few recipes for Thanksgiving that give a nod to tradition but mix it up with a southern spin.
Hoppin' John
Derived from the Gullah Geechee culture, this dish is as legendary as it is savory. Hoppin' John is especially popular in the South on New Year's Day because it's thought to bring good lukc, with the peas representing coins.
Recipe
1/2 pound sliced bacon, cut into 1-inch pieces
1 small green or sweet red pepper, chopped
2 celery ribs, chopped
6 green onions, sliced
1 cup uncooked long-grain rice
2 cups water
1/4 teaspoon salt
1/2 to 1 teaspoon cayenne pepper
1/2 teaspoon dried basil
1/4 teaspoon dried thyme
1/4 teaspoon dried oregano
1 bay leaf
1 can (15 ounces) black-eyed peas, rinsed and drained
In a large skillet, cook bacon over medium heat until crisp. Drain on paper towels; discard all but 2 tablespoons drippings. Sauté pepper, celery and onions in drippings until almost tender. Add rice, water and seasonings. Cover and simmer for 10 minutes. Add peas and bacon; simmer 10 minutes longer. Discard bay leaf. Recipe credit: tasteofhome.com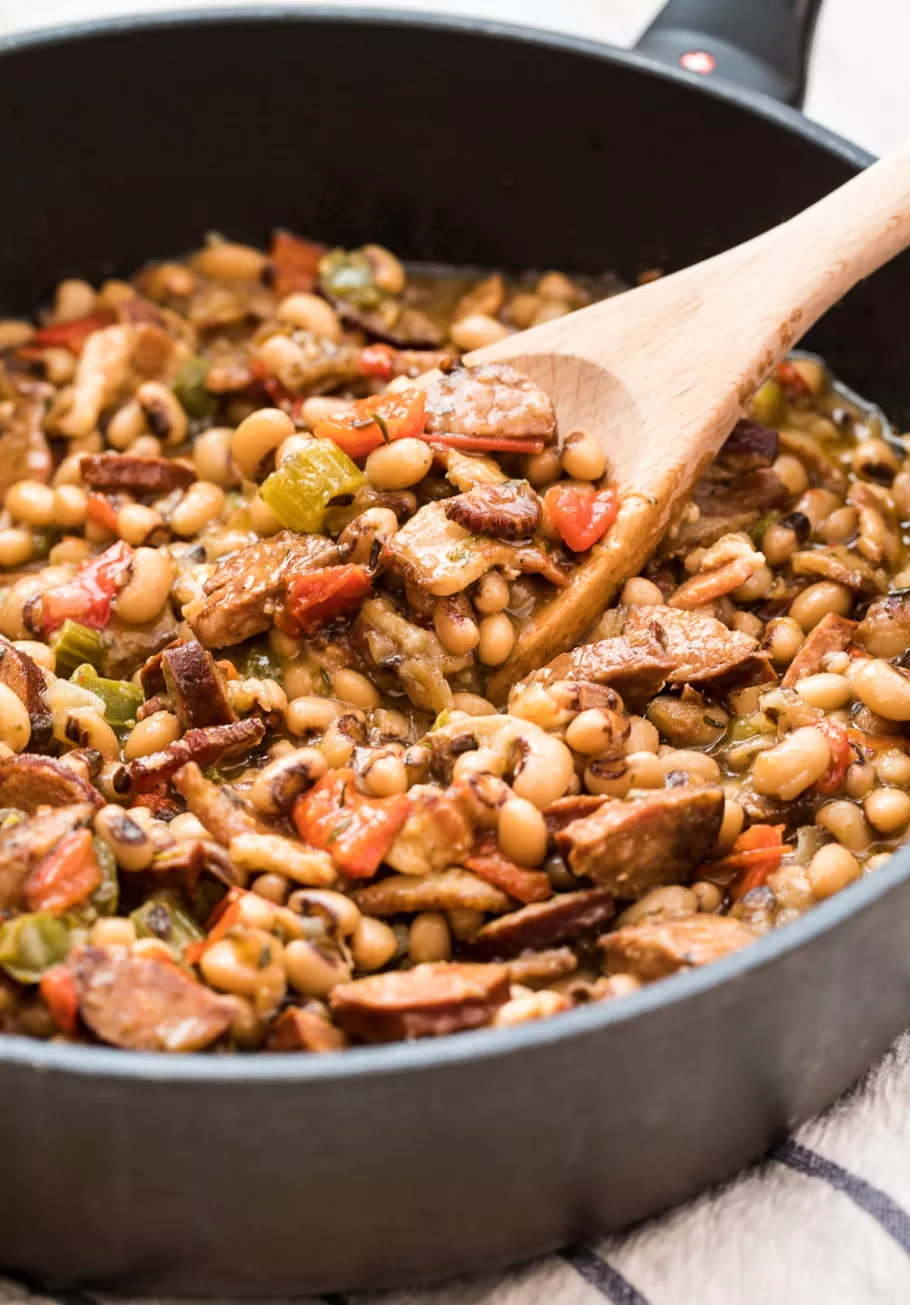 Grits and Greens Casserole
An even more southern take on a traditional green bean casserole. The perfect combo of bacon, collard greens, and cheesy grits are an excellent addition to your Thanksgiving table.
Recipe
Nonstick cooking spray, for spraying the baking dish
2 cups half-and-half
8 cups chicken stock
2 cups grits, such as Quaker Old Fashioned
6 slices bacon, cut into small pieces
1 medium sweet onion, such as Vidalia, finely chopped
One 16-ounce package frozen collard greens, thawed
1 3/4 cups grated Parmesan (6 ounces)
1/2 cup (1 stick) unsalted butter
1 teaspoon kosher salt
1/2 teaspoon freshly ground black pepper
1 cup shredded Monterey jack cheese
1/2 teaspoon freshly ground black pepper
1 cup shredded Monterey jack cheese
Preheat the oven to 350 degrees F. Spray a 9-by-13-inch baking dish with nonstick cooking spray and set aside. In a large pot or Dutch oven, combine the half-and-half and 6 cups of the chicken stock and bring to a boil over medium-high heat. Once up to a boil, stir in the grits. Bring it back up to a boil, and then reduce the heat to low and cover. Simmer, stirring frequently, until the mixture has slightly thickened (it should resemble cooked oatmeal in thickness), 10 to 15 minutes. Use a whisk to break up any lumps that have formed. Meanwhile, in a large saucepan, cook the bacon over medium-high heat until just turning crispy, about 7 minutes. With a slotted spoon, remove the bacon and place it on a paper towel, patting it to remove any excess fat. Using the same saucepan, add the onions to the leftover bacon drippings and saute until translucent, 5 to 7 minutes. Then add the collard greens and the remaining 2 cups chicken stock and cook until tender, another 10 minutes. Drain the collards and onions in a colander. Once the grits are done, add the Parmesan, butter, salt, pepper and 1/2 cup of the Monterey jack. Stir until the butter has melted and all the ingredients are well combined. Then add the drained collards mixture and stir. Transfer the grits mixture to the prepared baking dish and top with the crumbled bacon and the remaining 1/2 cup Monterey jack. Bake until the cheese is melted and bubbly, about 15 minutes. Recipe credit: Trisha Yearwood, Food Network
Local's Tip: One place that is always cooking up good collard greens is Big Mike's Soul Food. The next time you are at The Beach, head on over to Big Mike's for a meat n' three plate with a side of collard greens.
Stuff-puppies
"Stuffpuppies" (a take on hushpuppies) made with your favorite stuffing and drizzled with cranberry sauce. Thanksgiving in a bite!
Recipe
1 box Turkey Stove Top Stuffing Mix
1 1/2 cup water
1/4 tbsp butter
1 tbsp olive oil
1 can whole cranberry sauce
Fresh parsley chopped
Make Stove Top Stuffing Mix according to the box instructions. Let cool for 5-10 minutes. Using a mini cookie scooper, scoop stuffing and shape with hands to create balls. Place on parchment or wax paper to avoid sticking. Heat a large skillet with olive oil over medium heat. Using tongs, place 8-10 stuffing balls into the skillet, browning all sides. Once brown on all sides, place on a paper towel to absorb any excess oil. Garnish balls with parsley and serve with whole cranberry sauce as a dip! Recipe credit: momspark.net
Local's Tip: If you are at The Beach this Thanksgiving, there are plenty of places open for Thanksgiving dinner. Check out this list of places you can find stuffing around the Grand Strand!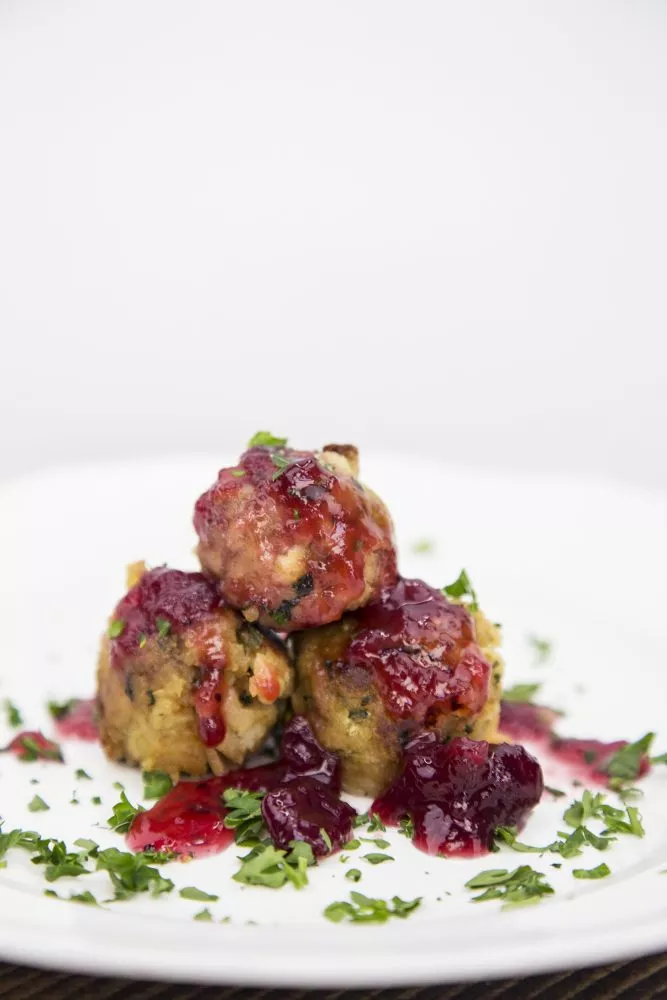 Sweet Potato Pie
A true southern dilemma: sweet potato pie or pumpkin pie? This Swet Potato Pie recipe, which is subtly spiced with ingredients you probably already have on hand, is sure to become a new holiday favorite.
Recipe
1 (1 pound) sweet potato, with skin
½ cup butter, softened
1 cup white sugar
½ cup milk
2 large eggs
½ teaspoon ground nutmeg
½ teaspoon ground cinnamon
1 teaspoon vanilla extract
1 (9 inch) unbaked pie crust
Place whole sweet potato in pot and cover with water; bring to a boil. Boil until tender when pierced with a fork, 40 to 50 minutes. Preheat the oven to 350 degrees F (175 degrees C). Remove sweet potato from the pot and run under cold water. Remove and discard skin. Break sweet potato flesh apart and place in a bowl. Add butter and mix with an electric mixer until well combined. Add sugar, milk, eggs, nutmeg, cinnamon, and vanilla; beat on medium speed until mixture is smooth. Pour filling into unbaked pie crust. Bake in the preheated oven until a knife inserted in the center comes out clean, 55 to 60 minutes. Remove from the oven and let cool before serving. Recipe credit: allrecipes.com
Local's Tip: While this bakery may not always be whipping up the Sweet Potato pies, their desserts are to die for. From key lime pie to warm cookies to buttery cake, you can't go wrong with a sweet treat from Croissants Bisto and Bakery.
Banana Pudding
What's Thanksgiving without a dessert (or two)? This no-cook banana pudding recipe is easy to make and delicious layered with vanilla wafers and slices of banana. It's the best banana pudding you will ever find!
Recipe
4 large eggs
3/4 cup sugar
3 tablespoons all-purpose flour
1/2 teaspoon plus a pinch salt
2 cups whole milk
1/2 teaspoon vanilla extract
30 to 40 vanilla wafers
3 to 4 medium ripe bananas
Separate the yolks from the whites of 3 of the eggs; set aside the whites. Add the remaining whole egg to the yolks. In a saucepan, whisk together 1/2 cup sugar, the flour and 1/2 teaspoon salt. Stir in the whole egg and 3 yolks, and then stir in the milk. Cook uncovered, stirring often, until the mixture thickens, about 10 minutes. Remove from the heat and stir in the vanilla. Preheat the oven to 425 degrees F. Spread a thin layer of the pudding in a 1 1/2-quart casserole dish. Arrange a layer of vanilla wafers on top of the pudding. Thinly slice the bananas crosswise, about 1/8 inch thick, and arrange a layer of banana slices over the wafers. Spread one-third of the remaining pudding over the bananas and continue layering wafers, bananas and pudding, ending with pudding. To make the meringue, beat the reserved egg whites with a pinch of salt until they are stiff. Gradually beat in the remaining 1/4 cup sugar and continue beating until the whites will not slide out of the mixing bowl when it is tilted. Spread the meringue over the pudding with a spatula, making a few decorative peaks on top, and bake until the meringue is lightly browned, 5 minutes. Recipe credit: Trisha Yearwood, Food Network
Locals Tip: Banana pudding isn't just for Thanksgiving! Restaurants around the Grand Strand make this indulgent dessert all year long – check out Simply Southern Smokehouse.