Plan a Multigenerational Getaway in Myrtle Beach
Plan a Multigenerational Getaway in Myrtle Beach
A multigenerational family vacation is an excellent way for families to bond. Plus, you might even be able to squeeze in a date night during your trip! 
Multigenerational family vacations have been a ritual in my family for as long as I can remember. Our travels include my children and grandchildren, and quite often my mother too. Four generations sometimes travel together. Myrtle Beach is the perfect destination for a multi-generational vacation which can include parents, siblings, kids, grandkids, and extended family members. Long before we moved here, we were visiting each year with the entire extended family.
Planning a multigenerational family vacation can be tricky for many reasons: blending personalities, combining interests, and finding a place to stay that works for kids, parents, and grandparents. A Myrtle Beach multigenerational vacation makes it all much easier.
Myrtle Beach is the travel world's answer to one size fits all because it is one of those rare spots that offers something for every member of your family, no matter how old they are.
Are you looking for a family-friendly vacation destination that will appeal to everyone in your clan? Look no further than Myrtle Beach! This beautiful coastal town offers something for everyone, from thrilling amusement parks and waterparks to championship golf courses and world-class shopping. Plus, with its wide variety of accommodations and dining options, you're sure to find the perfect place to call home for your multigenerational Myrtle Beach getaway!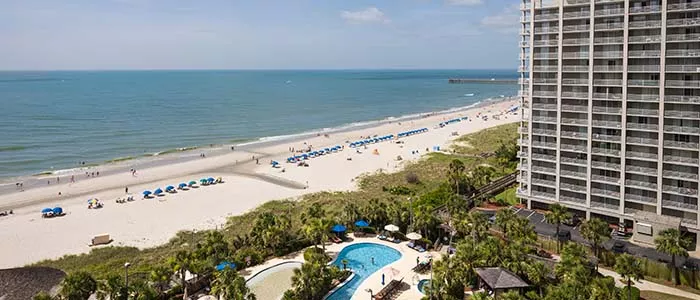 One of the best things about a multigenerational Myrtle Beach vacation is that there's something for everyone to do. Young and old alike will love spending time at the beach, exploring the vibrant boardwalk district, or checking out some of the area's top attractions. Some popular family-friendly destinations include Ripley's Aquarium, WonderWorks, and the Myrtle Beach SkyWheel.
Of course, no Myrtle Beach vacation is complete without a visit to its world-famous beaches. With 60 miles of coastline to explore, you're sure to find a secluded spot where you can relax and soak up the sun. And don't forget to enjoy some of the area's delectable seafood restaurants – you won't find fresher seafood anywhere else!
Accommodations
Myrtle Beach has you covered when it comes to the best places to stay with extended family. The Grand Strand is filled with accommodation options for all types of travelers, but especially families. Many of the resorts offer suites, or you can consider adjoining rooms. The number of vacation homes and condos with multiple bedrooms available to rent is amazing! 
Tips for a multi-generational Myrtle Beach vacation
Book early – the area is popular year-round and hotels fill up quickly!
Consider a vacation rental – this can be a great option for larger groups.
Make sure to visit the Myrtle Beach Boardwalk – it's one of the most popular areas in town and offers something for everyone.
Don't miss out on the area's amazing seafood restaurants – you won't be disappointed!
Rent a golf cart – this is a great way to get around town and see all that Myrtle Beach has to offer.
Download the Visit Myrtle Beach Visitors Guide for even more ideas of things to do in the area.
Going on a multi-generational Myrtle Beach vacation is the perfect way to enjoy some quality time with your loved ones. With so much to do in this beautiful coastal town, you're sure to have a memorable experience!
There's so much to do in Myrtle Beach that you'll have a hard time fitting it all in. But with so many great options available, that's hardly a bad problem to have! So start planning your multi-generational Myrtle Beach vacation today and get ready for some unforgettable memories.
What Are Some Multi-Generational Myrtle Beach Attractions?
The key to having a successful multi-generational Myrtle Beach vacation is to visit places that have something for everyone. Here are a few suggestions:
More ideas can be found in the blog post, 20 Multigenerational Things to Do in Myrtle Beach!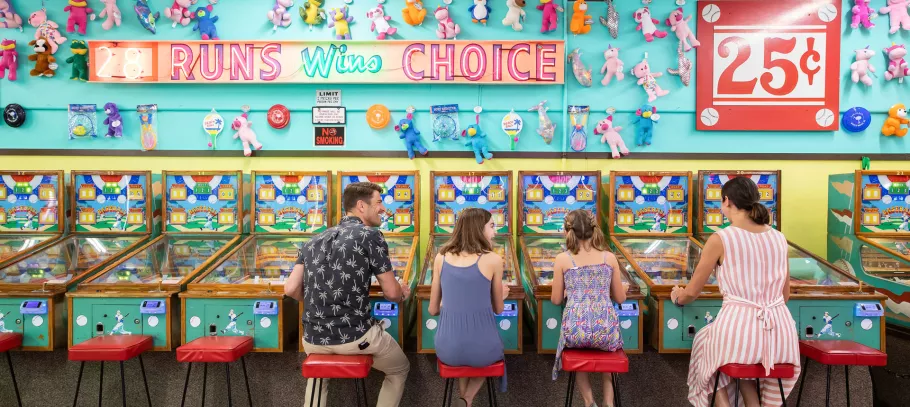 In conclusion, if you are looking for a vacation spot with something to do for everyone in your family from the youngest at heart all the way up to grandparents, then Myrtle Beach is perfect. With their beautiful beaches and mild year-round climate, there's always something going on that will appeal to every generation!