Myrtle Beach, South Carolina is home to 60 miles of coastline along the Atlantic Ocean. There are many reasons why people call Myrtle Beach – "The Beach" – but one reason is our abundance of beaches, of course, all with soft sand, warm waves and plenty of sunshine. Here are the six famous South Carolina beaches located in the lovely Grand Strand.
Myrtle Beach
Myrtle Beach proper is the most recognizable beach with the Boardwalk and SkyWheel. Filled with family-friendly fun, it is hard to be bored in Myrtle Beach. Check out On Location: Myrtle Beach for more.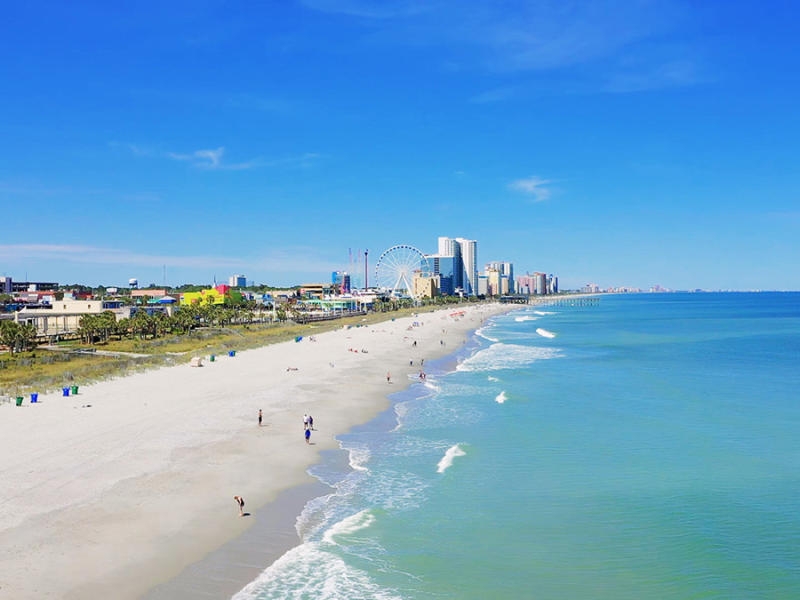 North Myrtle Beach
There's more of what you love up north, including live music and dancing along Main Street every night. North Myrtle Beach is comprised of four smaller beach communities: Cheery Grove, Windy Hill, Ocean Drive and Crescent Beach. Check out On Location: North Myrtle Beach for more.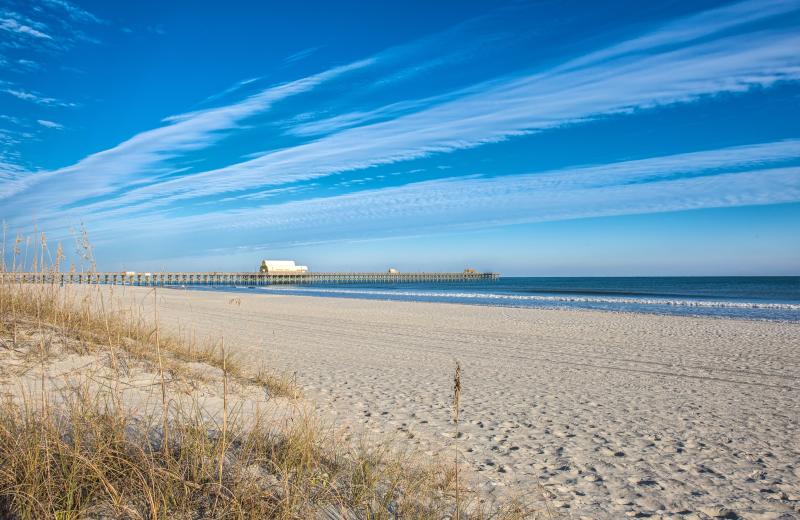 Atlantic Beach
Known as "The Black Pearl", this small but vibrant community is home to stunning coastal views and is a popular destination for young and old alike. Check out On Location: Atlantic Beach for more.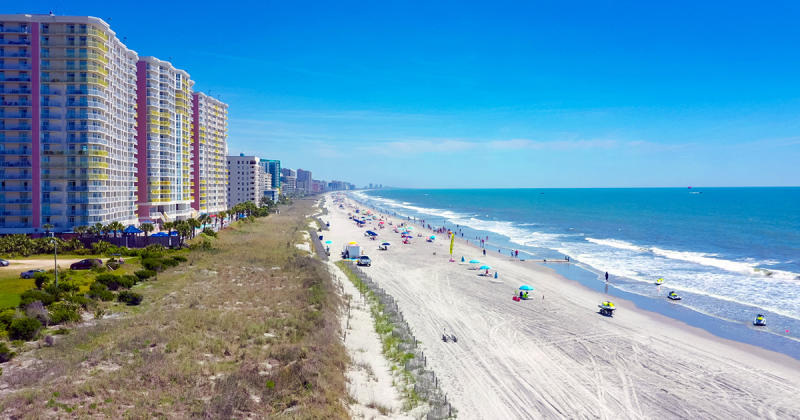 Surfside Beach
Surfside has long been known as a family beach, and they have also been proclaimed the first autism-friendly travel destination. In Surfside, you will see families out riding their golf carts and just enjoying the beautiful sunshine and casual atmosphere. Check out On Location: Surfside Beach for more.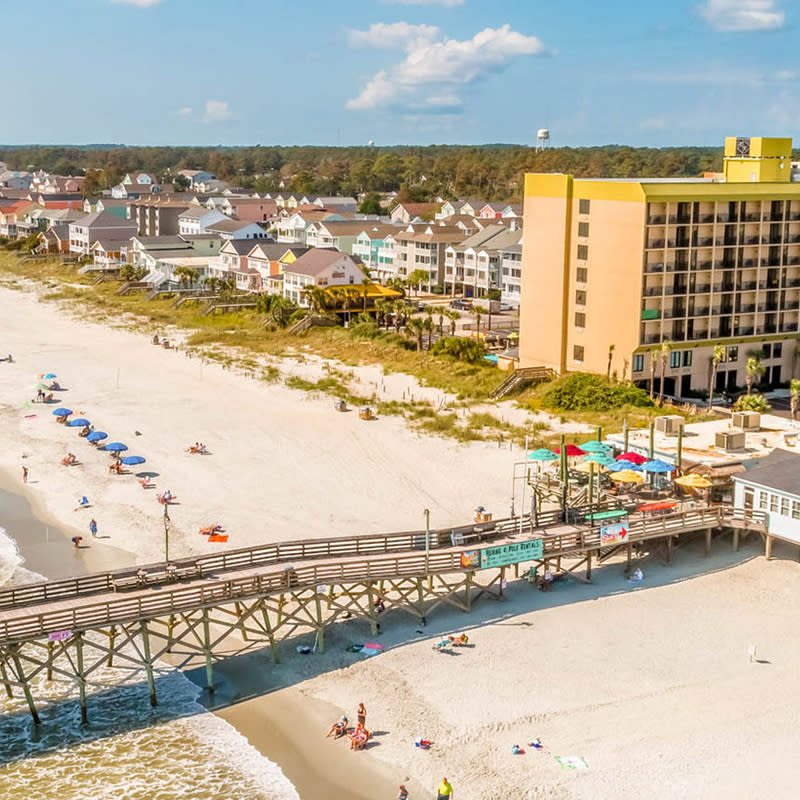 Garden City Beach
The Inlet meets the ocean in Garden City, so this is a great, calmer spot for watersports, fishing, and crabbing. A beach filled with vacation rentals and beach nostalgia, Garden City will make you feel right at home. Check out On Location: Garden City Beach for more.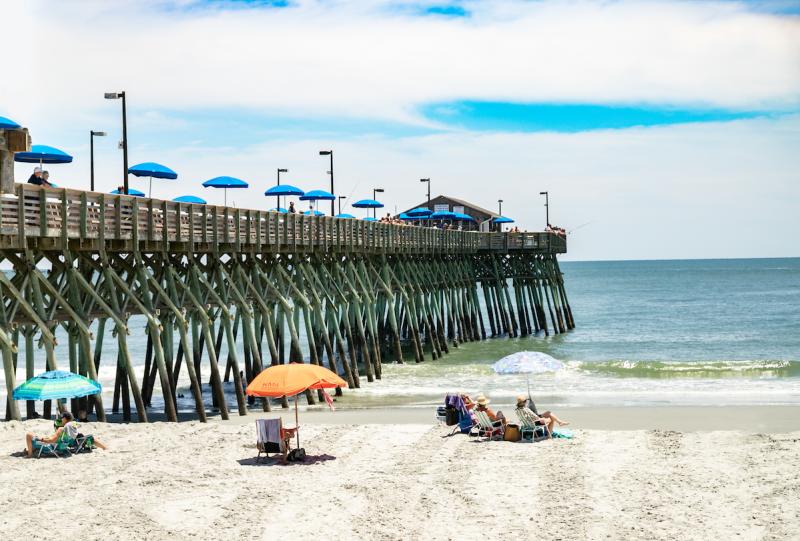 Litchfield Beach
It's a little quieter in Litchfield. Here, it's all about taking in the natural beauty of the area. Go to the beach, ride a bike, go on a walk, play golf – Litchfield has all the best outdoor activities.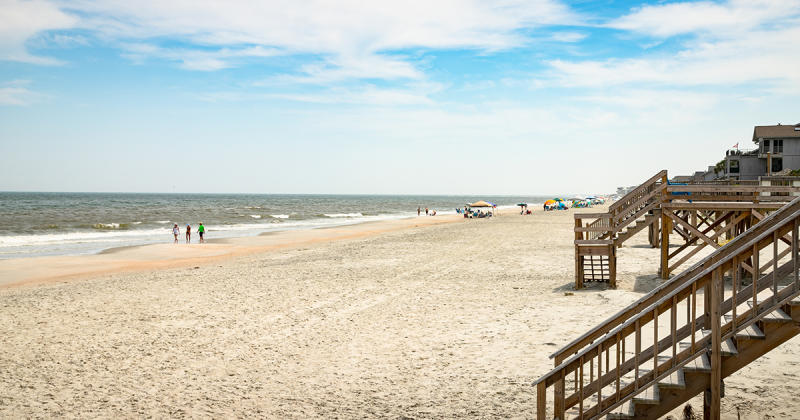 Bonus! There are two state parks in the Myrtle Beach area that also have public beach accesses. The first state park in South Carolina, Myrtle Beach State Park, spans for one mile in the heart of Myrtle Beach. Then, Huntington State Park, down in Murrells Inlet, is home to a wide-open beach and plenty of salt marshes waiting to be explored.