Budget-Friendly Fun in Myrtle Beach, SC
Budget-Friendly Fun in Myrtle Beach, SC
Southern charm and family friendly pretty much sums up Myrtle Beach. Hosting over 20 million visitors annually, the Grand Strand is home to an array of attractions, and the area receives visitors during all seasons. 
How much your Myrtle Beach vacation costs will depend on many factors, including how you get here, where you stay and the restaurants you dine at. Myrtle Beach offers a world of opportunities for outdoor recreation, amusement park-style fun, dining, golf, and more. There are many Myrtle Beach attractions and activities that are free or cheaper that will entertain the entire family. To get the most out of your stay in Myrtle Beach and still stay true to your budget, proper planning is crucial. Research what you would like to do so you can prepare a Myrtle Beach budget.
There is a long list of things to do around Myrtle Beach that I put together that are completely FREE! Yes, free! Myrtle Beach's best free attraction, of course, is the beach!
Getting to Myrtle Beach
The Myrtle Beach area includes beaches, attractions, golf courses, amusement parks, an aquarium, retail developments, shopping complexes and over 2,000 restaurants.  The area also has dinner theaters, nightclubs, and many tourist shops.
If you live along the East Coast (and many inland states), of course, the least expensive way to get to Myrtle Beach for vacation is by car.
Most major airlines fly into Myrtle Beach International Airport. However, if you arrive by air, you will most likely need to rent a car or continually use shuttles (none free) or Uber/Lynx to get around. All of these things can add quite a bite onto your budget. 
Traveling during the off-season
When is the off-season? Well, the answer depends on who you ask, but prices usually get cheaper after the first week of September. The weather is still great, and summer activities are still in full swing. As soon as the summer activities end - fall and holiday festivities kick in so there is always something to do!  Well-known for its amusement arcades, souvenir stands, and seafood restaurants, the city has a lot to offer, and you don't have to have a big budget to enjoy it. With a tourist destination as popular as Myrtle Beach, traveling off-season is a great way to save a ton of money. 
Accommodations
Lodging is often the most expensive part of a vacation. Not all hotels and resorts are created equal so be sure to research extensively any hotel you plan to reserve to find the accommodation that fits your family's needs. There are many oceanfront and area hotels with nightly rates for a low cost. Many of the oceanfront resorts offer not only easy access to the beach, but also offer indoor and outdoor pools and lazy rivers.
Myrtle Beach is home to many great hotels, many of which are known for their affordability. Rather than picking the first accommodation you come across, you should find one that fits your needs and budget well.
If a beach view isn't important to your family, many rentals and hotels a block or two from the beach will definitely save you money while still being a great vacation spot in Myrtle Beach.
Renting a condo near the beach during the off-season can often save you 50% or more on lodging alone. A condo can be less expensive than a hotel all around, especially if you're traveling with a family. Dining out for each meal adds up quickly! Stop at a grocery store or local farmer's market and stock up on food for the week, for at least two meals a day. When eating out, breakfast is usually cheapest, so if you want to go out to eat, do breakfast, lunch, or even brunch.
Myrtle Beach hotel rates are highest in the summer. If you have to travel between early June and late August, consider Airbnb or camping! There are several great camp-sites around Myrtle Beach.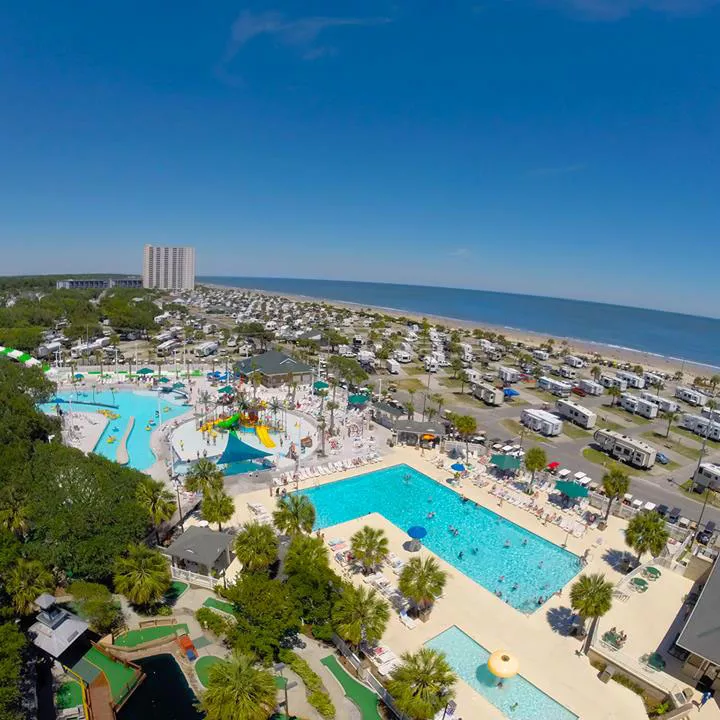 Food
Myrtle Beach has over 2,000 places to eat, and there's a place for every budget. There are your typical fast food spots all around Myrtle Beach, but the best food at the best prices are the local restaurants. For a budget friendly meal, the seafood buffets and steakhouses may be a little steep in price. Also think about having your main meal at lunch time. Many of the local spots offer their same dinner menu at lunch time - just smaller portions and smaller prices! Many of these same spots also offer early bird specials. Eating dinner a bit earlier isn't a bad idea if you can save a significant amount of money.
To dine out, check for deals and coupons books on Visit Myrtle Beach's site, around town or even on the restaurant websites and social media pages. There are places that offer free meals for kids on certain days. In the lobby of almost every resort/hotel in Myrtle Beach you will find racks of coupon books and brochures. There are usually coupons for restaurants, mini-golf, ice cream and area attractions.
If you plan to spend most of your days relaxing on the beach, most hotels have small mini-refrigerators in each room. Keep some bread, cold cuts, PB&J, water and soft drinks in your room and you'll  have no reason to spend money for lunch and snacks.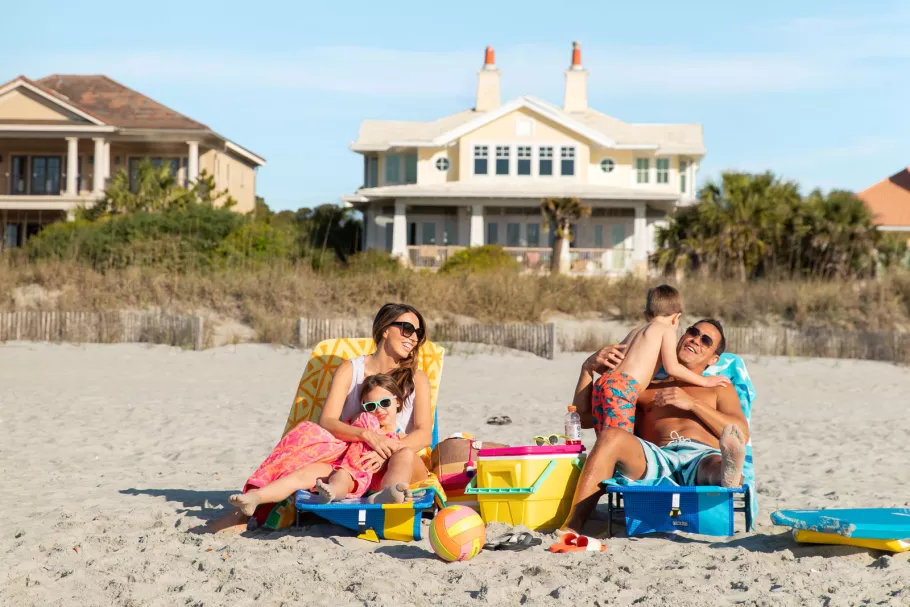 Attractions and Experiences
The same rules apply here as for dining. Check for deals and coupon books on Visit Myrtle Beach's site, around town and in your hotel lobby. Many of the most popular attractions offer great discounts, such as "kids free" or "2 days for the price of 1",  through these coupons. You will most likely be able to find discounts for Many of the best shows around Myrtle Beach like Legends in Concert, Carolina Opry, Dolly Parton's Pirate Adventure and the Alabama Theatre.
There are many free things to see in the area too! The Myrtle Beach area hosts many festivals and free events each year. These events are huge, extremely popular, and no entry fee is required. Some include free concerts, meet and greets, playgrounds for kids, and much more. 
Both Broadway at the Beach and Barefoot Landing - 2 outdoor entertainment shopping complexes - offer free entertainment such as live music, activities for the kids and fireworks during the summer. 
Myrtle Beach Art Museum has eleven galleries, and always has free admission. The museum does have limited hours (10AM till 4PM most days), so be sure to check the website before planning your visit.
Vereen Memorial Historical Gardens is technically in Little River, but it's less than 30 minutes from Myrtle Beach and if you're exploring the coastline you'll probably make it up towards Little River anyway. Vereen Memorial Historical Gardens is pet-friendly and perfect for learning a bit, bird watching, and taking photographs. You'll find yourself very relaxed here.
Myrtle Beach Boardwalk is transformed into a family-friendly entertainment zone. Best of all, Hot Summer Nights Myrtle Beach activities are free.
The Market Common is home to many free events during the summer such as Movies Under the Stars, Carriage Rides,  and Concerts on the Green.
The Murrells Inlet MarshWalk offers great views of the saltwater marsh, birds, and beautiful scenery. It is also home to many waterfront restaurants and music is in the air once evening rolls around. Best of all, the MarshWalk is free.
The Garden City Pier is completely free to fish on and features live bands nightly in the summer. If the kids get bored, send them inside to play in a huge arcade & cafe at the beginning of the pier.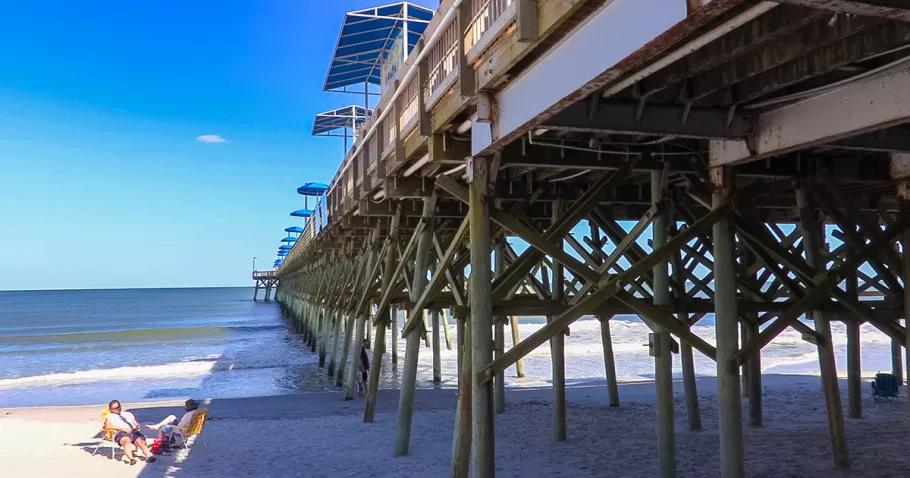 More Affordable Attractions
Brookgreen Gardens -  Every day Brookgreen offers a selection of tours, programs, excursions, and exhibits for all ages. The Gardens also offer several special events and festivals throughout the year.

Helicopter Rides (Only $20 and you get to see Myrtle Beach from above.)

Myrtle Beach Pelicans Baseball games

Myrtle Beach State Park -  shells, shark teeth, and more! Enjoy a wide beach, nature trails, a fishing pier and more for an $8 per-person admission fee. Pack a picnic, beach pail and shovel. The State Park also offers free children's programs throughout the year.

Huntington Beach State Park - A fantastic beach and great campsites. Also on the grounds is the remains of the Atalaya castle, the winter home of Archer and Anna Hyatt Huntington, philanthropist and sculptor, respectively, who left the park and adjacent Brookgreen Gardens as their legacy. 

Pier 14 - It's only $7 to fish and they have pole rentals and fishing bait that are affordable too.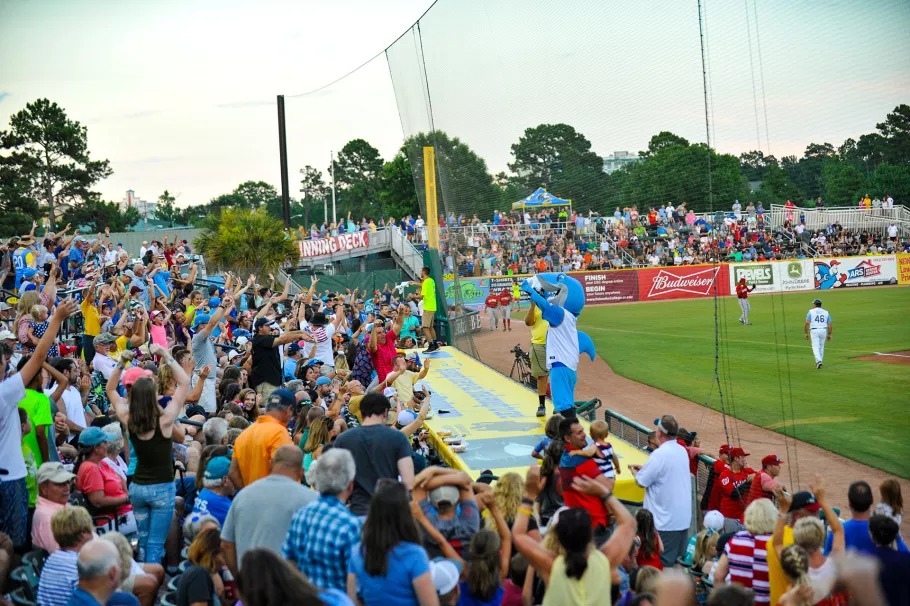 Keep a close eye on the Deals page in the months leading up to your trip, because there are often exclusive deals and sales our site throughout the year! Visiting Myrtle Beach doesn't have to put a huge dent in your budget!