Best Spots for Chicken Bog in Myrtle Beach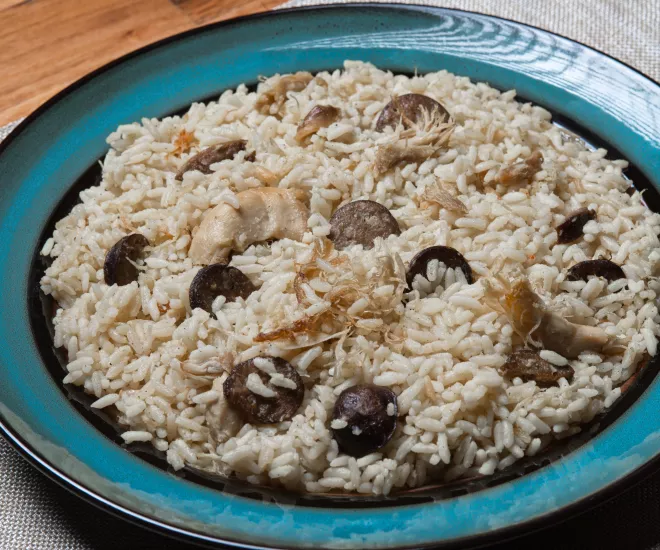 Chicken Bog is a staple in South Carolina and is made with chicken, rice, smoked sausage, spices, and perhaps some secret ingredients based on whom you ask. It's true comfort food and is often made for family gatherings and large events. It's so popular here that there's a festival named for it held in Loris each fall. If you can't test all the Chicken Bog from the Loris Bog-Off festival, we have a great list of restaurants along the Grand Strand where you can find this popular dish.
Shorty's Grill
A staple for chicken bog in the Grand Strand, Shorty's Grill is located in Loris, the town of the Bog-Off Festival! Their chicken bog is as authentic as it comes and always delicious. Enjoy lunch specials all week long with all the best southern fixin's like candied yams, biscuits and gravy, and more. Chicken bog is the lunch special on Thursdays so make sure to plan a lunch date out in Loris! 
Andy's Snak Shack
Be sure to check their Facebook each day if you're craving Chicken Bog! Andy's Snak Shak serves up "Good Food, Bad Company, Great Gossip" from 7 a.m. to 2 p.m. Tuesday through Saturday. Fill up on lunch specials like fried pork chops, mac n' cheese, fresh Mahi, flounder, rice with gravy, broccoli casserole, and plenty more comfort foods.
Head to Big Mike's Soul Food on Friday or Saturday for your fill of their homemade Chicken Bog. The rest of the week you can feast on their famous fried chicken, shrimp and grits, fried livers, fried gizzards, and sides like collard greens, field peas, and candied yams. Big Mike serves "Soul food the way his mother made it."
Donzelle's Restaurant
Donzelle's Restaurant has been pleasing palates with their family-owned restaurant since 1962. Their handwritten daily lunch specials include a mix of comfort food (yes, Chicken Bog) but you'll have to check in first. They also offer chicken salad, spare ribs, backbone and rice, fried catfish, and Salisbury steak.
Radd Dew's Bar-B-Que Pit
Radd Dew's Bar-B-Que Pit is a buffet-style restaurant just on the outskirts of town. They're open from 4-9 p.m. Friday and Saturday and on Sundays from 11 a.m. to 3 p.m. They have several types of BBQ, their famous Chicken Bog, fried shrimp, macaroni and cheese, hash and rice, and plenty more.
You can get Chicken Bog Tuesday through Saturday at Simply Southern Smokehouse in Myrtle Beach! The classic southern buffet includes daily lunch specials as well as their usual buffet menu which includes chicken and dumplings, barbeque pulled pork, all your favorite sides, and even banana pudding. You'll love the sweet busboys who sing Gospel music while you dine.
Socastee Station
Socastee Station is "Home of the Bog Balls"; boy, are they good! While it's not your traditional way to serve Chicken Bog they are a huge hit among their regulars and the whole staff yells "Balls Out" anytime they come out of the kitchen. The Famous Beer Battered Chicken Bog Balls are served with a spicy "station sauce." Get them during happy hour for just $5!
Sugrue's Pub & Eatery
Wednesdays are for Chicken Bog at Sugrue's Pub in North Myrtle Beach! Their lunch special includes bog, fried corn, and a fresh roll. Regular menu items include a long list of specialty grilled cheese sandwiches, burgers, gourmet egg rolls, subs, loaded nachos, a warm pretzel with cheese dip, and much more.
The Porch
If you're ever stuck at the Socastee Swing Bridge, be sure to stop in for a side of Chicken Bog at The Porch. When you're really hungry we recommend their Famous House Specialty which is made with Chicken Bog and grilled shrimp over a jalapeno corn medley then topped with an over-easy egg, green onions, and chili mayo.