Ripley's Festival of Trees
November 10, 2023 - December 31, 2023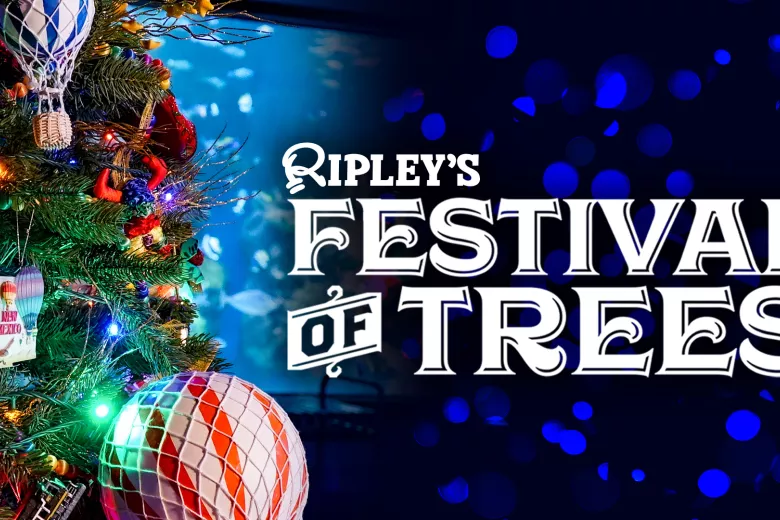 Ripley's Festival of Trees exhibit proudly celebrates the heritage and diversity of these Great United States. We're all decked out in our finest, and we've added holiday warmth and sparkle to every corner. Our themed trees are adorned in decorations and ornaments representing each of our 55 great states and territories. Our own South Carolina tree is over 18-feet-tall and features seashells, magnolias, golf balls, and Coastal, Clemson, and USC representation!
Marvel at Louisiana's Mardi Gras tree with masks and beads, a Las Vegas-style tree with a feather headdress, and more! Test your knowledge about each state's tree with our customized scavenger hunt. Join us for this spectacular event and have oceans of holiday fun! For more information or to purchase tickets, visit the link in the description!
This event is included with general admission to Ripley's Aquarium of Myrtle Beach.
Friday, November 10, 2023 | 9:00am
Saturday, November 11, 2023 | 9:00am
Sunday, November 12, 2023 | 9:00am
Monday, November 13, 2023 | 9:00am
Tuesday, November 14, 2023 | 9:00am
Wednesday, November 15, 2023 | 9:00am
Thursday, November 16, 2023 | 9:00am
Friday, November 17, 2023 | 9:00am
Saturday, November 18, 2023 | 9:00am
Sunday, November 19, 2023 | 9:00am
Monday, November 20, 2023 | 9:00am
Tuesday, November 21, 2023 | 9:00am
Wednesday, November 22, 2023 | 9:00am
Thursday, November 23, 2023 | 9:00am
Friday, November 24, 2023 | 9:00am
Saturday, November 25, 2023 | 9:00am
Sunday, November 26, 2023 | 9:00am
Monday, November 27, 2023 | 9:00am
Tuesday, November 28, 2023 | 9:00am
Wednesday, November 29, 2023 | 9:00am
Thursday, November 30, 2023 | 9:00am
Friday, December 1, 2023 | 9:00am
Saturday, December 2, 2023 | 9:00am
Sunday, December 3, 2023 | 9:00am
Monday, December 4, 2023 | 9:00am
Tuesday, December 5, 2023 | 9:00am
Wednesday, December 6, 2023 | 9:00am
Thursday, December 7, 2023 | 9:00am
Friday, December 8, 2023 | 9:00am
Saturday, December 9, 2023 | 9:00am
Sunday, December 10, 2023 | 9:00am
Monday, December 11, 2023 | 9:00am
Tuesday, December 12, 2023 | 9:00am
Wednesday, December 13, 2023 | 9:00am
Thursday, December 14, 2023 | 9:00am
Friday, December 15, 2023 | 9:00am
Saturday, December 16, 2023 | 9:00am
Sunday, December 17, 2023 | 9:00am
Monday, December 18, 2023 | 9:00am
Tuesday, December 19, 2023 | 9:00am
Wednesday, December 20, 2023 | 9:00am
Thursday, December 21, 2023 | 9:00am
Friday, December 22, 2023 | 9:00am
Saturday, December 23, 2023 | 9:00am
Sunday, December 24, 2023 | 9:00am
Monday, December 25, 2023 | 9:00am
Tuesday, December 26, 2023 | 9:00am
Wednesday, December 27, 2023 | 9:00am
Thursday, December 28, 2023 | 9:00am
Friday, December 29, 2023 | 9:00am
Saturday, December 30, 2023 | 9:00am
Sunday, December 31, 2023 | 9:00am