Local Seafood Restaurants on the Myrtle Beach Boardwalk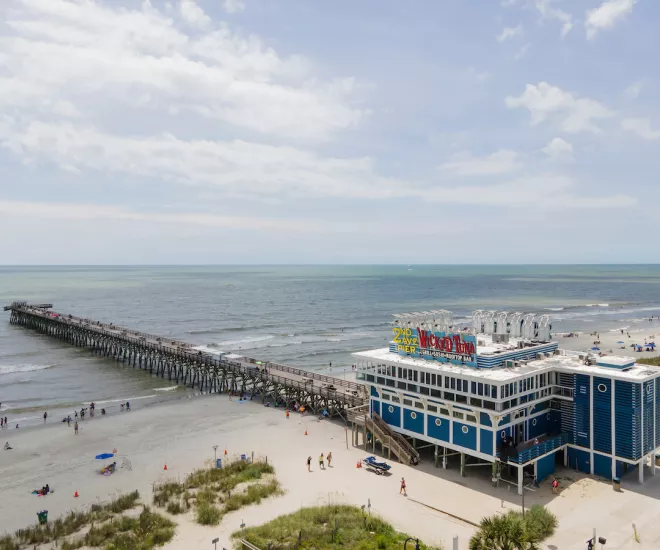 The Myrtle Beach Boardwalk stretches nearly two miles along the beautiful beaches in the highly popular downtown area with dozens of restaurants nearby. Sometimes it can be difficult to narrow it down and find the perfect spot to please your palate, especially when you've got seafood on the brain. That's why I've listed a few of my favorite spots to grab some fresh (and often LOCAL) dishes along the Myrtle Beach Boardwalk and the surrounding areas. Find your new favorite local spot on your next trip to the beach!
110 N. Ocean Blvd., Myrtle Beach, SC
Wicked Tuna offers amazing seafood dishes with some of the best views in Myrtle Beach! Located at the 2nd Avenue Pier along the Myrtle Beach Boardwalk, they specialize in shareable apps like Oysters Rockefeller, Wicked Shrimp and Bang Bang Grouper. For your entrée select the fresh Catch of the Day prepared in a Fish and Chips order or as Piccatta with lemon butter and capers. The seafood comes straight from "hook to plate" at Wicked Tuna!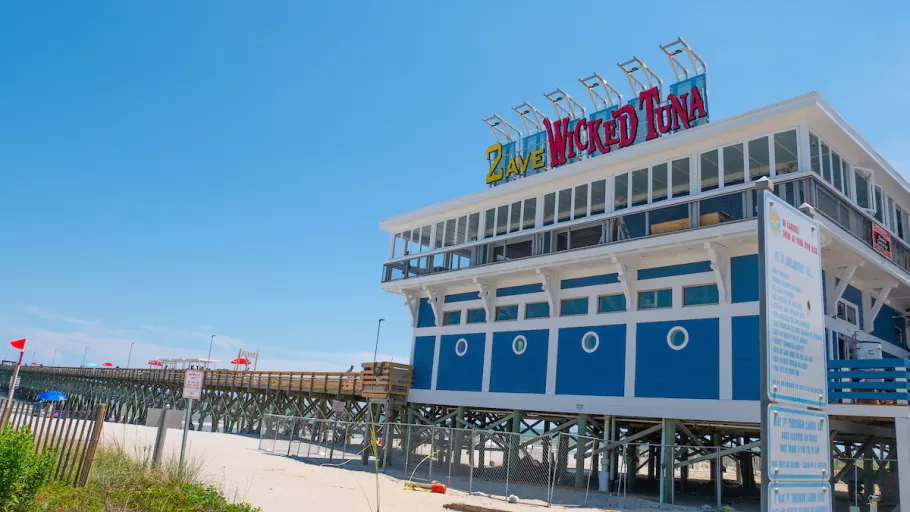 919 Broadway St., Myrtle Beach, SC
Tucked away in a quiet location downtown, Mrs. Fish Seafood Grill is a hit with locals for their amazing daily lunch menu including fresh shrimp, salmon, grouper, Mahi or tuna served blacked, Cajun-style, lemon pepper or BBQ with two sides. They also serve dinner with hits like crab cakes, coconut shrimp, homemade seafood gumbo and rice and steamed mussels or shrimp.
1306 N. Ocean Blvd., Myrtle Beach, SC
At the northern end of the Boardwalk, you'll find Pier 14 Restaurant and Lounge – a staple in Myrtle Beach since 1986. Start off with Seared Ahi Tuna or a cup of the Carolina Clam Chowder with potatoes and smoky bacon. The main courses include many sandwich options like the Grouper Reuben and Salmon BLT and entrees like Filet of Grouper or the Flounder served lightly fried or sauteed.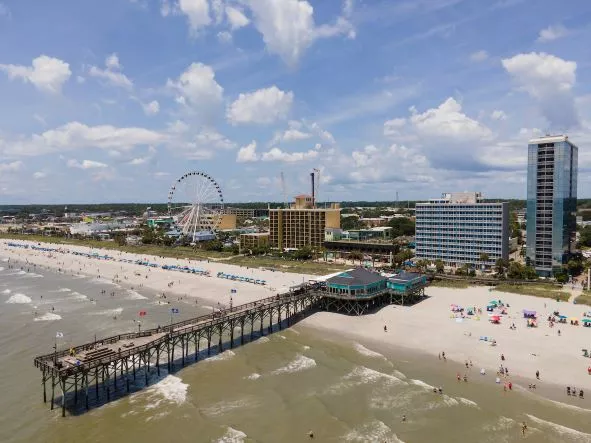 2002 N. Kings Hwy., Myrtle Beach, SC
Bummz Beach Café has been a popular spot for both locals and visitors for years and years and is the northern most restaurant on our list. It's the perfect spot to grab a quick bite to eat and watch the waves roll in from your table. If you're craving seafood order the Groupa Fingers with your favorite sauce or fresh, steamed shrimp served in a quarter pound, half pound or full pound plate. They also offer fish tacos, a Mahi sandwich and Boom Boom Shrimp.
1110 N. Ocean Blvd., Myrtle Beach, SC
LandShark Bar and Grill offers just the right amount of seafood dishes on the menu. The Margaritaville sister restaurant is located right next door to the SkyWheel which makes it the perfect stop for a bite to eat before or after your ride! Check out their peel and eat shrimp with Old Bay Seasoning, fish tacos with the blackened fish of the day or the famous Seafood Lettuce wraps with shrimp, crab and lobster seafood salad and garnishes.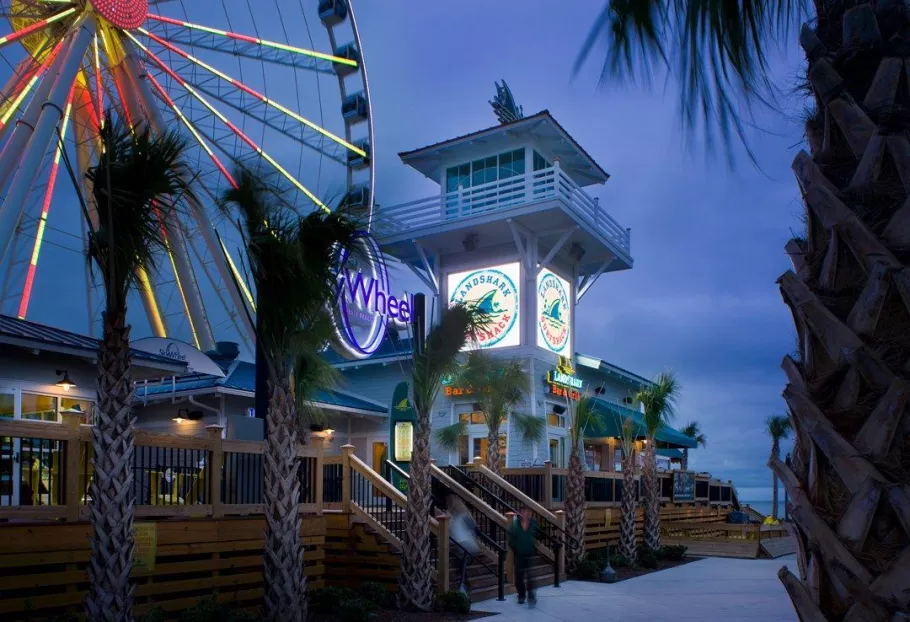 1205 N. Ocean Blvd, Myrtle Beach, SC
Not only is Beach House Bar and Grill great for people watching along Ocean Boulevard, they also serve up some tasty seafood dishes! Take your pick from steamed Alaskan crab legs, bacon-wrapped scallops, grilled Mahi Mahi or grilled Ocean Salmon (and much more!) all served with a Caesar salad and your choice of side. Beach House strives to serve only the freshest, local seafood whenever possible.
1210 N. Ocean Blvd., Myrtle Beach, SC
Whether you're looking for a fresh fish entrée, steam pot or seafood tower, RipTydz Oceanfront Grille has you covered! Go all out and order The Rip Tyde Seafood Bar Tower with a dozen raw oysters, half pound of peel and eat shrimp, a one-pound whole Maine lobster, Dungeness crab cluster, King Crab cluster and smoked salmon (market price). Other items include Blackened Shrimp and Beer Cheese Pub Chips, Shrimp and Grits and a Coastal Fried Platter with a little bit of everything.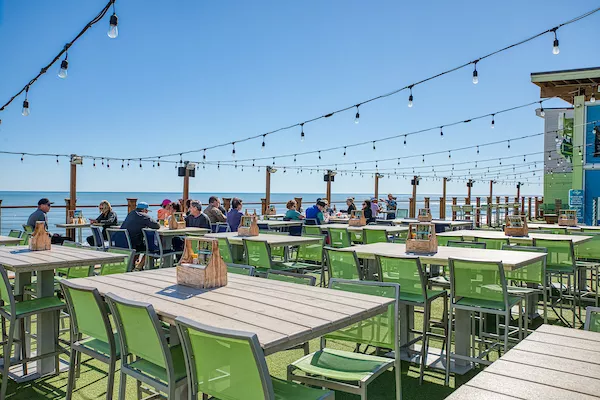 100 9th Ave. N., Myrtle Beach, SC
Ocean Front Bar and Grill has been around since 1948 – long before the Myrtle Beach Boardwalk was ever built! The corner restaurant has amazing ocean views and has plenty of great seafood options on their menu. Highlights include Conch Fritters, Shrimp and Crab Dip, Fresh Grouper Tacos and a Seafood Platter with domestic oysters, flathead flounder and large shrimp.
300 N. Kings Hwy., Myrtle Beach, SC
The Original Shucker's Raw Bar is located just a couple blocks off the Boardwalk along Kings Highway and is known for its daily happy hour with oyster specials and plenty of seafood specialties. You can order your oysters steamed, fried, raw or baked in one of three ways! Try a Steam Pot with one pound of crab legs, six oysters, six clams, six mussels, a quarter pound of shrimp, potatoes, corn and sausage – YUM!