Meet Domino Ireland, Adventurist from Raleigh, and Chili Cook-Off Competitor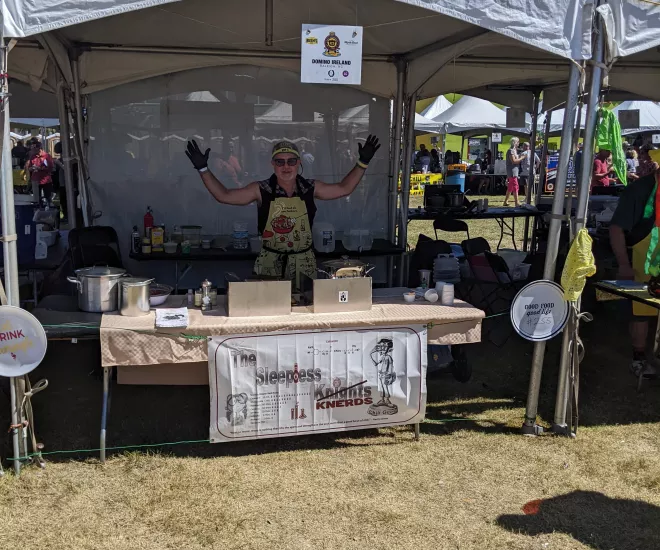 When you meet Domino Ireland for the first time, you're instantly drawn to his enthusiasm and his curiosity. He's a self-proclaimed adventurist and his resume of thrill seeking includes hiking the Appalachian Trail, biking Route 66 and even climbing Mount Kilimanjaro.  
You can follow along on some of his adventures on Instagram @dominoadventure. 
But this world-traveler who now calls Raleigh, N.C, his home has another passion that's less about the adrenaline and more about the… cayenne. He cooks chili competitively.  
Right now, he's gearing up to compete in his sixth World Championship Chili Cook-Off (WCCC), which will be held at the Beach 'N Chili Fest on Sept. 29 – Oct. 1, 2023, here in sunny Myrtle Beach. 
We sat down with Domino, a seven-time award-winning "chilihead," and talked about his love for competing, how he's refined his cayenne-craft over the past 27 years and his goal to take home the gold at the WCCC. 
When did you start participating in chili cookoffs? 
In 1996, my best friend from college and I combined a recipe he used as a short-order cook and a recipe from a cookbook by Ernest Matthew Mickler to make a winning chili for a college competition.  
When you win on your first attempt, you're instantly hooked. At first, it was just the competitiveness of putting my cooking skills to the test. Bringing all the knowledge my Meema and Mom taught me and putting it up against others, and seeing if I could win.  
I discovered very early on that chili competition takes more than just having a great recipe. You have to have a drive to win in order to mix and stir over a fire for hours trying to be the best.  
Yet, anyone can do it, it's the most accessible competition in the food world. Whether it's organized by sanctioning associations like the International Chili Society (ICS) or thrown together for a neighborhood shindig, cooking chili for bragging rights or even big prizes is a fun and rewarding "food addiction." 
How is your chili different? 
Everyone's chili is "different" so to speak. If you want secrets, ha, that's in the sauce and I can't share that. But, what I will tell you is I've made some adjustments to my recipe after being away from the competition for some time. I needed to catch up with the times and the competitors who haven't stopped perfecting their creations, and my recipe is at its best.  
I'll also say that chili is an art and a science. Cooking at a competition is like putting on an art show while doing a chemistry lab, and at the same time being able to answer questions from strangers about any subject and some subjects you didn't even know existed.  
The ultimate key to a winning recipe is being consistent under all circumstances while attempting to get your chili perfect for the judges in a three-hour cooking window, from scratch, and in any climate, in any place.  
What should people expect when they come to Myrtle Beach and the Beach 'N Chili Fest? 
Now that the World Championship Chili Cook-off has been in Myrtle Beach for a few years, the event itself is becoming much like the star of the show, chili.  
It is now consistent, and the cooks and crowds pretty much know what to expect and get that in the fun and frolic of chili weekend. I highly recommend getting the VIP ticket for the cook-off. You never know who you might run into in that area and it's a great place to get a break from the heat. 
While you're in town, be sure to explore. That's what I'll be doing, even if it's simply taking a walk on the beach, trying a new restaurant and brewery, or popping in and out of locally owned shops. There is adventure in exploring at the beach and I love adventure. 
---
For more information on the Beach 'N Chili Fest and other things to do at The Beach, check out the event page. We can't wait to see you there!