Hoppy Easter From The Beach
Hoppy Easter From The Beach
Every Bunny Loves Easter at the Beach!
It's almost Easter!!There is always something to do at the beach but when you add in holiday fun you're sure to be hopping with excitement (just like the Easter bunny!) You're sure to have an "egg-cellent" time!
Easter Events
If you want to learn how to Decorate an Easter Cake, hop over to Pink Pineapple Cakes (4811 Highway 17 Byp S, Myrtle Beach). Saturday, April 16 from 10 a.m. to 11:30 a.m. the crew at Pink Pineapple will show you how to make your next cake fabulous!
Mark your calendars for Breakfast with the Easter Bunny at Ripley's Aquarium (1110 Celebrity Circle, Myrtle Beach, SC 29577). On Saturday, April 16, 2022 from 8:00 a.m. to 10:00 a.m. you can enjoy a delicious breakfast feast, take photos with the Easter Bunny and Norman the Penguin, mermaid meet-and-greet, fun-filled Easter eggs and explore the aquarium, and more! The cost is $49.99/adult (ages 12+), $39.99/child (ages 6-11), and $24.00/child (ages 3-5) plus tax and gratuity, Reservations are required.
The North Myrtle Beach Easter Egg Hunt will take place on April 16 at 10:00 a.m. The 40th Annual North Myrtle Beach Easter Egg Hunt will be held at McLean Park, 93 Oak Drive, North Myrtle Beach. The event is free to all. Egg hunt areas are divided by age groups: 2 & under, 3 & 4 years old, 5 & 6 years old, 7 & 8 years old, 9 & 10 years old, and 11 & over. This is an egg hunt only, but don't worry, the Easter Bunny will hop in to hand out candy to all the children! The hunt will start at 10:00 am sharp so arrive early; parking is limited.
Bring along your flashlights for the Twilight Easter Egg Hunt in Conway! On April 14 at 7:00 p.m. There will be over 2,000 candy filled eggs. The event is free but bring your own flashlight and your Easter basket.  There will be eggs, candy, and prizes. Activities start at 7:00 pm and the egg hunt starts at 7:45 pm. At the Billy Gardner Recreation Complex, 1515 Mill Pond Road in Conway. 
The Surfside Beach Easter Egg Hunt and Children's Fair will take place on April 16 from 1:00 p.m. to 4:00 p.m. at the Huckabee Complex, 499 Spanish Oak Drive, Surfside Beach.
The 9th Annual Helicopter Easter Egg Drop at Thompson Farm is returning this year on two weekends in April, not just one! Over 10,000 easter eggs will drop from a helicopter over the farm on April 2nd and April 16th from 10am-4pm. There will be an Easter bunny for photos, fun and games for the kiddos, a petting zoo, and more.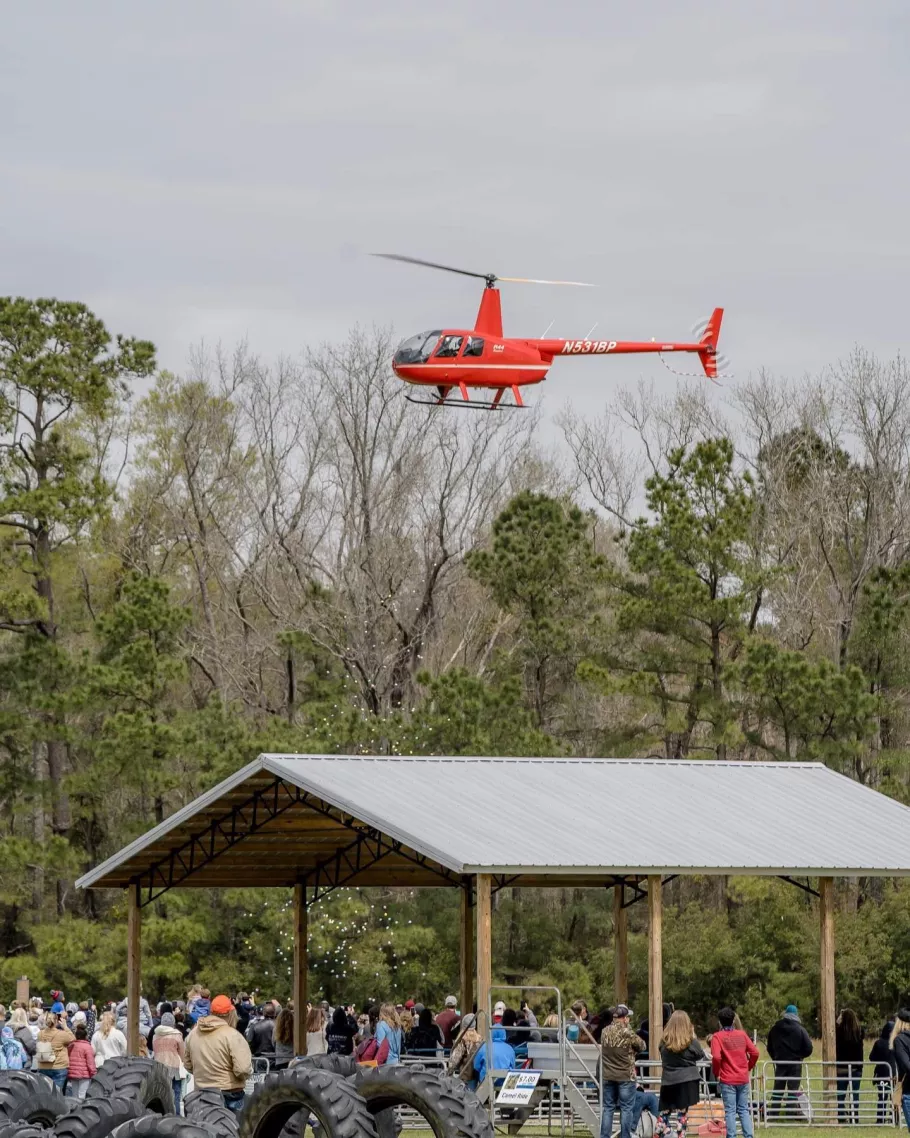 Easter Sunrise Services - Sunday, April 17
Myrtle Beach Christian Church will hold Easter Sunrise Services at Hurl Rocks Park, 1905 South Ocean Blvd, Myrtle Beach, 6:30 a.m.

Grand Strand Baptist Church will hold its annual Easter sunrise service beginning at 6:30 a.m. at the Second Avenue Pier.

Faith Presbyterian Church will host an Easter sunrise service on the beach at 79th Avenue North beginning at 6:30 a.m. Bring a chair or folding blanket if you don't want to stand for the service.

King of Glory Lutheran Church will hold Easter Sunrise Beach Service at 6:30 a.m at 10th Ave N. beach access, North Myrtle Beach

The Trinity United Methodist Church will hold an oceanfront Sunrise Service at 6:30 a.m. - 17th Avenue South in North Myrtle Beach

St. Stephen's Episcopal Church - Easter Sunrise Beach Service at 6:30 a.m at 10th Ave N. beach access, North Myrtle Beach 

Surfside Beach Pier has a sunrise service planned for 6:30 a.m. Parking enforcement will be delayed until 8:30 a.m. in the Yaupon and North Pinewood parking lots. There is no street or sidewalk parking, and visitors must park in the parking lots.

Shepherd of the Sea Lutheran Church will host their SONrise Service on the beach outside the Conch Café located at 1870 N. Waccamaw Dr., Garden City, SC 29576. Service is at 6:30 a.m. Communion will be celebrated, and all are welcome! Bring a chair if you'd like to sit.
Restaurants Open on Easter
There many restaurants throughout the Grand Strand offering specials for Easter Sunday. Here is a short list - but it is good practice to always call to confirm hours or reservations! 
Sea Captain's House
Blueberry's Grill 
LuLu's North Myrtle Beach
Chestnut Hill Restaruant
Magnolia's at 26th
View more restaurants around the Grand Strand on our Eat page. 
Sticking Around After Easter?
The Taste of the Market Common will be happening  Saturday, April 23 from 11:00 a.m. to 3:00 p.m. This is one of Myrtle Beach's tastiest events of the year! Taste everything from Asian and Italian food, to Southern, Tex-Mex and American, plus desserts that will put a smile on anyone's face. Be sure to check out the sidewalk sales, carriage rides, and kids' activities too, which include face painting, inflatables, games and balloon art. There will be something for everyone.