Myrtle Beach Area Events to Attend This Year
Myrtle Beach Area Events to Attend This Year
Where should you be in 2023? We've narrowed down the top events, month by month, that are worth planning ahead for around.
It's time to "save the date" for these upcoming festivals, activities, concerts, and more in the Myrtle Beach area! And … go!
World Putting League Championships
Feb. 13-27, Aloha Mini Golf, Myrtle Beach
This putt-putt tournament will feature 36 athletes and 7 days of competition right here in the Mini Golf Capital of the World. Each day, six athletes will play two rounds each at Aloha Mini Golf, and the top two golfers will advance to the finals on Feb. 27 to compete for a $5,000 first-place prize (second and third place will also win cash prizes). There is no entry fee for the tournament.
Shuckin' on the Strand Oyster Roast
Feb. 18, noon to 4 p.m., Hot Fish Club, Murrells Inlet
This 14th annual event, considered, the largest oyster roast on the Grand Strand, is hosted by the Grand Strand Young Professionals (GSYP) at Hot Fish Club. Complete with bushels of oysters, chicken bog, fixins, and drinks, the oyster roast will also feature live entertainment from Marcus Cannon. All proceeds benefit Substitutes for Santa, GSYP event every December that give local children a Christmas. Advance tickets are highly recommended.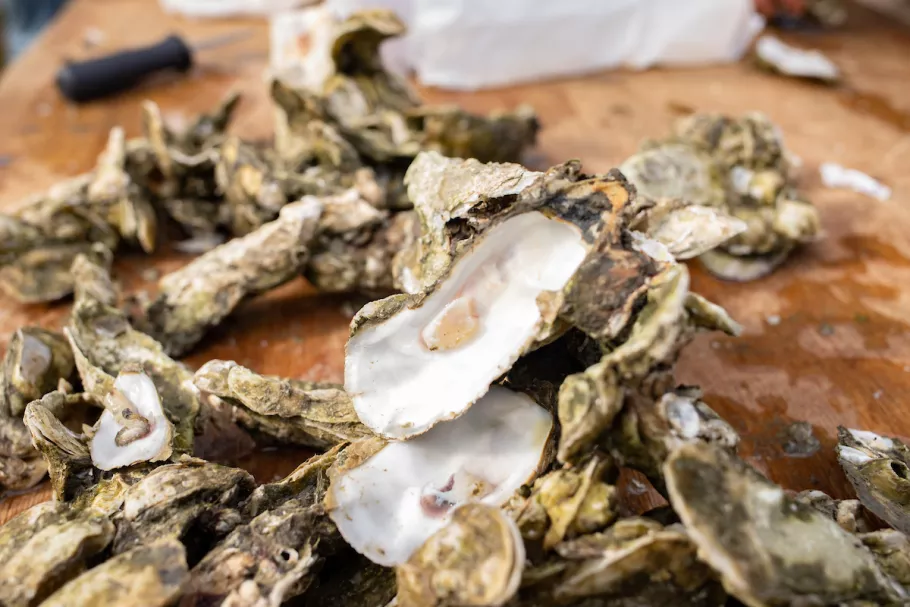 Penguin Dash 5K Run/Walk and Family Fun Run
Feb. 18, Ripley's Aquarium, 8 a.m., Myrtle Beach
Wake up and hit the ground running Saturday for this 5K run/walk or 1-mile walk/run. There is also a free Toddler Waddle at 9 a.m.! The run/walk course will wind through Broadway at the Beach, with the start/finish line at Ripley's Aquarium. The family-friendly event will celebrate the South African penguins that live at the aquarium, and contestants are encouraged to dress up for the costume contest. Look for an appearance by Norman and Sharkee, plus a possible appearance from the penguins themselves! 
Town of Surfside Beach BBQ Festival
March 3 and 4, Downtown Surfside Beach
The two-day annual festival is comprised of an "Anything But BBQ" event Friday night from 4-7 p.m., when vendors will be onsite to sell their favorite non-BBQ dish, and Saturday from 10 a.m. to 4 p.m., when vendors will be all about BBQ. Admission is free, with food and beverage items for sale.
Myrtle Beach Marathon
March 4, 7 a.m.
The mega Myrtle Beach Marathon, Half Marathon, and 5K are back to the streets of Myrtle Beach. The longtime sporting event is known nationwide for its flat, fast, and fun course.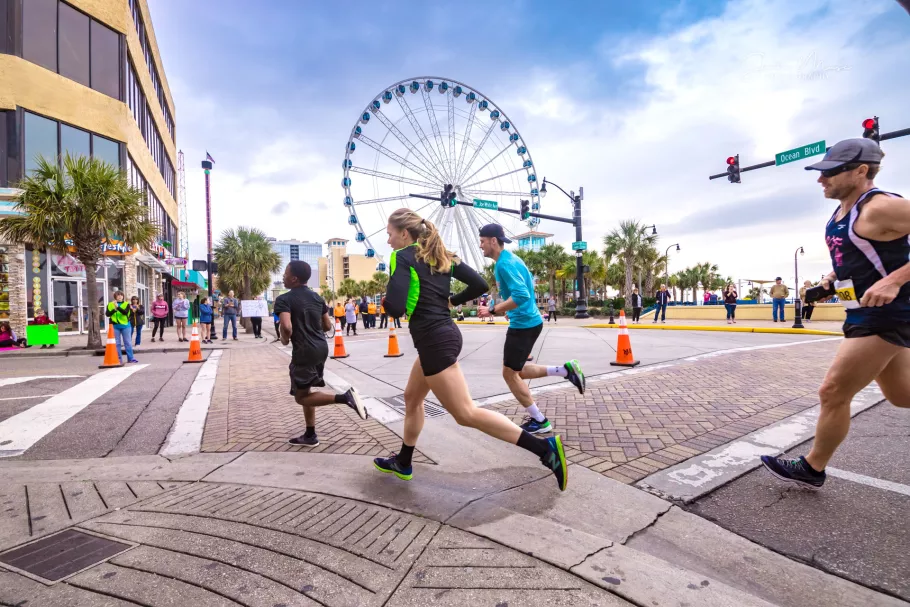 St. Patrick's Day Parade
March 11, 9 a.m., North Myrtle Beach
Get ready to celebrate at the largest St. Patrick's Day parade on the Grand Strand! Boasting a long history and more than 100 parade entries, the special event starts and ends on Main Street in North Myrtle Beach for its two-hour route. The party continues post-parade, with a street festival featuring three stages of live entertainment, including Irish pipe bands, dancers, and more, plus more than 100 food, art and craft vendors, leprechauns and street performers, and a children's activities area.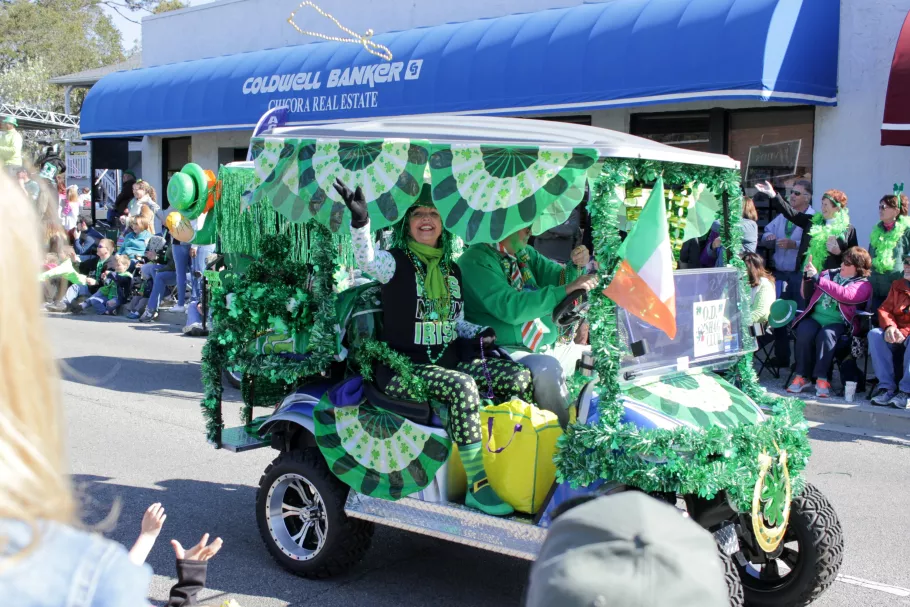 Run to the Sun Car Show
March 16-18, 8 a.m. to 5 p.m., Myrtle Beach
The Pee Dee Street Rodders host the annual Run to the Sun Car Show, one of the largest car shows in the Southeast, each year at 2501 North Kings Highway in Myrtle Beach. The massive show brings more than 3,000 pre-1989 cars and trucks from across the continent together all weekend long.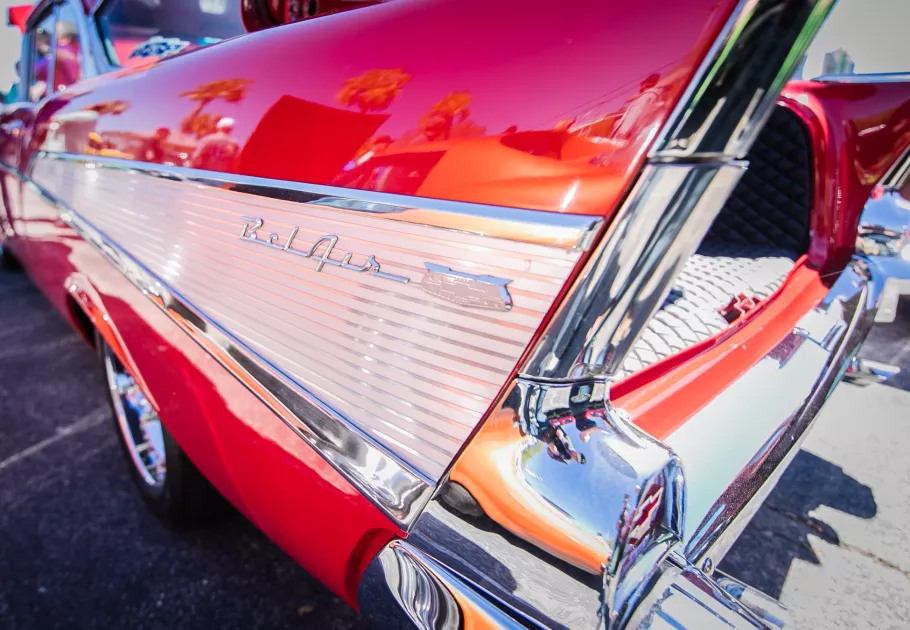 Myrtle Beach Food Truck Festival
March 31-April 2
Always popular, the free Myrtle Beach Food Festival weekend will again be held at the Burroughs and Chapin Pavilion Place in downtown Myrtle Beach. Food trucks will be parked and ready to sell their specialties, along with beer and wine vendors, a kids zone, and live music. Hours are Friday, 5-9 p.m., Saturday, 11 a.m. to 7 p.m., and Sunday, 11 a.m. to 5 p.m.
Spring Fest
April 8, 10 a.m. to 3 p.m., Grand Park
The City of Myrtle Beach's Parks, Recreation and Sports Tourism Department will host an all-day Spring Fest at Grand Park in The market Common. The free event will include food vendors, a car show, egg hunts, games, and more.
Myrtle Beach International Film Festival
April 18-22
The 18th annual Myrtle Beach International Film Festival (MBIFF) will take action again this year at Stone Theaters in The Market Common. In addition to film showings, there will be networking, forums, and food events, where filmmakers, industry professionals, and film fans will converge.
Brookgreen Gardens Art Festival
April 29 and 30, 10 a.m.
The Brookgreen Gardens gift shop, Keepsakes, will host this huge two-day event under the live oaks that showcases the talented artists and craftsmen throughout the region and nationwide, from paintings, sculpture, and pottery to fabric art, glass, and more.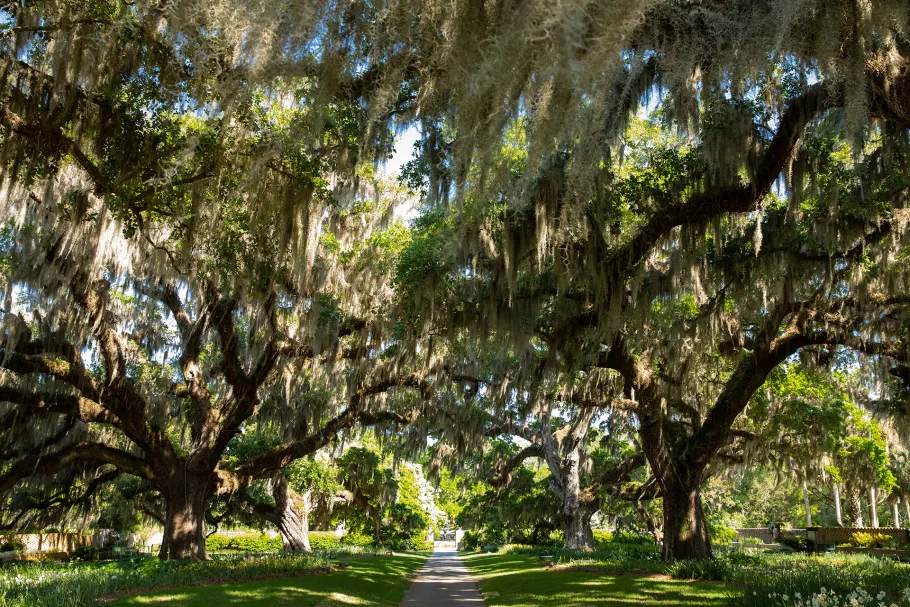 Socastee Heritage Festival
April 29, 10 a.m.
Always a fun family tradition, the 11th annual Socastee Heritage Festival, sponsored by the local nonprofit Socastee Heritage Foundation, gathers around the town's swing bridge, with arts and crafts vendors, food, live music, and tons of activities.
Dragon Boat Festival
April 29, 9 a.m. to 4 p.m., Grand Park
The 15th annual all-day Dragon Boat Festival will descend upon the lake at Grand Park at The Market Common, where teams of 20 paddlers and one drummer row their way through the day and race for the fastest time in their division. The fundraising event is free to spectators; additional activities include a live DJ, Family Fun Zone, food and drink vendors, entertainment, and an awards ceremony.
Ocean Drive Beach Music Festival
May 6, 10 a.m., North Myrtle Beach
The 6th annual Ocean Drive Beach Music Festival welcomes one and all to gather to listen, sing, and dance along with the day's lineup of music on a stage between Main Street and First Avenue South in North Myrtle Beach.
World Famous Crab Festival
May 20 and 21, Little River
The historic Little River waterfront is the backdrop for this longstanding local event – and one of the largest festivals in the Southeast. The two-day event features some of the area's best seafood, live music, children's activities, and hundreds of arts and crafts vendors on-hand.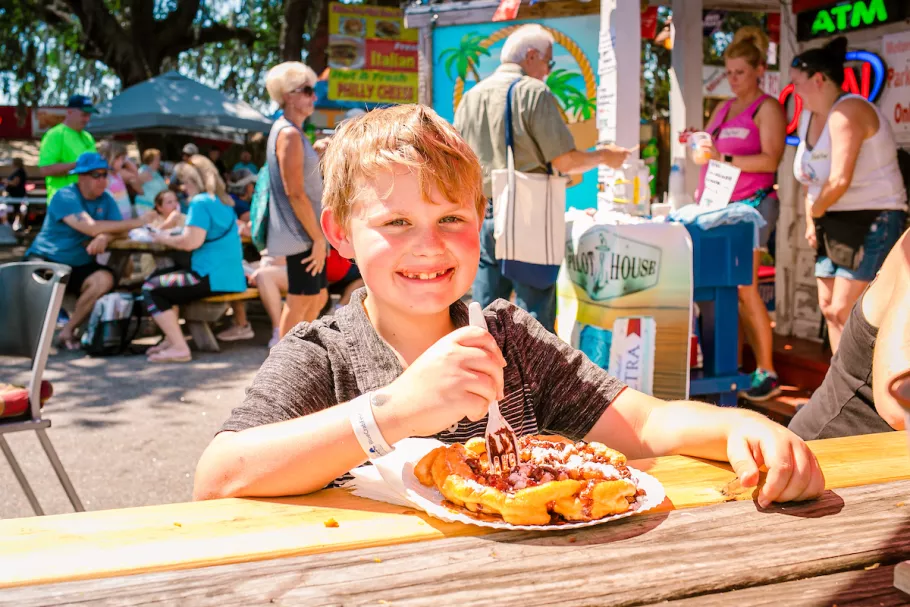 Military Appreciation Days Parade, Family Picnic, and Exhibits
May 27-29, Myrtle Beach
Myrtle Beach salutes our nation's military through a variety of events leading up to and on Memorial Day, including a patriotic parade a family picnic at The Market Common, where there will also be live music, and military exhibits and displays. The Jack Platt Veterans' March with Battlefield Cross Ceremony will also take place on May 29 at 9 a.m. from 16th to Ninth Avenues North along Ocean Boulevard in Myrtle Beach.
Carolina Country Music Fest
June 8-11, Myrtle Beach
The four-day CCMF oceanfront concert/party will go all out for country music lovers at the 18-acre Burroughs and Chapin Pavilion Company. This year's all-star lineup includes: Morgan Wallen, Miranda Lambert, Brooks and Dunn, Travis Tritt, Tracy Lawrence, Lainey Wilson, Bret Michaels, and many more.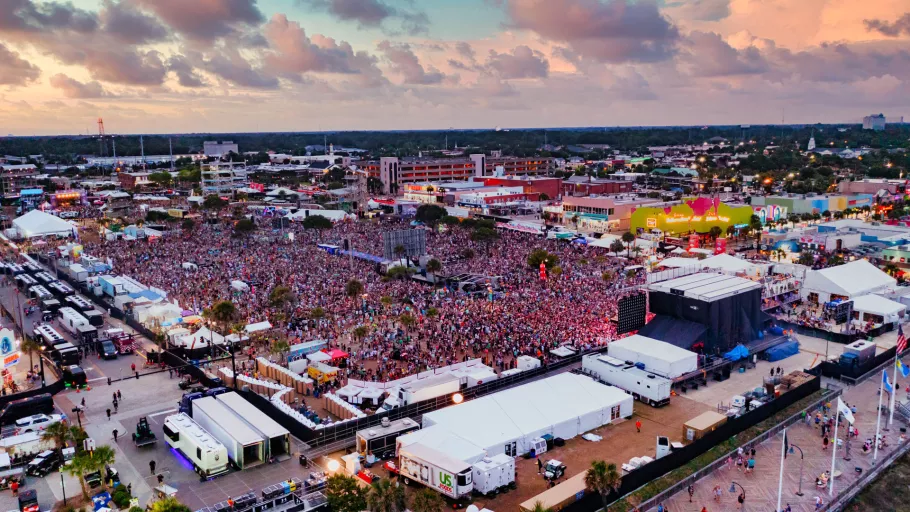 Musika! The Grand Strand Music Festival
June 25-31, 7 p.m., Various Locations
Back for encore performance, Musika! will feature 30 incredible performances throughout the Grand Strand. Exact performance lineup details are to be determined, but will include fully staged operas, musical theater productions, choral-orchestra performances, Broadway selections, voice recitals, and chamber performances. A Master Artists Concert Series also features internationally recognized artists from the Metropolitan Opera and other groups of this caliber.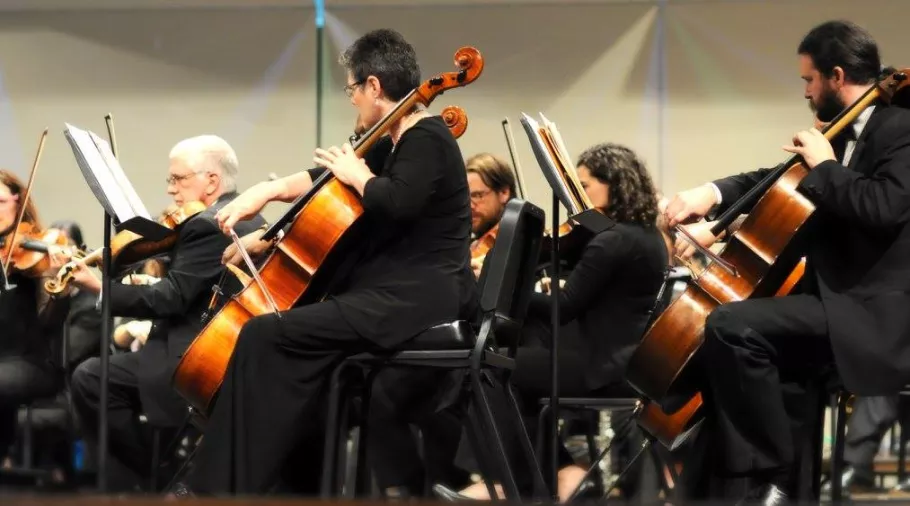 Mustang Week
Sept. 4-10, Myrtle Beach Mall
Hundreds of mustangs will return to rev their engines at this annual gathering of Mustang fanatics at the beach. Stay tuned from sponsors for more details.
Town of Surfside Beach Family Festival
Oct. 7, 10 a.m., Downtown Surfside Beach
The annual family-friendly festival welcomes thousands of guests to join in to celebrate with good food, good fun, family-friendly activities, art and craft vendors, food vendors, and two stages of live entertainment.
Little River ShrimpFest
Oct. 14 and 15, Little River Waterfront
The 18th annual ShrimpFest on the Little River Waterfront is a must-see, with live music on two stages, balloon artists, kids activities, more than 100 arts and crafts vendors, and, of course shrimp and other fresh fish dishes served up by local restaurants.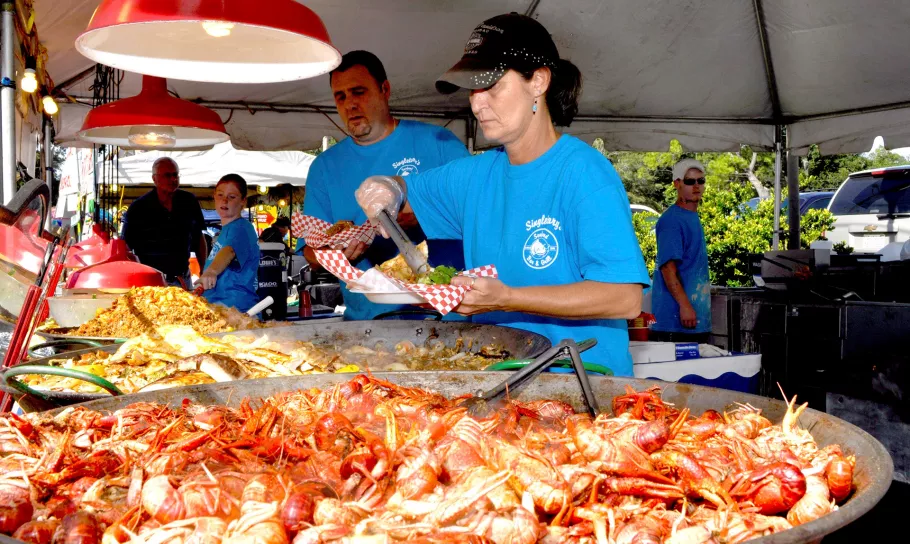 Myrtle Beach Mini Marathon
Oct. 14, 2023
This event is a runner's delight, featuring a variety racing events, including the 5-mile oceanfront mini marathon, the Coastal 5K through the streets of The Market Common, and the Doggie Dash around Grand Park Lake.
Loris Bog-Off Festival
Oct. 21, 9 a.m. to 9 p.m., Loris
Loris has hosted this festival for the last 44 years, and there's a reason why: chicken bog! The South Carolina staple is celebrated on this day by thousands of attendees, which also includes samplings of other Southern food, live music, arts and crafts, children's activities, and a fireworks finale.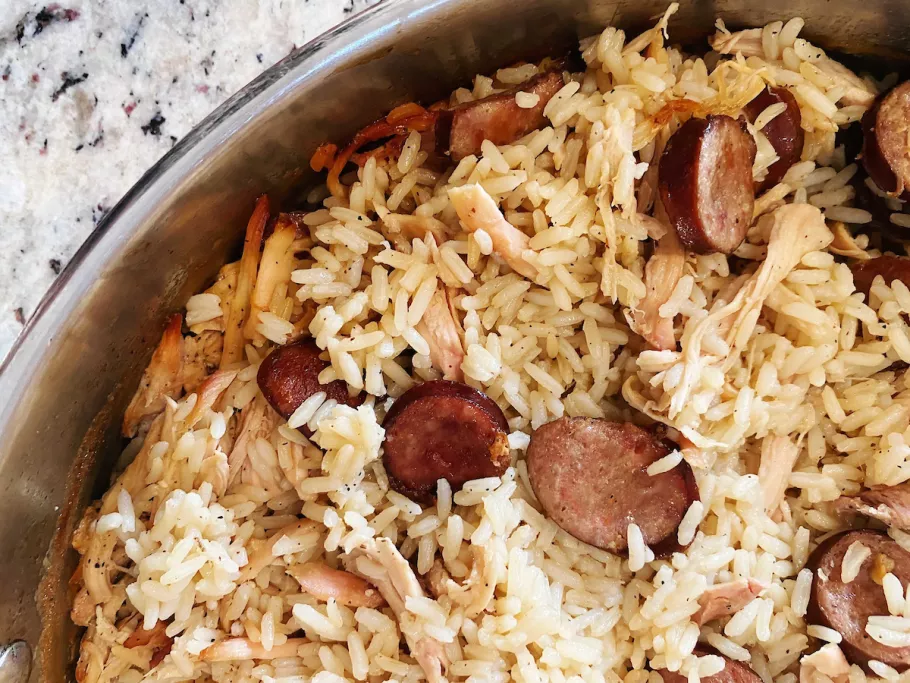 Myrtle Beach Jazz Festival
Oct. 20-22, Myrtle Beach
You'll love the smooth sounds from this free jazz festival held on historic Carver Street in Myrtle Beach. Also on the itinerary are food and beverage service, children's activities, and more.
Myrtle Beach Jeep Jam
Oct. 20-22, Myrtle Beach
Hundreds of jeeps will go "off-road" together for three days at the former site of the Myrtle Square Mall near the convention center. Jeep lovers will show off their vehicles and network, plus compete in an obstacle course, and all can enjoy a car show, vendors, entertainment, and daily beach crawls.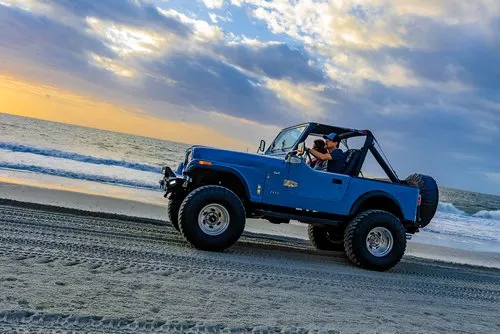 Dickens Christmas Show & Festival
Nov. 9-12
Ring in the holiday spirit at this annual award-winning holiday event that transforms the Myrtle Beach Convention Center into a Victorian Marketplace filled with shops, entertainment, vendors, and more.