5 of the Best Fall Photo Ops in Myrtle Beach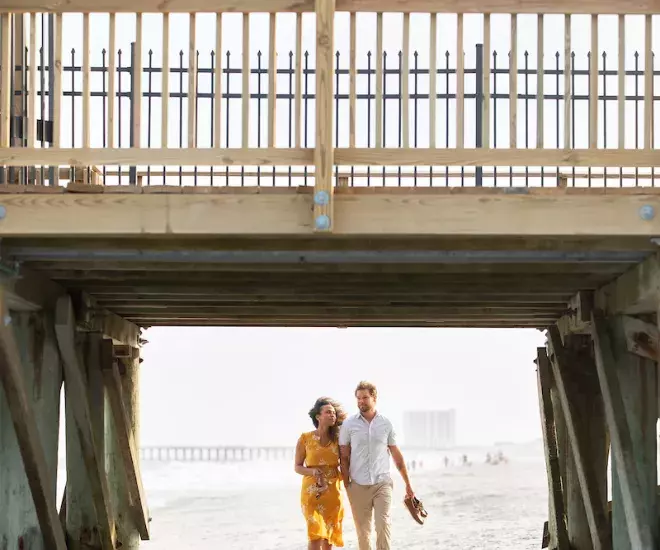 Fall is the perfect time of year to plan for family photos, especially if you're visiting the Myrtle Beach area. Temperatures have cooled slightly, the humidity is no longer an issue, and the area boasts an abundance of scenic photo backdrops. Whether you plan to take the photo yourself or hire a local photographer, here are a few of our favorite locations for shooting the perfect family photo this fall.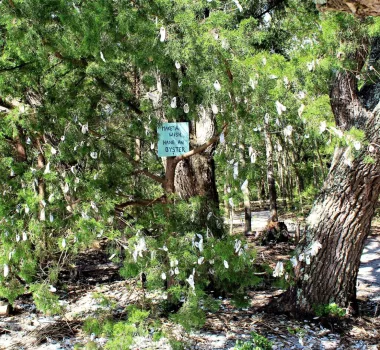 1.
Vereen Memorial Historical Gardens
Situated on the north end of the Grand Strand right along the North Carolina and South Carolina state line, Vereen Memorial Historical Gardens is one of the area's 'hidden gems.' While the walking trails and wildlife spotting alone are well worth a visit, the 114 acres of picturesque woodlands, salt marsh and formal gardens make the perfect location for any fall family photo. Admission into Vereen Memorial Historical Gardens is free, and if you're visiting on a weekday, you'll likely have very little interruptions when it comes to photo taking time. The gardens are situated right along the Intracoastal Waterway, and its boardwalks and marsh setting give photos a distinctive Lowcountry feel and provide some fall 'coloring' to the backdrop. Its close proximity to the Little River waterfront also provides a chance to coordinate family photos near mealtime and enjoy some of the best fresh seafood along the South Carolina coast. Vereen Memorial Historical Gardens are open during daylight hours and can be found at 2250 SC-179 in Little River, S.C.
featured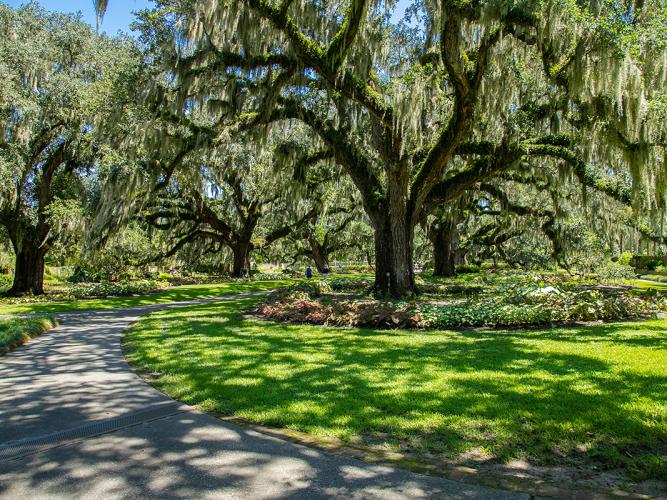 It's easy to capture a memorable family photo at Brookgreen Gardens in Murrells Inlet, S.C. The gardens cover nearly 10,000 acres, preserving the historic and natural landscape expertly, and housing the largest outdoor collection of American figurative sculpture in the world. While there is a cost for admission, they do welcome personal photography, and it's easy to spend an entire day at Brookgreen Gardens taking photos. The Live Oak Allée is one particularly popular spot for family photos within Brookgreen. 250-year-old Live Oak trees planted in the early 1700s (when Brookgreen Gardens was four rice plantations) line a wide sidewalk, and offer just the right amount of shade and outdoor lighting to compliment a stunning family portrait. There are many photo-worthy spots throughout the gardens beyond Live Oak Allée and plenty of flowers, trees and shrubs which continue to bloom through the fall and winter months, as well.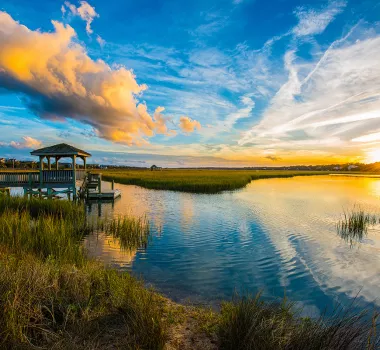 The Myrtle Beach area is home to two beautiful state parks—Myrtle Beach State Park and Huntington Beach State Park—and either one is a great choice for snapping a good fall family photo. Close to central Myrtle Beach, Myrtle Beach State Park provides a very nature-focused setting for family photos with its striking oak trees and native flora. Myrtle Beach State Park Pier offers a unique vantage point and the stretch of beach within the state park is often less crowded than other more populated areas of coastline. Huntington Beach State Park offers an abundance of pristine beach landscape for photos, as well, but this state park is also home to Atalaya—a historic seaside castle that was once the home of artist Anna Hyatt Huntington, whose work is on display at neighboring Brookgreen Gardens. Atalaya was built in a Moorish style in 1931 and provides an interesting (and popular!) architectural backdrop to family portraits. Admission to the state parks is $8 for adults and $4 for children ages 6 to 15, so it's a good idea to plan other state park activities while you're there to make the most of your visit.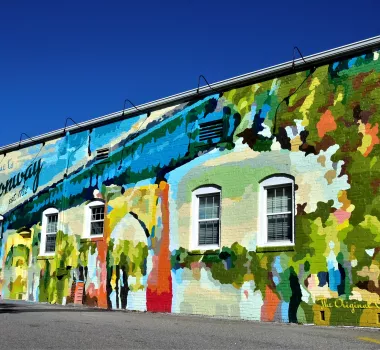 4.
Downtown Conway and the Conway Riverwalk
Located about 15 minutes inland from Myrtle Beach, Conway, is the home of a quaint downtown area, Conway Riverwalk and Riverfront Park. The city of Conway is situated along the scenic Waccamaw River and various spots serve as a great backdrop for fall family photos. In fact, it's not uncommon to see professional photos being shot if you take a walk through downtown to the river this time of year. Downtown Conway (and Main Street in particular) are always well-decorated for whatever season we're enjoying, so you can count on beautiful decor almost any time of year. And the trees lining the Waccamaw River from the vantage point of the Riverwalk provide a rustic fall aesthetic sure to enhance a seasonal family photo. It's a bonus that all of these locations are free, so you'll have some extra budget to enjoy the downtown shopping and dining scene while you're there.
Sometimes keeping it simple is the best way to go, and fortunately for those visiting the Myrtle Beach area, just walking outside their hotel room or beach house rental is really all it takes when it comes to shooting a great family photo. The sparkling Atlantic ocean and wide stretch of sand that makes up our shoreline can really set the stage when it comes to beautiful family photography—and the weather is still warm enough to enjoy being outside in the sunshine together! For families wanting a more iconic landmark to distinguish where they are in their fall family photos, the 1.2 mile Myrtle Beach boardwalk and downtown stretch of beach provides plenty of recognition, especially with the SkyWheel in the frame! And even for those visitors who aren't staying oceanside, the beach is an easy location for family photos in the fall, as parking at beach access's within city limits is free after November 1.