Vereen Historical Memorial Gardens: A Hidden Gem for Nature Enthusiasts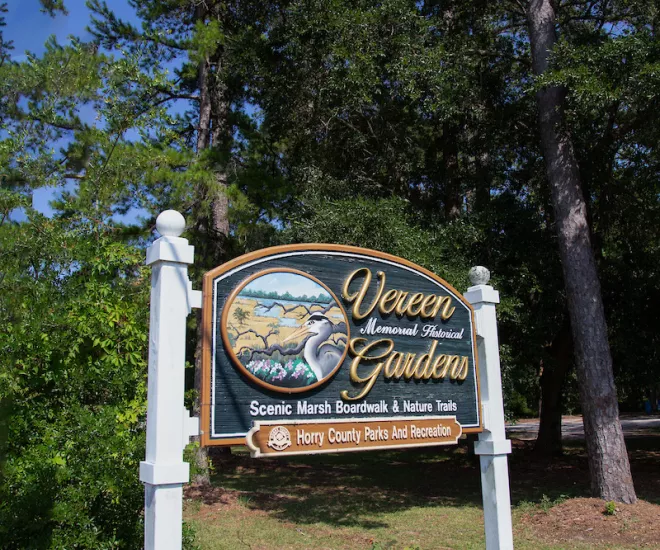 There is a lovely sign along the road in North Myrtle Beach indicating the location of Vereen Memorial Historical Gardens, but the name may be a little misleading. A vision of a flower bed-lined, manicured lawn comes to mind that is quite pretty but doesn't offer much to do. That is not the case!
A quick search of photos on the Internet will show that this county run park is of the caliber of a wonderful state park offering miles of nature trails (some along boardwalks connecting small islands called hammocks that lead to shelled beaches) where families, even those with dogs, can enjoy hours learning about nature, getting in a good work out or kicking back and having a picnic. The entry fee to this excellent destination is FREE.
In 1797, Jeremiah Vereen, Jr., acquired 400 acres of land which became Big Landing Plantation. By the early 1900s, it had been inherited by Hartford Vereen who in turn bequeathed it to his son, Jackson H. Vereen, whom everyone knew as Jack. He had no children, but was the great, great uncle of one of my dearest friends since high school. Just before she was a teenager, she remembers her grandmother taking her to visit him when he was quite old. It was he who deeded 115 acres of that former plantation to the Horry County Historical Preservation Commission on December 21, 1971, for $5 to create the Vereen Memorial Historical Gardens (VMHG).
In 1957, he undertook another project in order to honor his family legacy. While visiting the VMHG, you may come across a cemetery that is both original and expanded, thanks to Uncle Jack, to include eight markers that had been previously destroyed when the Intracoastal Waterway was dredged, presumably around 1936. Those particular graves belonged to war heroes from both the Revolution and the Civil War. Seven list the names, dates and ranks that they held in their respective conflicts. The remaining one gives additional historical information. It says that William Vereen, Sr., (1729 – 1789) "…furnished supplies and aid to General Francis Marion [known throughout South Carolina history as the Swamp Fox] …At Big Landing Island, he made salt for the revolutionary forces." The Horry County Museum in Conway has a salt works display from the Civil War era, but this is the first time I've come across a reference to that enterprise prior to that time.
The main feature of the cemetery is The Vereen Family Memorial. An unveiling ceremony was held on a Sunday afternoon at 3 PM, August 11, 1957. The large stone lists the names of ancestors dating back to the 1600s in France. It was quite an event with music and flags, a specific descendant assigned to honor each forefather and mother. Ladies and girls participating in the ceremony wore white dresses with sashes across them. They looked striking in the photographs taken during the occasion under the canopy of trees which hopefully gave them some reprieve for what had to have been a hot day.
In addition, dozens of spectators of various generations were there from around the country. They could all trace their roots back to the original family members who arrived from France in Charleston on April 29, 1680, Jacques and Susanne Horry Varin.
Two generations later, the family name began to be spelled Vereen. By the 1700s, some of those descendants began moving north to Horry County and settling in what is today North Myrtle Beach. The fellow who founded Big Landing Plantation is sometimes mistaken for his father, Jeremiah Vereen, Sr., who hosted President George Washington when he passed through the area in 1791 on his well-documented Southern Tour. So to say that George Washington slept at what is now the VMHG, would be inaccurate as the property wasn't procured until six years after Washington was here.
What was on that site in 1791 in addition to the trees and marshland was a road. Historians refer to it as the Broad Road or sometimes the Kings Highway which is the pseudonym for Highway 17 Business that passes through Myrtle Beach. The name originates from the need during Colonial Times for there to be a road cut for the use of the King's messengers to get his announcements out to as many colonists as possible. It is that road that Washington's Southern Tour followed most of the time. Sections of the original road can still be seen at Hobcaw Barony, just north of Georgetown on Highway 17, and at the VMHG.
Local preservationists want to recreate what it felt like to travel that road back in those times. To that end, timeless-looking, wooden-railed fencing now lines portions of the road to create a border. Along that border, natural vegetation is cultivated to grow as it did on its own centuries ago. The desired effect is to create a tunnel of trees and other flora through which to pass when traveling the Broad Road.
You can see evidence of the road as soon as you enter the front gate. Nearby, you'll see the C.B. Berry Community and Historical Center that displays artifacts of the VMHG. It is also run by Horry County Parks and Recreation and is named after the late C.B. Berry who was a land surveyor by vocation, but better known as a local historian who wrote for the local paper and historical journals and published a book a year prior to his death chronicling many dozens of interviews of local residents in order to capture our area's history. He was the founder of the Horry County Historical Society, was instrumental in the formation of the VMHG and became its chairman.
Plan your visit to the Vereen Memorial Historical Gardens located at 2250 Highway 179, Little River, SC 29566. Open during daylight hours, check the sign on the gate for that day's exact closing time. Bring water, snacks, sunscreen, and bug spray. There are port-o-potties, picnic shelters and some seating along the trails. Dogs must remain on leashes and be cleaned up after. Have a wonderful time.