Myrtle Beach Bowl Game: Inside Scoop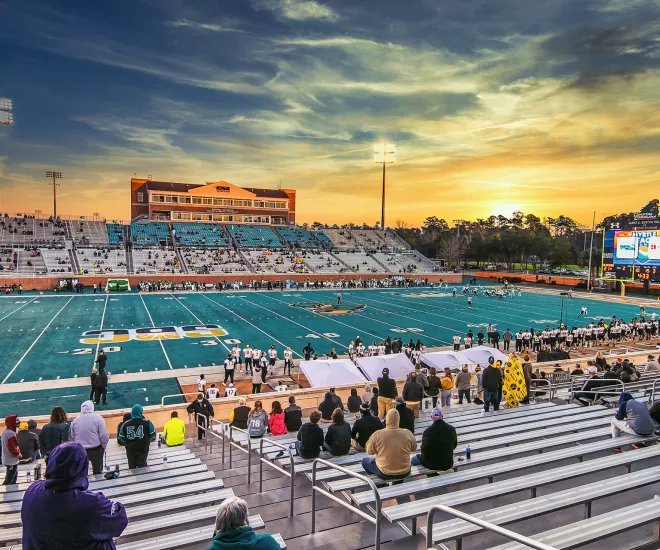 Headed to the Game? Get the Inside Scoop
We are excited that the Myrtle Beach Bowl is BACK on Saturday, December 16, 2023 at 2:30 pm EST on ESPN!
*Please note the date change.
The two teams are still TBD, but will battle it out to be the champion of the Myrtle Beach Bowl at Brooks Stadium on the campus of Coastal Carolina University in Conway, SC - not far from central Myrtle Beach.
On December 16, prior to the Myrtle Beach Bowl game, college football fans can enjoy a variety of free activities outside of Brooks Stadium on the Coastal Carolina University campus. University Blvd. will open to foot traffic only shortly after 9 a.m. and the Myrtle Beach Bowl Fan Fest will start at 11 a.m. and run just before kickoff time at 2:30 p.m. Music, food, vendors and interactive fun will all be available for the entire family.
The Myrtle Beach Bowl is not the only thing happening in Myrtle Beach! We have a plethora of fun activities - beachy or holiday - depending on your vibe. Here are a few of our suggestions if you and your family are in town for the weekend:
Winter Wonderland at The Beach - Come on out to Boardwalk in downtown Myrtle Beach for a walk-through holiday light display. This new family-friendly event is just steps from the beach. For more information, check out of the event website.
Holiday Shows - Myrtle Beach is known for its live entertainment and dazzling shows during the holiday season! From pirates celebrating Christmas to classic shows at Alabama Theatre and Carolina Opry, there is something for everyone in your family to enjoy. Learn more in our Holiday Show Blog post.
It's Oyster Season! - Seafood is a staple of the Myrtle Beach area, especially oysters in the fall and winter. There are several places around the Grand Strand that offer the freshest oysters, as well as other seafood options. Read more about it in 7 Places to Eat Oysters.
Tailgating is also permitted and tickets to the game are still available. Reserved seating is $30, premium seating is $45 and Chairback seating is $50. There's also premium seating packages starting at $100. Admission and parking tickets can be purchased at the door or in advance. Be sure to check out the website for stadium bag policies and more info as well. For more information, visit MyrtleBeachBowlGame.com.
If you can't attend the Myrtle Beach Bowl game this year, make sure you watch it live on ESPN.
Places to Stay in Myrtle Beach
Click here if you are planning a trip to Myrtle Beach to cheer on your team and are looking for a place to stay.
Season's Beachings from your friends at The Beach!