The Perfect Winter Weekend Itinerary in Myrtle Beach, South Carolina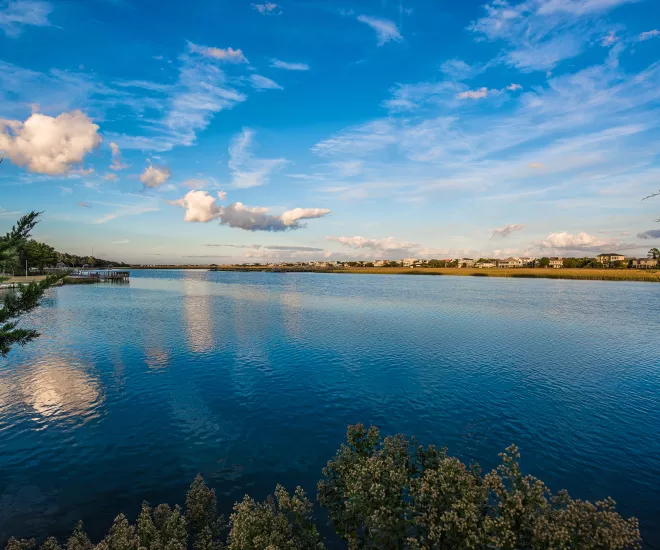 It's More than Just a Beach
The last time my husband and I visited Myrtle Beach, South Carolina was with our niece and nephew and their four young children. We enjoyed spending time with them, it was fun, but the trip was definitely "kid-driven". As retired, empty-nesters, we usually travel together—alone. This winter we decided on another weekend trip to Myrtle Beach. This time, all by ourselves.
During winter months it's difficult to plan a sunny, beach-activity-filled weekend. Luckily, the Grand Strand offers more than "just a beach". There is a host of different activities to keep visitors busy. Here is a sample itinerary to plan a long weekend in Myrtle Beach.
Day 1: Discover Myrtle Beach History in Conway
Just west of Myrtle Beach is the charming historical town of Conway, county seat of Horry (pronounced OH-REE) County and part of the Myrtle Beach metropolitan area. This is a great stop anytime, but especially during the cooler winter months. The downtown and Riverwalk areas are so quaint and very walkable. There are many fantastic restaurants in Conway, as well. I highly recommend Rivertown Bistro where you'll enjpy 5-star cuisine in a warm and friendly atmosphere.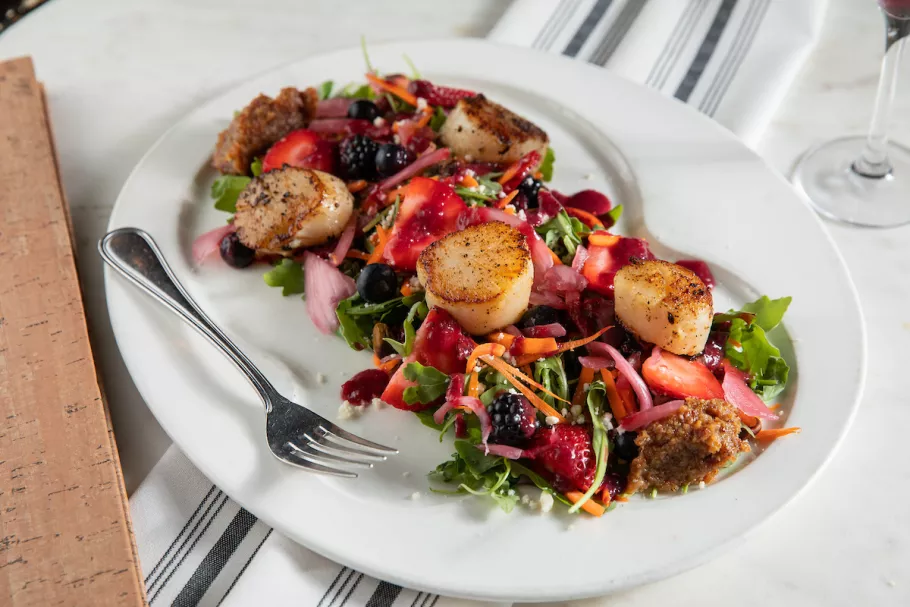 The Horry County Museum and L.W. Paul Living History Farm is a great place to visit even if it's chilly outside. The two-story (accessible) museum is filled with numerous exhibits. You will enjoy learning about the area's history and culture--rice fields, farmland, and timber industry--long before there was a modern-day Myrtle Beach. You'll enjoy perusing the museum so much that time will fly. You could easily spend two hours or more here.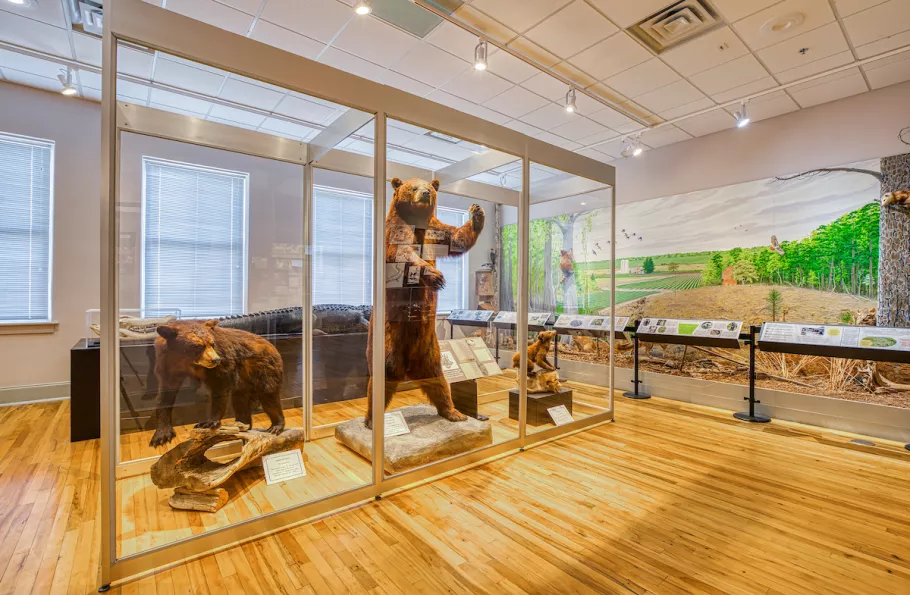 The Living History Farm gives visitors an insight into early 20th-century farm life in Horry County. Stroll about the grounds looking through outbuildings containing a blacksmith shop, farm implements, and a tobacco smokehouse. Visit the farm animals at the barn. In the recreated farmhouse you might meet Cheryl (and others), dressed in period costume, cooking on a wood-buring stove or mending torn potholders on a vintage sewing machine. After a walk-about, warm up in the gift shop while browsing vintage toys, yummy canned goods, books about the local area, and more.
Note: If you are visiting with kids, this is a fantastic stop. The majority of the L.W. Paul Living History Farm is outdoors (it's a farm) with plenty of room to run and get their wiggles out.
Dinner and a Show Date Night
It is a short drive from Conway to North Myrtle Beach over the Intracoastal Waterway Bridge. After checking into your hotel and freshening up, head out for a dinner and a show "date night".
With over 2000 restaurants and 8 theaters you can't go wrong with whatever you choose. We had heard about Hook & Barrel restaurant and the Carolina Opry Theater from a friend, so we were excited to try them. Both the dinner and show exceeded our expectations.
At Hook & Barrel, you'll be greeted with a friendly smile. As you are escorted to your table you'll be delighted by the sights and aromas just walking through the restaurant. Be sure to ask about the specials. Don't question it, just order the "hanging bacon" the restaurants most popular appetizer. You'll thank me later. You also can't go wrong with She Crab Soup or a Bloody Mary oyster shooter. Both of which I've grown fond of since moving to the South.
Our dinner was mouthwatering. My entree was fresh-caught swordfish with citrus-herb butter, tri-colored cauliflower, and potatoes and cauliflower root puree. My husband thoroughly enjoyed his butterfish with rice and veggies in a miso-soy broth. If you are a seafood lover and want to splurge, the Seafood Tower looked scrumptious.
After dinner, we drove a short distance to the Carolina Opry Theater. The theater shines brilliant against the dark as you drive up. It looks magical. The inside of the theater is opulent, but comfortable. The grand staircase and magnificent chandelier immediately caught my eye. Pursue the gift shop before or after the show. Inside the auditorium, the aisles between the rows of seats are wide and very roomy. No seat in the house is a bad seat. Grab a glass of wine, sit back, and enjoy a fabulous show.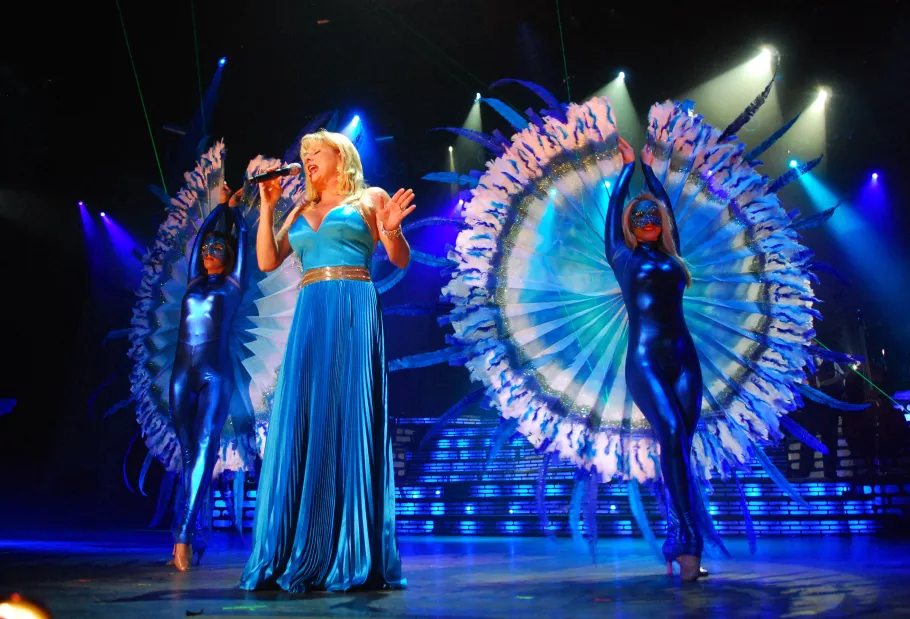 There are different shows throughout the year. The show we saw was like an old-fashioned variety show—lots of singing, dancing, and even a little comedy. We laughed and sang along to some of our favorite oldies. Okay, I sang along but I did catch my husband tapping his fingers to the beat. It was a very enjoyable and romantic evening.
Day 2: The Sound of Crashing Waves
If you're lucky enough to wake up with the sun to the pleasant sound of waves crashing on the shore outside your window--you're lucky enough. I couldn't resist an early morning walk on the beach so with a cup of coffee in hand, we wandered out through the sugar-white sand to the water's edge. If you are an seashell hunter you won't be disappointed.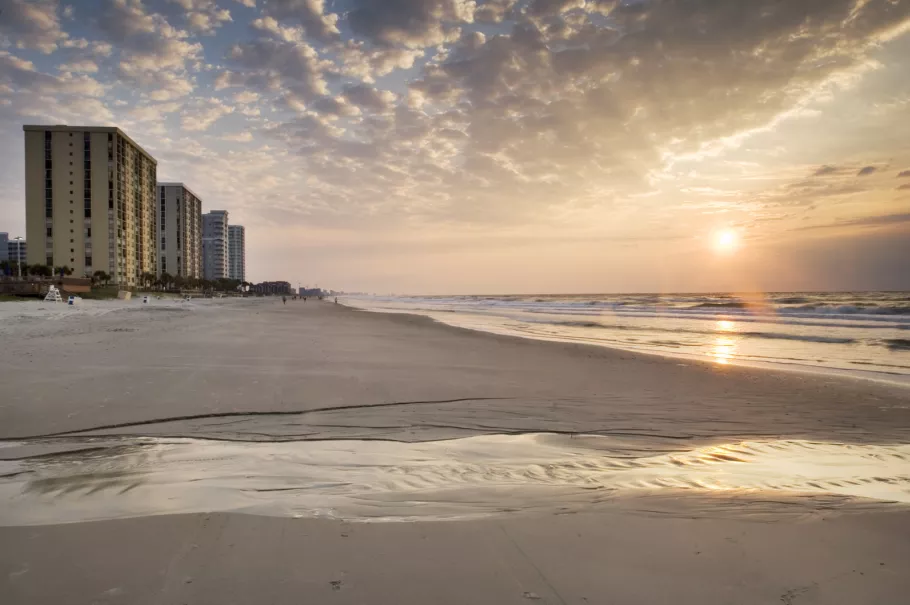 Fishing or Eco-tour on the Intracoastal Waterway
After a hearty breakfast, a great early morning (or any time of day) excursion is fishing on the Intracoastal Waterway and surrounding rivers just north of Myrtle Beach.
If you aren't into fishing, you will thoroughly enjoy the gorgeous scenery. Sail through marshlands teeming with wildlife, down Little River and up Bonaparte Creek, past small quaint fishing villages where folks on shore smile and wave. Cross into North Carolina to Sunset Beach Bridge and up the Calabash River. You won't experience a more perfect day.
I recommend Captain Smiley Fishing Charters in Little River, just a short drive north of North Myrtle Beach. Our fishing guide for the day was Captain Buddy. Buddy is a 4-time, world-record holder that has been fishing the coastal Myrtle Beach waters all his life. And he's a nice guy. It was a beautiful day. The sun was shining. The sky was blue. The water was clear. Perfect for a winter's day fishing trip.
Tip: Whichever charter you choose, call or check their website for different types of tours.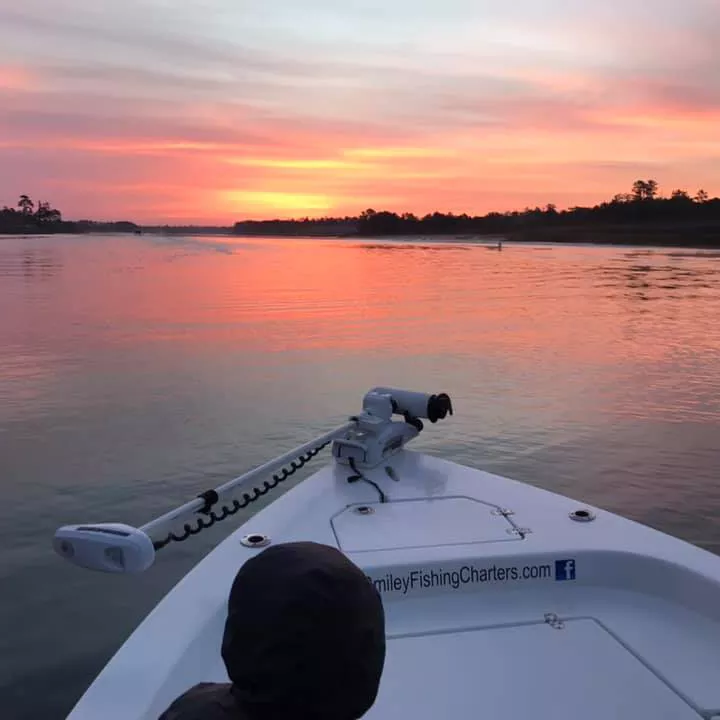 If you are fishing, once back at the marina, your guide will clean and fillet your catch. You can then take your fish right next door to Snooky's On the Water restaurant where they graciously grill your fresh catch and paired them with some southern sides for your dinner.
Day 3: Huntington Beach State Park and Atalaya Castle
Have you ever wanted to visit a real castle? You can when you visit Huntington Beach State Park. This is a weekend-getaway "must-see". The winter mornings at the beach can be a bit chilly, but they're usually sunny, so grab a light jacket and set out on a fantastic adventure.
Atalaya Castle was built in 1931 by Archer Huntington as a winter home for his wife Anna Hyatt Huntington, an American artist and sculptor. The 30-room, Moorish-style castle originally sat on 9,000 coastal acres, most of which were donated to become the state park along with the botanical gardens. Atalaya Castle is on the National Register of Historic Places.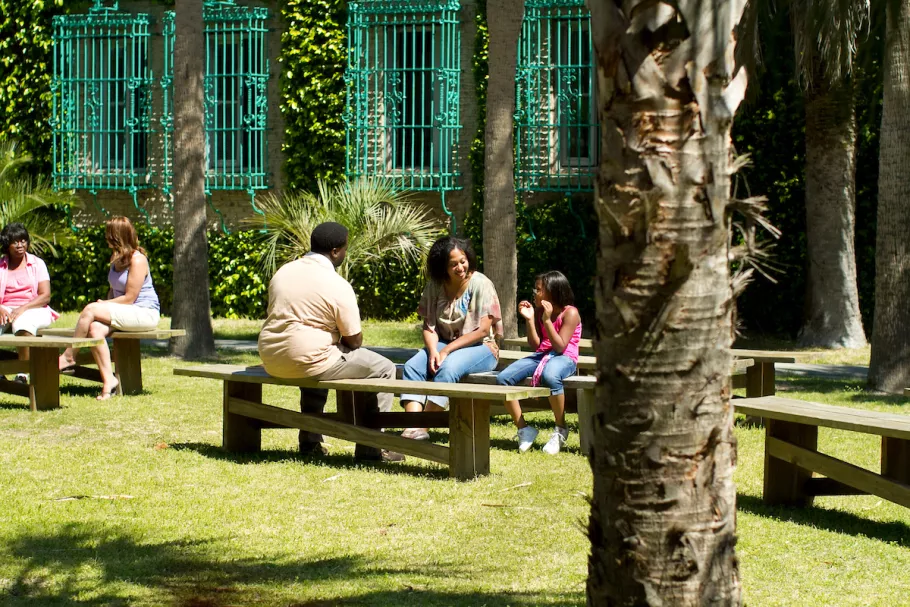 Just across the highway from the castle and originally part of the Archer's estate is Brookgreen Gardens. The gardens were established to showcase Anna's work and became the first public sculpture garden in South Carolina. It is now home to more than 2000 sculptures by 430 artists.
Even in the winter, it is beautiful and well worth the visit. Along with the many sculptures it is filled with mighty 250-year-old oak trees draped in Southern moss, small ponds with wooden foot bridges, flowing water fountains, and even fragrant winter blooms such as daffodils, camellias, and winter Jasmine.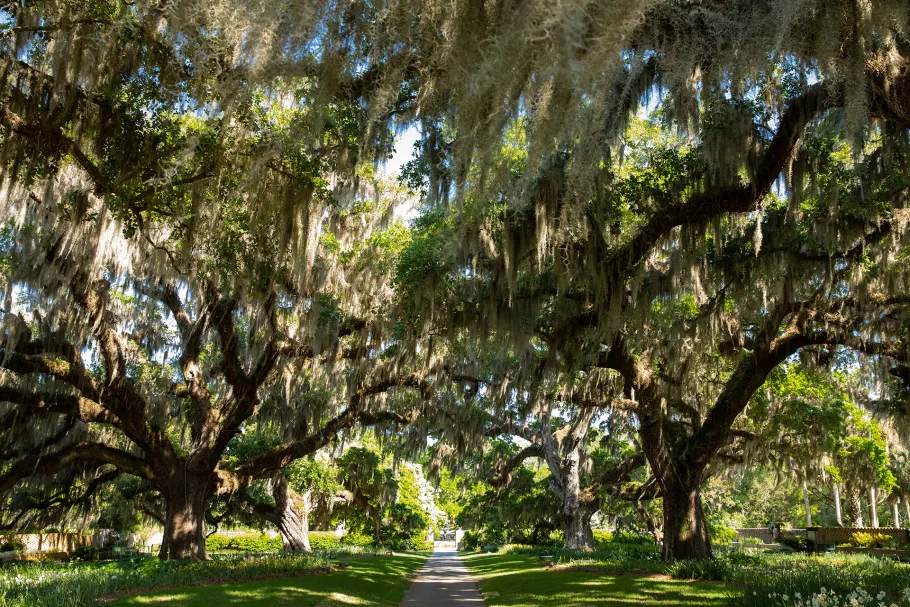 Dinner, Drinks, and an Evening Stroll
After a day of immersing yourselves in culture, take a short drive to nearby Murrells Inlet MarshWalk for dinner and drinks. There are many restaurants to choose from. We decided upon Drunken Jack's, a South Carolina low-country legend for 40 years. We ate a scrumptious seafood dinner and drank signature craft cocktails overlooking the waterfront.
Afterward, with drinks in hand, take a stroll along the boardwalk and watch the golden sun set on the marsh waterways. A perfect way to end the day.
If you are looking for a winter getaway, Myrtle Beach is a magical place filled with an abundance of activities. Take the whole family for an unforgettable vacation or experience all the excitement (and romance) that the "Strand" holds—just the two of you.