How to Beach Like a Myrtle Beach Local
Amid the throngs of summer visitors, you will find locals.  And among those locals, you will find natives.  We natives have been going to this beach of all our lives.  Here are a few tips from a native that may make your visit to the beach in the summertime a bit more enjoyable. 
Where to Go to The Beach
The most obvious choice is a place close to where you are staying.  It is convenient to set up your umbrella and chairs (or rent an umbrella and chairs from one of the beach services) in front of your hotel, resort, campsite, or rental house so that you can use the facilities of those places and not be concerned with parking because you can just walk to the beach.  However, if you are not staying on the beach and need to drive to get there, in addition to all of our beach accesses, consider one of our local state parks. Myrtle Beach State Park at the south end of Ocean Boulevard and Huntington Beach State Park across from Brookgreen Gardens in Murrells Inlet are wonderful places to go.  They boast both facilities and amenities to enhance your beachgoing experience, and are steeped in natural beauty and loads of colorful local history.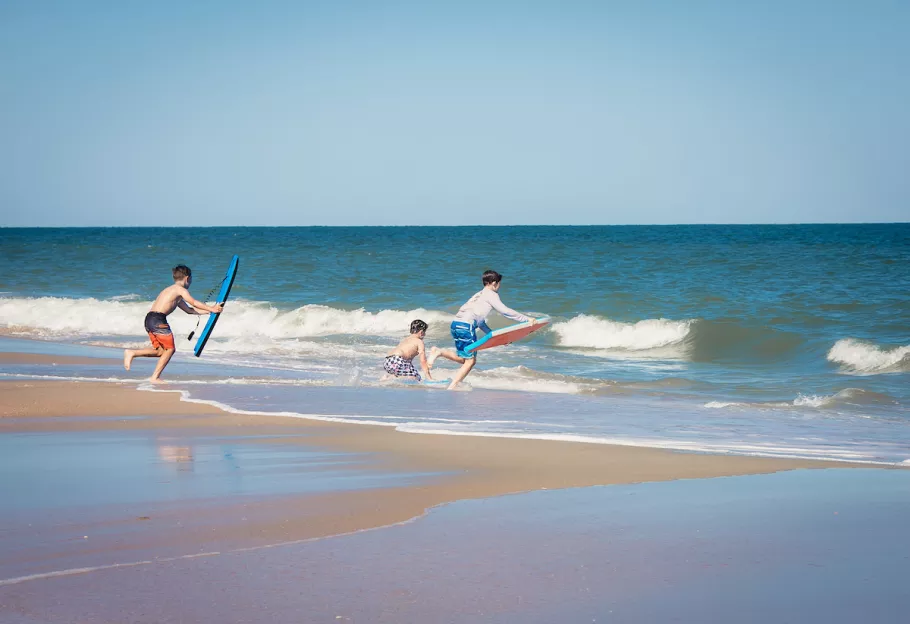 The Optimum Local Beach Umbrella
When in Rome, do as the Romans do.  In Myrtle Beach, on the beach, consider getting a quintessential beach umbrella just like the ones that are rented there.  You won't find them in the myriad of beachware stores along the Grand Strand.  You have to go to the source.   
Lack's Outdoor Furniture has been making those umbrellas and beach chairs that have been rented to millions of visitors for over four decades. Back in the late seventies, Vernon's Beach Service, one of several lifeguard and concession companies, was taken over by George Lack who changed the name to Lack's Beach Service.  In order to provide the chairs and umbrellas that were of a quality that he wanted; he began to make his own. The beach service and the beach furniture company have been going strong ever since. 
Not only are they made in the USA, they are made in Myrtle Beach and are sold all over the world.  As far as exports go, this may be our city's most prolific, even though most people aren't aware of it.  Better known are the Pawleys Island Hammocks made and sold south of Myrtle Beach.  Natives usually own both the hammocks and the beach furniture.  It's not really talked about, but now that I think about it, the Grand Strand is the home to some of the most beloved leisure-related products shipped anywhere.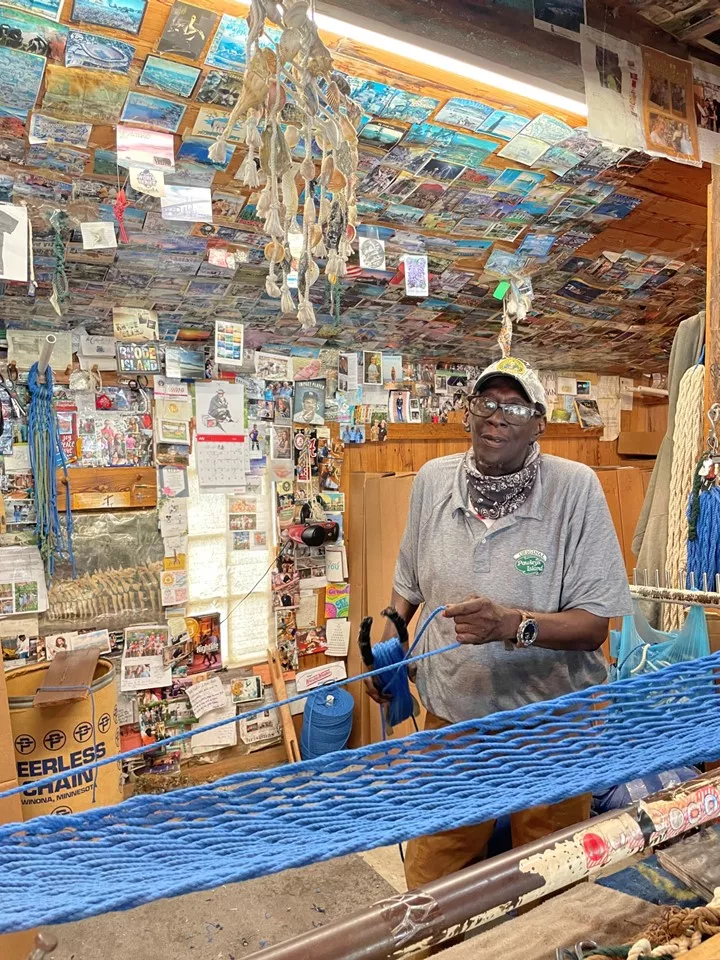 The Best Way to Install Your Beach Umbrella
It is imperative that your beach umbrella be planted in the sand well enough not to be uprooted by a gust of wind.  A rogue umbrella blowing down the beach can create a dubious scenario.  So be vigilant in your quest to make sure that yours stays in place. 
My husband's father had been a lifeguard in the late 1950s and had learned an umbrella implanting technique that he passed on to his son.  It involved several steps that began with the umbrella being assembled with the top part where the umbrella is being slid over the bottom part which is the stake.  Those two must be attached with a pin that slides into the respective hole of each part.  Without the pin, the most well planted stake can have the umbrella part snatched from it in a second, if the wind catches just right.  Then you have half of an umbrella rolling along the sand which can be just as dangerous as having the complete assembly on the run.
Once the two parts are one and initially impaled into the sand, a carefully choreographed rocking procedure begins.  You rock the umbrella in one direction in order to get it deeper into the sand, then you rock it in the perpendicular direction to get it deeper still.  The secret is that you must turn the umbrella so that the direction that you are rocking lines up with the natural lines of the wooden stake.  If they don't match up, you can snap that substantial stake rendering the whole assemblage useless.  My husband had the process down to a science and we never feared a gusty day.
Then, a few years ago.  A young lifeguard showed us a trick and it has changed our beachgoing days for the better.  He had a cordless power drill with an auger.  In a matter of seconds, he drilled the perfect hole, dropped the umbrella in and went on his way.  For a native beachgoer, that was a life changing moment.
We had a cordless drill already, but needed a bit that would be long enough to do the job.  We set out to our favorite big box hardware store and found that bits that long cost upwards of $100.  That seemed a bit steep for a beach implement.  So, we kept looking.  What we soon realized was that that young lifeguard didn't have a bit on his drill.  He had an auger, like you would use in the garden. We walked over to the landscaping department and soon found the perfect piece for about $15.  It was designed to attach to a power drill. Now, we don't head to the beach without them.
When to Go to The Beach
There's really no bad time to go to the beach.  And, of course, we can usually go to the beach about any time we'd like since we live here. But locals particularly enjoy going in the late afternoon. The crowds that have populated the sand for most of the day are winding down and making plans to go back to their rooms, shower and set out for whatever dinner adventure lies ahead. 
It's in that transition time that we take advantage of the oceanfront.  There are spaces that have opened up where we can efficiently install our umbrella, and there's more of a chance of finding parking near the beach at that time of day.  There's usually a good breeze blowing later in the day, and everything just seems more relaxing.  After 5 PM in the summer, dogs are allowed back on the beach and regulars start to embark on their evening walks.  It's just a different vibe.
Again, there's no bad time to go to the beach and the summer is a great time to do so.  But I'd like to take a moment to advocate for our shoulder seasons.  You'll find my husband and me on the beach just about every weekend in September and October.  The crowds have thinned by then and it's not quite so hot.  In fact, it is about the most comfortable time of year.  Granted, we may have a cold spell as autumn approaches, but we usually end our trips to sit on the beach the first weekend in November.  We love living here!