Did You Know There's a Tunnel Under Ocean Boulevard in Myrtle Beach?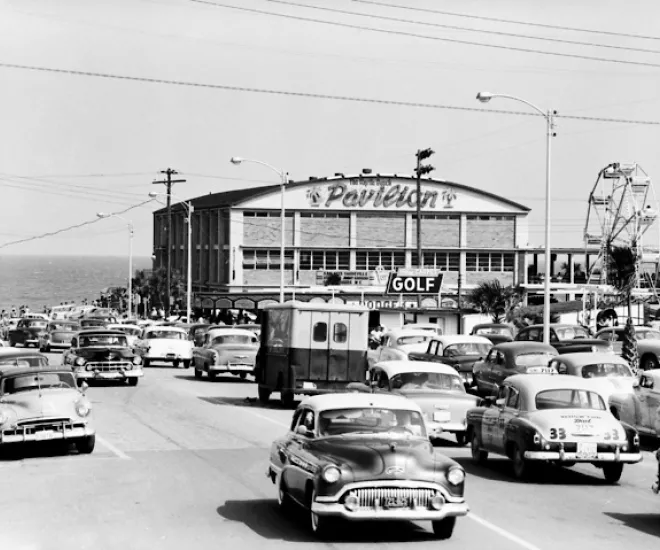 The most quintessential thoroughfare in Myrtle Beach is Ocean Boulevard.  It is lined with some of our grandest hotels, modest motels, fabulous beachfront homes, and beachfront cabanas that you can't even spend the night in.  It boasts restaurants, amusement parks, an art museum and so much more.  It is a major artery.  But figuratively speaking it is our major artery, it is the heart of Myrtle Beach. 
It is so long that it is rarely referred to by only two words.  They are almost always preceded by either North or South.  In fact, long-time locals only use their first letters.  Well, NOB is often used.  We tend to refrain from using the initials for South Ocean Boulevard for fear of offending anyone who may not realize what we are talking about. 
But talk they did when a song was surprisingly released by the artist, Lana Del Rey.  It is the title track to an album that was scheduled to be released in March of 2023.  The unannounced debut of the track came out in December of 2022.  The song title asks the question, "Did you know that there's a tunnel under Ocean Boulevard?"
Fans of Del Rey were floored that this music had come out without them expecting it.  And were affected even more when they first heard its haunting melody.  They immediately began to try to decipher the lyrics.  As with all of her music, Lana Del Ray weaves an intricate story throughout each of her songs which casual interpretation may not be enough to fully understand their meanings. 
Two songwriters are listed for the piece.  One is Mike Hermosa, a California native and United States Air Force veteran.  He is the co-owner of Wild7Films where he also serves as a film producer and director.  But to Lana Del Rey fans, he is most interesting to them because he has been rumored to be her boyfriend for the past few years. 
The other writer is Elizabeth Woolridge Grant, but she has an alias…okay, a stage name (but alias makes her sound more mysterious which is kind of her vibe).  She's Lana Del Rey. 
Her pseudonym came about over the years with input from a string to managers and lawyers and, in 2014, they settled on this one.  They wanted a name that fit the sound of her music.  And consider that she often references Old Hollywood in her lyrics—in fact, her musical style is classified as "Hollywood sadcore."
The result is a combination of using the first name of Lana Turner.  She was the gorgeous actress of the 1940s whose good looks perhaps prevented her from getting meatier roles that would have proven that she could have been a much more accomplished actress.  Her private life also overshadowed her career with eight husbands, the most famous being Artie Shaw the popular bandleader of the 40s era.  Then there was the murder trial where her daughter was acquitted of killing Lana's gangster boyfriend when the jury determined that she did so in self defense to protect her mother whom he was assaulting.
Far less exciting, the Del Rey half of the artist's name is from the Ford Del Rey car.  But I wonder if they got their automakers confused.  The Ford car, which is spelled like her stage name, was only manufactured in the 1980s in South America for just a few years.  While its moniker has a nice ring to it, its appearance is most unremarkable--  trapped between the preceding eras of vintage cars that can't help but look good, and cars of today, the work of engineers that at least try to make them look good.  They may have thought they were referencing the Chevrolet Delray of the 1950s which would be more in line with the Old Hollywood feel she often invokes with her music. 
That music is said to often reference pop culture, particularly mid-twentieth century Americana.  She also has been known to reference lesser known historic sites in her lyrics.  So when the title of this song was revealed, followers of her music began to speculate immediately as to where this tunnel was—because if she was singing about it, it almost certainly existed.
A music editor for the online publication, Pop Life, Derrick Rossignol, led the way with his speculation that the tunnel was in Myrtle Beach under OUR Ocean Boulevard.  He referenced a 2019 article in our local newspaper online that told about the tunnel that is located on the boulevard's south end. 
It is part of the Sea Mist Resort at 13th Avenue and South Ocean Boulevard.  Now before you start heading down there, you may want to check the resort's website that both tells you a little about it and notifies you that it is closed to pedestrians presently.  The reason it exists is for pedestrians.
Back in the mid-1980s, The Sea Mist was one of Myrtle Beach's premiere resorts catering to both families and conventions.  They had adequate meeting space onsite to accommodate the professional organizations and others who gathered to meet there.  By that time, the resort had grown from 77 hotel rooms when it first began as a Travel Lodge to 800 units that now incorporated the east side of the Boulevard making it a front row hotel to the beach. 
The check-in desk remained on the west side of the street so guests going over to the newer part of the resort had to almost take their lives in their hands to get there.  I was talking to one hotelier about it who has been in Myrtle Beach as long as I have.  We were in the same graduating class at Myrtle Beach High School.  And it was right around the time that we graduated that the tunnel was built.  We agreed that we had always known about the tunnel, but neither of us have ever used it.  I think a lot of locals will tell you the same thing.
He reminded me that back when the tunnel was built, the configuration of the Boulevard was different.  Now we have two lanes in which to drive with a turn lane that is sometimes landscaped in the middle.  Back in the 80s, there were four lanes and parking with no accommodation for turning.  He said crossing the Boulevard on foot was like playing Frogger in real life (Frogger was that video game that was invented while we were in high school whose objective was to have the player get a series of frogs across a busy highway--  my friend gave a really apt description of what it was like).
While the Ammons family has owned a number of high-profile properties in Myrtle Beach including the Sea Mist, it is the late Neil Ammons who is credited with being a visionary when it came to our local tourism. I've heard people say that he implemented ideas at his resorts that are commonplace today such as offering golf packages, free tennis and covered pools in the cooler months to adapt to being the year-round resort we are now.
It was he who instigated this tunnel.  Some speculate that it may have cost up to a million dollars (I can't substantiate that) because they had to reroute water, sewer and gas lines, in addition to the digging and building of the underground passage.  Aside from the safety and convenience aspects of it, there was a special feature that is often brought up by people who have good memories of staying there.  Throughout the roughly 100-foot-long route there are planters on the sides and an aquatic mural along the walls and ceiling.  While you can't see it in person right now, there are photos on the Internet of those earlier days depicting the whimsical marine life and scuba divers that delighted many a child passing through there.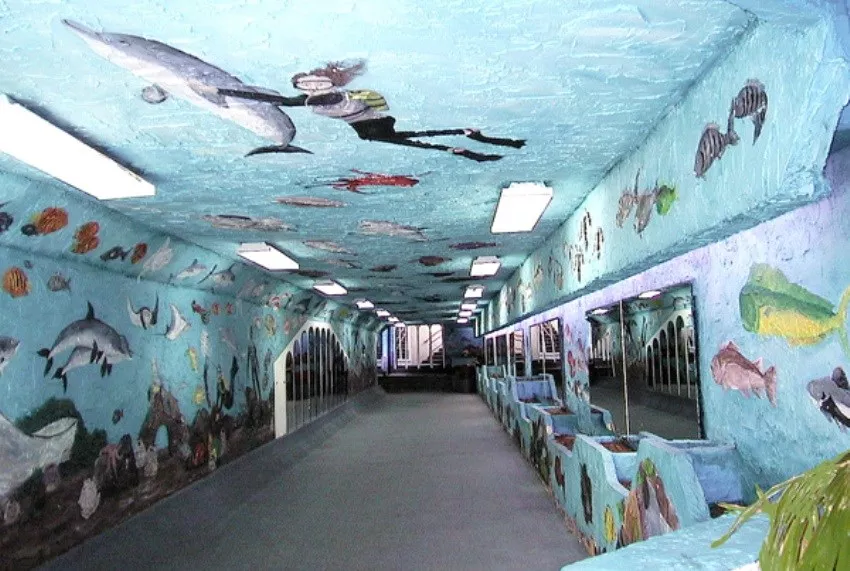 However, is THIS the tunnel Lana Del Rey sings about?  Well, that music editor for Pop Life had to include an addendum to his piece that he published the day the song was released and said that actually it is the abandoned Jergins Tunnel in Long Beach, California.  Albeit closed, you can go online and take a virtual 3-D tour of their pedestrian tunnel built for the same reason as ours, so those headed to the beach would not get mowed down. 
In this state of the art video, you'll see the "Mosaic ceilings, painted tiles on the wall" that she sings about.  But I guess the song wouldn't have the same melancholy tone if she had described our tunnel's delightful dolphins and stingrays frolicking under the sea.
This tunnel is also a stop on the Arts & Gallery Trail, a fun interactive way to learn about and see all the marvelous art, murals, sculptures and more across the entire Grand Strand. There are more than 100 stops on this trail - click here to explore!