A Budget-Friendly Night Out at The Beach
Myrtle Beach and surrounding Horry County are home to an impressive 2,000 restaurants. So, when I tell you The Beach has a dish you will love, you can count on it! Combine dinner with the variety of entertainment available in the area, and you have the recipe for a perfect night out.
I know that date night at The Beach can be expensive, but I have tips to keep you from cracking open the piggy bank. Here is a guide to some favorite spots. My choices for entertainment are paired with nearby restaurants (okay, and a few tips on ordering!) I have found ideal ways to spend an evening, and I know after you visit a few of my favorite places, you'll agree!
Myrtle Beach
Ruth's Chris and Carolina Opry
So many choices! But I promised not to break the bank, so I'll start with one of my favorites—Ruth's Chris Steakhouse. I know; you just cringed at the thought of that price tag. But, remember; you're going to eat before the show (which starts at 7 pm), so you will be eating at 4:30ish, which means—yay!—happy hour prices!
There are drink and wine specials, including a great price on a BIG glass of wine. My friend swears by the Strawberry Rita, but I like to experiment between wines and cocktails, like the Aviation (it's purple, you see!) Then, there are bar bites and Ruth's signature dishes at promotional prices to fill you up, along with their house-baked bread. The seared ahi and the scallops are flavorful temptations, but the lamb lollipop chops are my hands-down favorite. They put a smile on my face every time!
When you leave Ruth's Chris, it is a straight shot across at the stoplight. Taking the first left will bring you into Carolina Opry's parking lot with minimal traffic.
Carolina Opry, the brainchild of Calvin Gilmore (a talented country musician), is starting its 36th year of putting smiles on the faces of locals and visitors.
The Opry has a talented cast who sings, dances, clogs, plays various instruments, and tells side-splitting stories. A couple of the performers are also celebrating their 36th year with the Opry. You can't argue with talent! Shows always delight audiences of every age. The all-male clogging group, All That! is a crowd favorite, just like they were in 2006 when they first took America's Got Talent by storm (think Fred Astaire and Gregory Hines on steroids and speed!)
Locals tip:  They have special prices for locals a couple of times a year, so be sure to sign up for their mailing list!)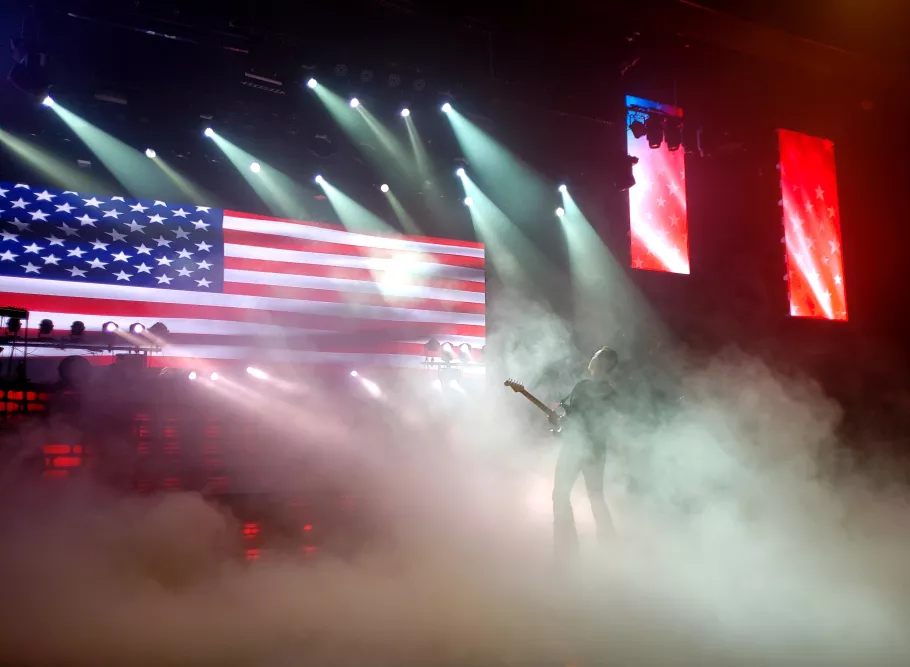 Riga-Tony's Murder Mystery Dinner Show
Another new treat in Myrtle Beach is Riga-Tony's. Recently opened in June 2022, this theater is a one-stop shop that combines a delightful Italian dinner with musical entertainment and a mystery. Audience participation is required for this immersive experience to solve a crime (or two) committed during the evening.
Riga-Tony's starts your meal with bruschetta and fresh tomatoes, serves a salad, then a plate piled high with lasagna and a garlic breadstick, and finishes the meal with cannoli. But arrive early, so you have a chance to visit the Speakeasy for a craft cocktail, and meet the charismatic gangster, Tony, and his songstress girlfriend.
Myrtle Beach – the South End
Travinia Italian Kitchen & Wine Bar and GTS Theatre Magic & Comedy Show
Dinner choices are abundant on the old Air Force Base, now called The Market Common. One of my top choices is Travinia Italian Kitchen & Wine Bar, with a Happy Hour from 4 – 7 pm on Monday through Friday, offering reduced prices on wine and beer, and each day has a different drink special. On Friday, you can sit back and enjoy live jazz. Appetizers are large enough to count as an entrée, and the entrées can be shared. A couple of my favorites are the meatballs and the mussels in white wine. But then, there is the Short Rib Rigatoni; so many decisions!
Leaving Travinia in time for a show at GTS Theatre, you'll exit onto northbound Highway 17. Loop around at the airport exit to head back south on Highway 17 (since there is no cross-over at the theatre entrance.) If only you could go straight across!
The Michael Bairefoot Magic & Comedy Show at GTS Theatre is not just a mind-bending display of magic; it is performed while maintaining hilarious banter with the audience. It is adult comedy at its best—the adult jokes sail right over children's heads, while the children's jokes are amusing no matter your age!
Every show will be different because Bairefoot interacts with the audience throughout the show. And there is no telling what people will say (or do!) during the show!
Loco Gecko Beach Shak and GTS Theatre's Motor City (Motown) Musical
Still on the South End, on a different evening, you can enjoy a view of the beach served with one of Loco Gecko's Bourbon Teriyaki glazed burgers, topped with onions and peppers, fries, fried onion strings (dipped in Cajun Remoulade), and a cocktail or beer. Loco Gecko Beach Shak, in Tower 1 of the Crown Reef, has a great view (and a great breeze when the doors are up!)
Then cut through The Market Common or, even easier, head up King's Highway, take the road toward the airport, and then head south on Highway 17 to GTS Theatre.
Rich and Elizabeth Wylde came to The Beach as celebrated comics and hypnotists, known as Wild 4 Hypnosis Comedy Show, and had been the show hypnotists for Jerry Springer. (Now there's a sentence you don't read—or write—every day!) Rich and Beth put down roots and opened GTS Theatre in 2016.
GTS is an intimate 140-seat venue with six different shows that rotate during the year. Elvis, as the saying goes, "has left the building," but when he returns this winter, I'll be ready!
On this night, I enjoyed dazzling performances of Motown hits by a gifted group of singers. Motor City Musical, the Original Motown Tribute Show, was created by Elizabeth Wylde to celebrate over 60 years of our musical history. I'm telling you; it is hard not to sing along with all these golden oldies! (Yes, I'm humming one now! *smile*)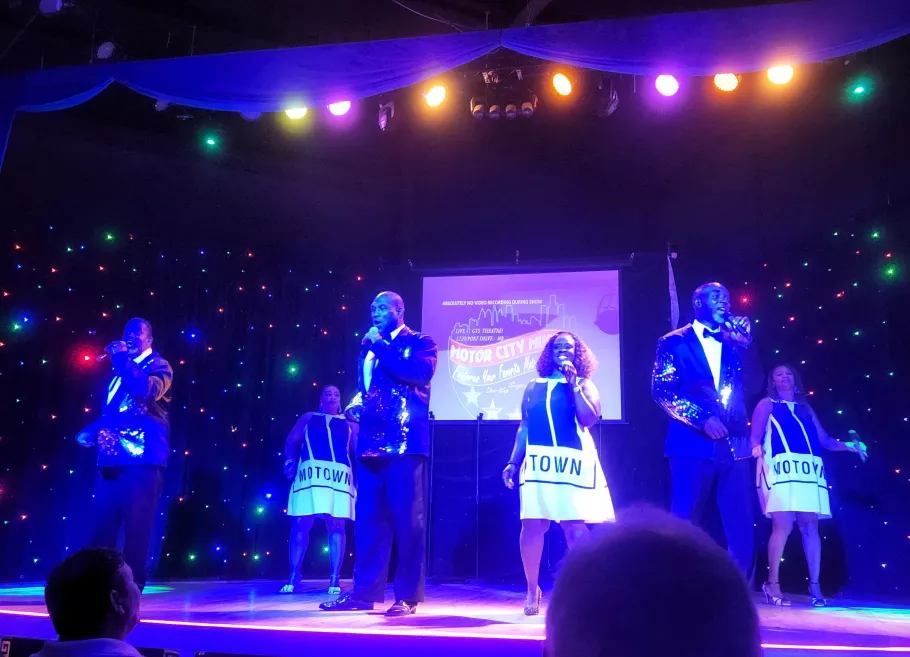 Myrtle Beach – the North End
Hook and Barrel Restaurant and Alabama Theatre
On the upper end of the Beach, you'll enjoy Hook & Barrel Restaurant for an early dinner. Then it is a quick eight-mile drive to the Alabama Theatre. Hook & Barrel's Happy Hour starts daily at 4 pm and is available until 6 pm—on the deep wrap-around porch and at the bar.
Your server will start you off with a generous scoop of Pimento Cheese and plenty of flatbread. After that, there are choices for wine, cocktails, and food on the early menu, including Bloody Mary Oyster Shooters (but be prepared with a water chaser—did I mention I'm a wimp?) The Lemon Basil Martini was my pick for the day, and Sharon liked the Fish House Punch.
The fish in the Fish Bites will vary, as they are made from the day's fresh catch; they're perfectly breaded and fried and come with remoulade and a jalapeño sauce (too hot for me, but Sharon liked it!) I loved the BLT Slider—a delicious little bun stuffed with Duroc bacon, lettuce, fried green tomato, and pimento cheese. And those Parmesan Truffle Fries—oh my goodness!!
A short drive north will have you at the Alabama Theatre in plenty of time for ONE, the Show.
ALABAMA fans know that the group honed their skills at The Beach, working for eight years as the house band at the "world famous" Bowery. The Bowery opened in 1944 and has been pulling in crowds seven days a week ever since. They even bill themselves as the 8th Wonder of the World.
To give back to the community the band thinks of as home, Alabama built a state-of-the-art theatre 29 years ago (in 1993). One of my favorite memories is having front-row seats in their theatre for an Alabama concert. Nothing like it—except the Bowery memories (oops, telling my age here!)
ONE (the Show) changes every season, so visitors return for a new experience. The theatre aims to "make every performance one to remember." They do. They really do! I look forward to seeing the new aerial maneuvers in each show, using a flight system originally used on a KISS tour by none other than Gene Simmons.
Professional performers, musicians, dancers, choreographers—this team combines their talents to put on ONE show you won't forget. And then—you find out there is The South's Grandest Christmas Show to look forward to, opening in November!
Thoroughbreds and Long Bay Theatre
Using my secret weapon (Happy Hour!) you can eat, drink and be merry at Thoroughbreds Chophouse, and outstanding local fine-dining establishment. Sitting at the bar, you can enjoy 20% off pub entries Tuesday-Friday between 4:30 and 6:30. The Escargot is silky and divine, Lamb chops are served lollipop fashion, and Blackened Beef Tips come topped with spring mix and bleu cheese crumbles. The house Pinot Noir goes down so smoothly you'll have to cut yourself off at two!
Long Bay Theatre
For something different, go see a play! The Long Bay Theatre has a variety of offerings, in a variety of locations, with talented local actors. I'm going to start calling them a band of gypsies! The hilarious show I attended recently was in Myrtle Beach, but the current show is a pop-up in the Myrtle Beach Mall near the AMC Theatres. Be sure to double-check the location of your booked show before you jump in the car!
Conway
Rivertown Bistro, Kainan Filipino Eatery, and The Theatre of the Republic at Main Street Theatre
Just a short drive over the Intercoastal Waterway Bridge, you'll find yourself in the historic town of Conway. Go early (or stay late) and enjoy walking the streets. Or do both! An early dinner, walk to the Main Street Theater for a play, then take a stroll and enjoy the quiet of a downtown lit by thousands of mini-lights.
Happy Hour at the Rivertown Bistro is early, 3 – 5 pm, with a limited menu. However, you can order one last appetizer and drink just before 5, take your time finishing it, and still have ample time to walk to the theater. The Bistro's bar area has comfy club chairs and tables, or you can sit at the bar. Their Lowcountry Spring Rolls are light, crunchy, fried delights filled with chicken, tasso ham, spinach, and cheeses. Dip them in a honey dijon concoction that is good enough to drink! And the crab dip? Well…just order it!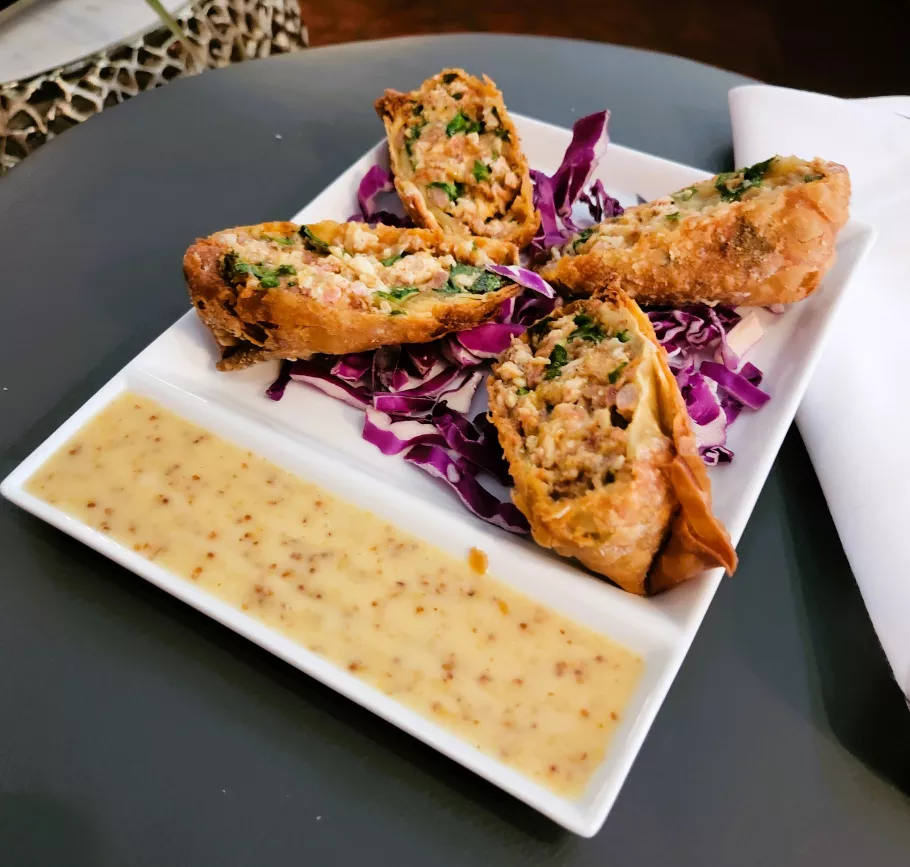 For dessert, you can be adventurous and try a Halo-Halo at the new Kainan Filipino Eatery, right across the street from the theater. Be sure to order it with Ube ice cream, made from Purple Yams and condensed milk. It will consist of layers of coconut, sweet corn, Leche Flan, banana slices, palm fruit, and sprinkles. Unfortunately, we were so full after dinner that dessert had to wait for intermission! I am eager to return and try some of the entrées on their menu.
The Theatre of the Republic plays start at 7:30, but the doors open at 7. The group has showcased local talent in productions for 53 years, in dramas and musicals. I saw a hilarious political satire, The Outsider. The actors appeared to have almost as much fun as the audience! They told me to "tell your friends," and I promised to "do better than that—and tell everybody!" So now you know—Conway for a show!
One (okay, TWO) of my favorite things about living at The Beach is the assortment of eating establishments and the entertainment. You can go out every week and never repeat yourself! You can go out every week and never repeat yourself! (See what I did there?)
I like to think, too, that these places have been entertaining locals and tourists more than twice as long as Myrtle Beach has been a city! Yes, really—for a combined total of nearly 125 years. And that many audiences can't be wrong!
Seriously, with 2,000 restaurants and more opening all the time, theatres with changing shows and guest artists, and local playhouses, no one should ever complain about not having anything to do. So y'all come to The Beach…and see for yourself!