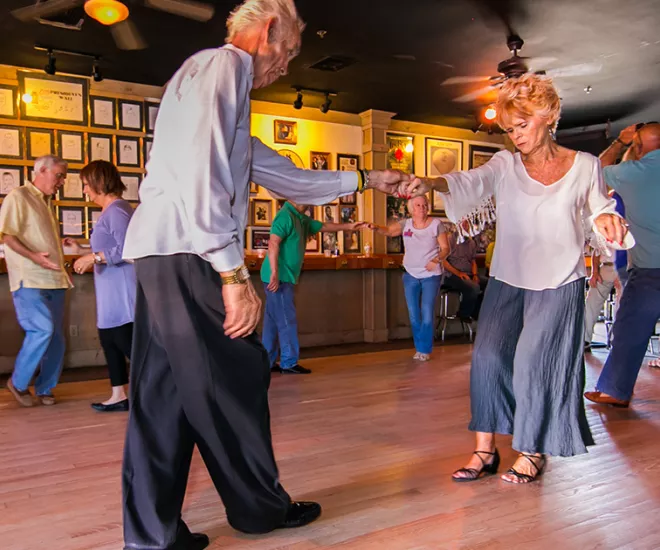 What was that? No, I don't mean "shag" the way the popular Austin Powers movies defined it, and I'm not talking about carpet. The shag is the official dance of South Carolina, and the Myrtle Beach area is the best place to learn the dance or at least watch skilled shaggers while you listen to beach music, some of the happiest music ever recorded (and not to be confused with Beach Boys-style "surf music").
The shag is a smooth, laid-back dance that has been called the "swing dance of the South," and it is often described as "a slow jitterbug." Legend has it that southern dancers slowed down and modified the jitterbug due to the summer heat in those oceanside pavilions back in the non-airconditioned day.
There is a lot of debate about where and how the dance developed and how it got its name. It is widely believed to have surfaced between the '40s and '50s in the Ocean Drive section of North Myrtle Beach. Wikipedia describes the shag as "an early form of swing dance, contemporary with the lindy hop." It says the two most common variations are the Collegiate Shag, thought to have originated in New Orleans in the 1920's, and the Carolina Shag, which grew to popularity between Myrtle Beach and Wilmington, N.C., during the 1940's.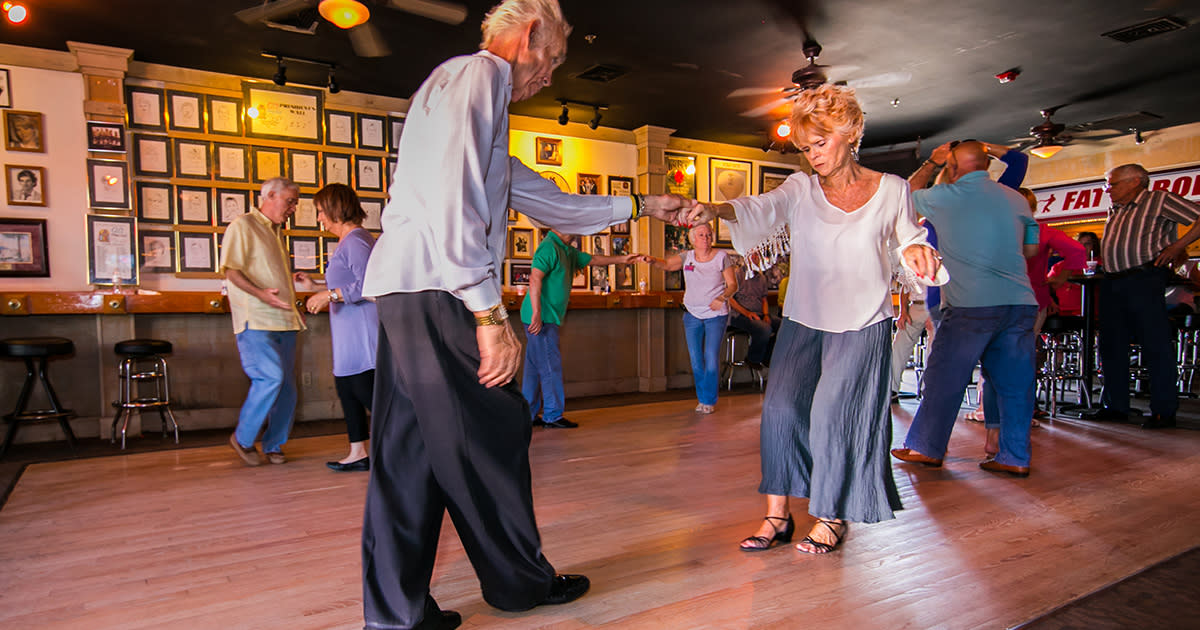 What we are sure of is that the Myrtle Beach area is a magnet for shaggers. Three times each year the Society of Stranders (SOS) hosts shag "migrations," which draw thousands of shag enthusiasts. The National Shag Dance Championship is held here each March, and watering holes from Little River to Pawleys Island welcome shaggers to their dance floors nightly.
Without a doubt, shag-central is located in beautiful downtown North Myrtle Beach. Here you'll find the legendary dance club, Fat Harold's Beach Club, which is open every night for food and shagging fun. You can even enjoy free shag lessons every Tuesday at 7:00 p.m. Just across Main Street there's Duck's Night Life, and the party begins there every night at 8:00.
There are a few other shag clubs with walking distance of Duck's, and while you're on Main Street and Ocean Boulevard, look at the sidewalk and you'll see the many platters that mark the Shaggers Walk of Fame! 
The Shag is as much a part of South Carolina culture as sweet tea and grits, so be sure to visit North Myrtle Beach to enjoy this light, fun dance style. Even if you don't want to try it yourself, it is always a delight to watch shaggers and enjoy the happy, toe-tapping sounds of beach music. Even the 1988 movie, "Shag", starring Phoebe Cates, Bridget Fonda, Scott Coffey and Annabeth Gish was partly filmed in Myrtle Beach! 
The Society of Stranders (SOS) hosts an annual week long event where shaggers come from all over to the Grand Strand. After the event was canceled due to the pandemic last year, we are more excited than ever to welcome the SOS Spring Safari back to town from September 16 - 26, 2021! For more information on local events, please visit our event page.