In honor of Shark Week, we're sharing the best tips for finding shark's teeth in Myrtle Beach, South Carolina.
For children, one of the best parts of a beach vacation is the time spent on the beach collecting sea shells and, if they're really lucky, finding shark's teeth. I met with a long-time local and shark tooth hunting expert, Blakely Roof, who has found hundreds of shark's teeth along the Myrtle Beach shoreline. On a weekend, Blakely can find anywhere from 30 to 50 shark teeth. She's shared with us her best tips for shark teeth hunting in Myrtle Beach, so we can find some of our own. 
Look for Black and Shiny Pieces
The first thing I tell people is you want to look for black. A lot of people think shark teeth are white which they are when they fall out, but the ones you're going to find mostly along the shore will be mostly black from fossilization. They'll also be shiny from the water.
Look when the High Tide is Rolling In
Sometimes people say that you want to go at low tide, but Blakely actually finds more shark teeth when the tide is coming in.
Stick to Shell Beds
Blakely also finds the most shark teeth along the shell beds when the tide is coming in and rolling over the beds. The rolling tides pull away the sand to reveal the black shiny shark's teeth. Every now and then, Blakely will find shark teeth along the other parts of the beach, but she finds the most along the shell beds.
How Do You Know It's a Shark Tooth?
A lot of times people pick something up and think just because it's black it's a shark tooth. The best way to tell if it's a real shark tooth is to see if it has ridges and a gum line near the top. Also, you probably won't be able to break it as shark teeth are very strong.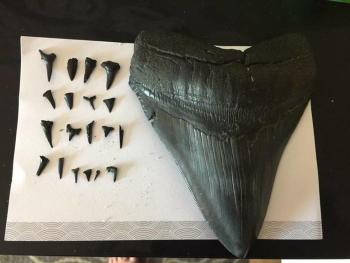 Where are the Best Spots for Find Shark's Teeth in Myrtle Beach?
We asked Blakely if there were any better spots to find sharks teeth along the Grand Strand. Blakely personally finds the most shark teeth in central Myrtle Beach anywhere between 50th Avenue North all the way down to 10th Avenue South. She knows people who have found shark teeth further south in Murrell's Inlet and Pawelys Island, but she has not found as many that far south or to the north. 
There you go. Blakely's tips show you that hunting shark's teeth isn't just blind luck. With a little bit of patience, finding sharks teeth in Myrtle Beach can actually be pretty easy. You may even find a giant prehistoric shark tooth like a 7-year old boy did last year.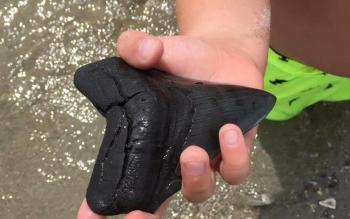 Happy hunting!
What the video below for more tips.