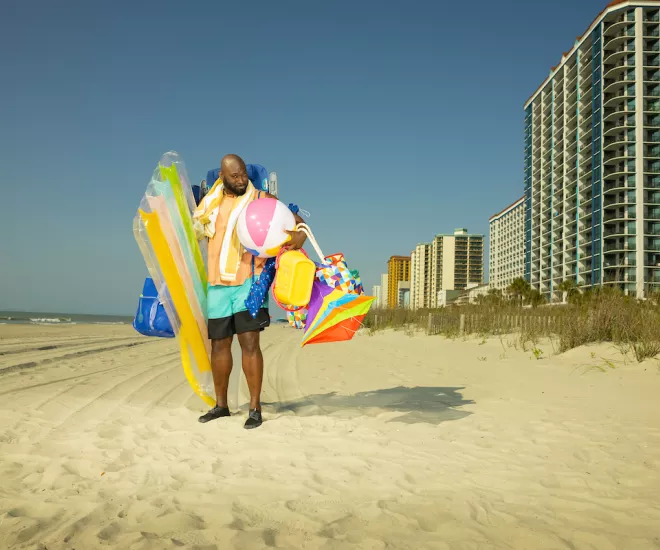 Beach Hacks
There are few things more relaxing than a day at the beach however planning for it with small children (and dealing with the clean-up) can be anything but. Check out our tips to help you avoid waves of stress and make the most out of your beach vacation.
Repurpose a Fitted Sheet
Instead of towels, use a fitted sheet with bags, coolers, etc. placed at the corners to create a makeshift play pen that keeps sand out.
Ditch the Oversized Beach Bag
Haul your kids' beach toys in a mesh laundry bag. It's the perfect container that sifts the sand, preventing it from trailing through your car and home.
Rethink Your Storage
Empty plastic peanut butter jars can double as easy-to-find water-proof storage for your phone and keys.
Pull Double-Duty with Water Bottles
Don't weigh down your cooler with bulky ice packs. Freeze your water bottles for hours of fresh snacks and cold drinks.
Slide the Sand Off
A bottle of baby powder can do wonders during clean-up time. Rub some on your kiddos at the end of the day, and the hard-to-remove sand should easily come off.
Freeze Aloe Vera for a Sunburn Solution
Prep for possible discomfort by squeezing aloe vera gel into an ice cube tray and packing it in your cooler or insulated bag. You can rub the cubes on any irritated spots to help soothe the burn.
Set Up Shop Near the Lifeguard
It will serve as an easy-to-spot marker for your kids to remember where you are and help calm your worries of their safety.
Plan a Beach Scavenger Hunt
When the kids get tired of swimming or building sand castles, keep the good times rolling by burying small toys, shells, etc. for them to find and dig up.
Invest in a Wagon
A wagon with all-terrain wheels is an easy way to transport all your stuff– from toys, coolers and your beach bag to even your little ones.
Stash Valuables in a (Clean) Diaper
Keep your phone, keys and cash safe by wrapping them in a diaper – no one will think to look in this unique hiding spot! An empty tube of lip balm also serves as a sly container for rolled-up cash.
Dress Accordingly
Beachwear can be pretty self-explanatory, but opting for clothing that maximizes safety - such as water shoes or long-sleeved swim shirts - can help your kids stay safe and comfortable all day long.
Create Your Own Coaster
Cut the bottom off an old fast food cup and place your cold drink inside for a DIY drink holder that stays put in the sand – without the pesky residue.