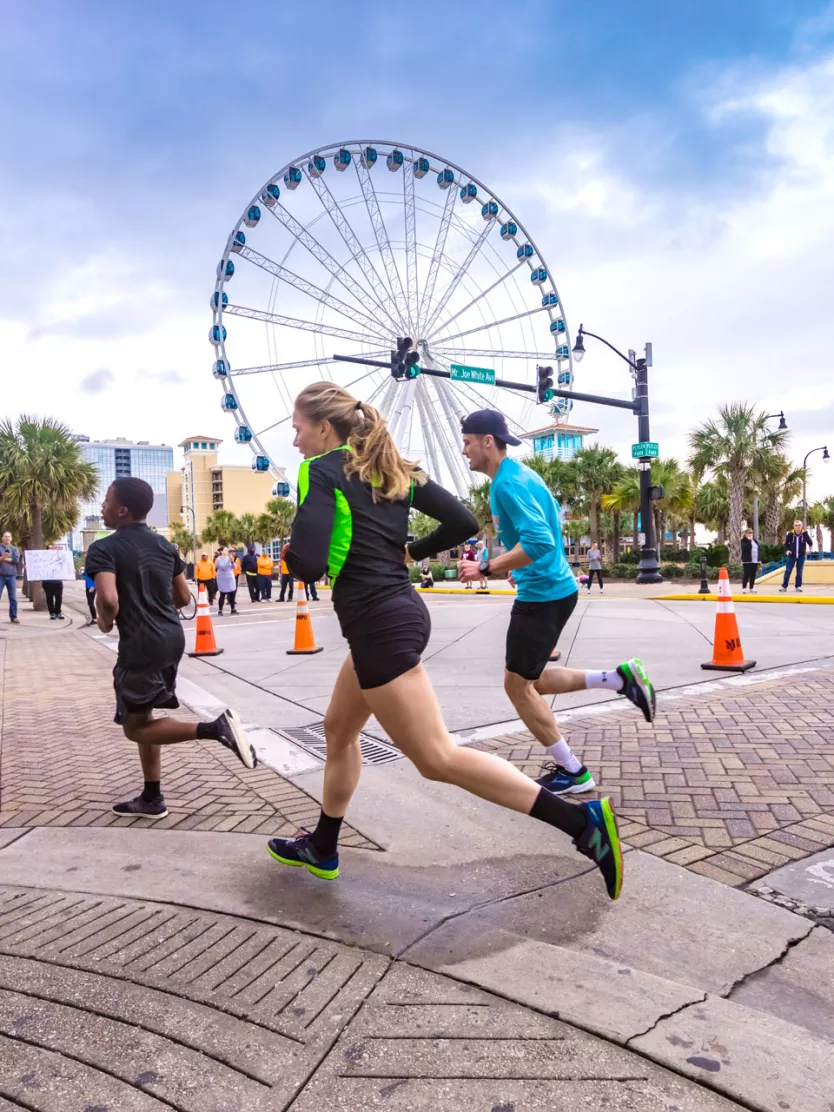 Running Myrtle Beach
Lace up your sneakers! Myrtle Beach is ready to run!
The Myrtle Beach area has some world-class running events throughout the year. Plan now to attend one of these challenging and fun events. Or if you just want a relaxing run while you're in the area, check out these Top 5 Places To Run in Myrtle Beach.
Myrtle Beach Marathon
March
Myrtle Beach
The Myrtle Beach Marathon, one of America's "10 great winter marathons" according to USA Today and runs annually.  With a Marathon, Half Marathon, Marathon Team Relay, 5k, and Family Fun Run, there is something for people of every age, ability, and fitness level. 
Brookgreen Gardens Memorial Day Weekend Run
May
Murrells Inlet
Running through Brookgreen Gardens, one of the most beautiful places along the Grand Strand sounds awesome! There is a 5k and 1-mile race. 
For more information, go to NSPromos.com
Independence Day Race 8k, 5k, and 1 Mile
July
Market Common, Myrtle Beach
Celebrate July 4th and fitness. 
For more information, go to NSPromos.com
Myrtle Beach Mini-Marathon
October 
Myrtle Beach
If February is a little too cool for you, there are always the fantastic fall temperatures that runners enjoy when they take part in the Myrtle Beach Mini Marathon. The course has been revamped to include five miles of oceanfront running. What could be a better motivator than seeing the majestic Atlantic Ocean as you make your way toward the finish line?
The 13.1-mile course starts at 8th Avenue North near the Myrtle Beach Boardwalk and finally finishes at the Myrtle Beach Pavilion. Oh yeah, it's also flat and features only seven turns, making for a runner's dream come true!
For those not-too-serious runners, there's a Coastal 5K and Doggie Dash.

For more information, go to www.RunMyrtleBeach.com.
Horry County Race Series
March - November
Myrtle Beach
Horry County Parks and Recreation holds six races each year that include not just running, but also kayaking, biking, paddle boarding, and canoeing.
Click here for more information.
See our Events Calendar for additional Sports Events in Myrtle Beach.