Hopsewee Plantation-while just about 30 miles south of central Myrtle Beach-feels worlds away. This National Historic Landmark was built about 40 years before the American Revolutionary War, and is the birthplace of Thomas Lynch, Jr., one of the signers of the Declaration of Independence. This private residence is open from January 30 through December 15 in 2018, Tuesday through Saturday, with tours on the hour from 10 a.m. to 3 p.m.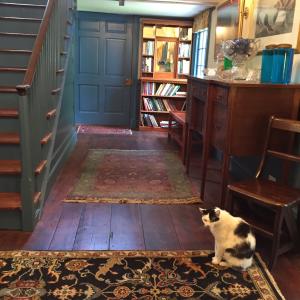 This historically significant local landmark is by far one of my favorite places to take visiting friends and relatives. Not only are they always surprised to learn such a scenic and historical plantation is located so close to the Myrtle Beach area, Hopsewee is host to a number of activities to make the overall plantation visit more interactive.
While the home tour itself is well worth the visit, Hopsewee Plantation also offers sweetgrass basketweaving workshops. Sweetgrass baskets are a coastal South Carolina tradition dating back to the 1700s, when they were brought to the United States by West African slaves. The baskets played an important role on southern rice plantation are are loved today for their artistry as well as cultural significance. The hands-on workshop is taught by Vera Manigault, an eighth-generation weaver and Gullah descendant, and has been featured in national magazines and television shows.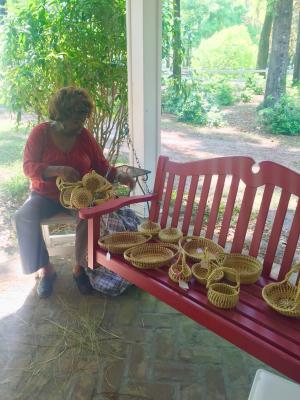 It's easy to make your visit last all day, as lunch is served at Hopsewee Planation as well. Their River Oak Cottage tea room has been named one of the state's top tearooms and features an English tea service along with a delicious menu. The complete lunch menu includes recipes created by Hopsewee homeowner Raejean Beattie, a gourmet cook and history buff, and accurately reflects the tastes and traditions of Lowcountry cuisine. The tea room's fare is so popular that the Beatties have recently released a cookbook, Hopsewee Cooking, which features over 100 traditional Lowcountry recipes. The cookbook can be purchased here. 
I've toured Hopsewee a number of times, and every time I visit, I find myself falling in love with a different aspect of the property. The first time it was the remarkable view along the North Santee River. The next time it was the fact that the historial property is still lived in by the Beatties, and the last time I visited it was Raejean's shrimp and grits that had me ready to return. For those looking to add a little history to their Myrtle Beach area vacation, I cannot recommend a stop at Hopsewee enough. Fore more information on visiting Hopsewee, check out their website www.hopsewee.com.
Learn More About Hopsewee Plantation with this Video