Where To See Christmas Lights In Myrtle Beach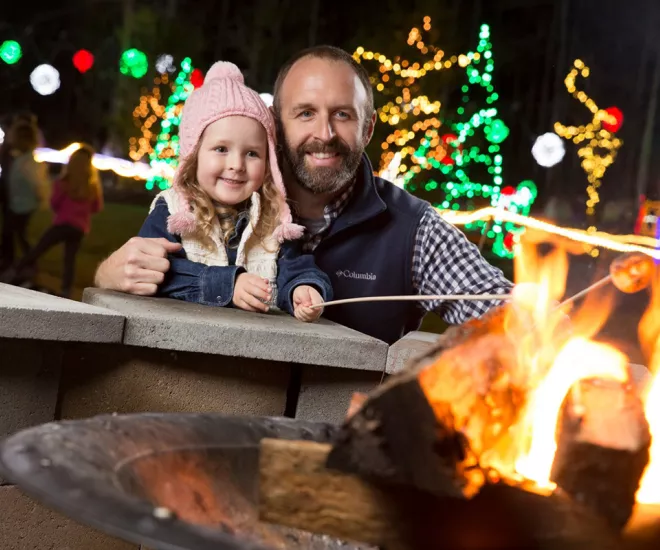 Where To See Christmas Lights In Myrtle Beach
The Myrtle Beach area really sparkles during the holiday season! From North Myrtle Beach to Murrells Inlet, our winter visitors have a lot to look forward to when it comes to Christmas lights in South Carolina. Whether you're looking for an impressive drive-through light show or an indoor display to spark holiday joy, here are a few of our favorite Christmas lights experiences along the Grand Strand: 
Burroughs & Chapin Pavilion Place / 812 North Ocean Boulevard, Myrtle Beach
Thursday, November 17- December 23, 2022
Winter Wonderland at The Beach will transform the Burroughs & Chapin Pavilion Place in downtown Myrtle Beach into a sparkling holiday dreamland, filled with holiday magic and twinkling lights. This fun festival will feature a path throughout the park will take you on a walking tour of the light displays with plenty of great photo opps. Each area is themed with different types of lights, some beach-themed and others more classically themed. Enjoy live music and entertainment nightly from Thursday to Sunday. This year Winter Wonderland will have a brand-new Family Fun Zone with inflatables, a s'mores station, a giant Christmas Tree, and more. Tickets for the Family Fun Zone are $1, or an unlimited wristband can be purchased for $5. Every Saturday night Santa will be available for oceanfront photos from 6:30-8:30 p.m. at the 9th Ave. North Beach Access. Hours are as follows: Lights are open from 6-9 p.m. nightly except for Thanksgiving Day. The Family Fun Zone is open from 6-9 p.m. Thursday through Sunday.
Garden of Hope / 1395 Carver Street, Myrtle Beach
Sunday, December 4, 2022
Celebrate the magic of Christmas at the official tree lighting for the City of Myrtle Beach at the Garden of Hope of Carver Street in downtown Myrtle Beach. The event is free to attend and the first 100 children to arrive will receive a special gift. The evening also features music, hot chocolate, cookies and photos with Santa and elves, and more. Entertainment will be provided by the Myrtle Beach High School Show Choir. The event lasts from 4-7 p.m. For more information, call the City of Myrtle Beach's Neighborhood Services at (843) 918-1062. 
North Myrtle Beach Park and Sports Complex, 150 Citizens Circle, North Myrtle Beach, SC
Monday, November 21, 2022 - Thursday, December 30, 2022 (Closed Thanksgiving Day and Christmas Day) 
The Great Christmas Light Show is an enormous and immersive lighted celebration that is sure to capture the true spirit of the season. The drive-through light show features over 2 million lights festively displayed along a 2-mile-long drive throughout the North Myrtle Beach Park & Sports Complex. All ages will delight in the over 500 magical light displays, some up to 55 feet tall, which have been custom-made for The Great Christmas Light Show. Visitors will also get to experience 30 new enchanting, animated figures and holiday scenes where the lights will come to life. Stop in Santa's Village for free photos with Santa and Mrs. Claus, a petting zoo, Santa's Rockin' Christmas Tree, Fire Pits for S'mores, and even train rides ($3/person). Santa's Village is open from Thursday through Sunday November 25 through December 11, then nightly from December 12-30, 2022. The lights and Santa's Village are closed on Christmas. Admission to The Great Christmas Light Show (up to 15 passengers) is $15 per vehicle when Santa's village is closed and $20 per vehicle when Santa's village is open.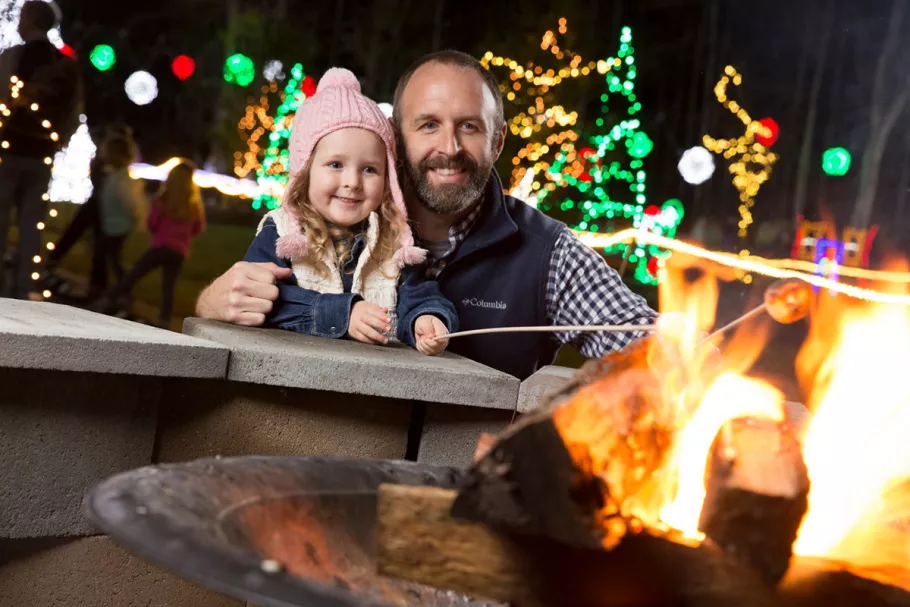 Broadway at the Beach, 1110 Celebrity Circle, Myrtle Beach
Friday, November 4, 2022 - Sunday, January 1, 2023
Each Christmas season, Ripley's Aquarium of Myrtle Beach celebrates the heritage and diversity of the United States of America by decorating over 50 trees, featuring each of the country's 55 states and territories. The South Carolina tree is a favorite, at more than 18 feet tall, and features seashells, magnolias, golf balls, and more. Visitors can test their knowledge of each state with their customized scavenger hunt or simply enjoy the beauty of so many Christmas-lit trees throughout the aquarium. This special holiday display is included with regular aquarium admission.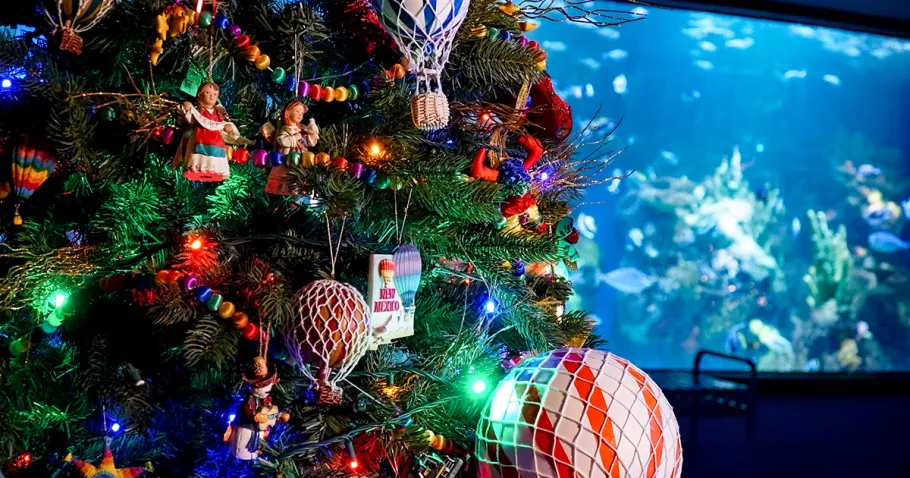 Celebration of Lights
Downtown Conway, 1515 Third Ave, Conway, SC 29526
The Conway Celebration of Lights is back for the 2022 Christmas season. Every Thursday, Friday, Saturday, and Sunday you can drive through this magical light display downtown from 5:30-10 p.m. through December 24. Visits with Santa will be held Thursday through Saturday from 6- 8 p.m. at the Town Green at 200 Laurel Street. The show is $1/person. 
Brookgreen Gardens, 1931 Brookgreen Drive, Murrells Inlet
Thursday through Sundays, Starting November 26, 2022 - January 1, 2023
Discover a true holiday spectacle at Brookgreen Gardens during Nights of a Thousand Candles. Beginning Thanksgiving week, the historic sculpture gardens put on a show of more than 2,800 hand-lit candles and countless sparkling lights that dazzle guests annually. Tickets must be purchased in advance for this popular winter event and cost $30 for non-member adults and $14 for non-member children. Families can enjoy a warm cup of cider or hot chocolate, while adult beverages are also available for purchase. Nightly entertainment under the tent and dining choices make it a great date night spot as well. Harvest Restaurant is now taking reservations for dinner during the event. Gates open at 4 p.m. and close at 9 p.m. during Nights of a Thousand Candles.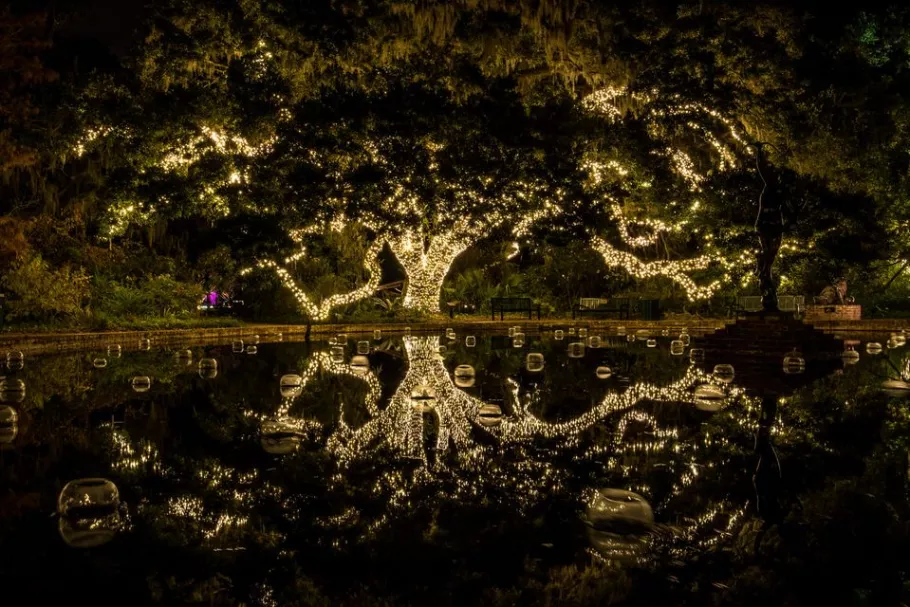 In addition to these spectacular Christmas light displays, visitors to Myrtle Beach have the chance to enjoy several of area Christmas tree lightings, as well. A full round-up of Christmas tree lightings from North Myrtle Beach to Surfside Beach can be found on our blog. And once you have seen all the Christmas lights, be sure to check out the area's world-class Christmas shows and fantastic holiday shopping!