Oceanfront Hotels for Kids in Myrtle Beach
Are you visiting Myrtle Beach with your family? When planning your next trip to the Grand Strand, there are plenty of choices when it comes to selecting accommodations for your stay. I have narrowed down some of my favorite Oceanfront Resorts for Families. 
From ocean views, to amazing pools, family suites and lazy rivers, there are accommodations for every family in Myrtle Beach. These resorts offer the most onsite amenities for your next family vacation. If you are traveling with multiple generations of your family, these resorts also offer extensive room options from suites to condos.
featured
1.
Crown Reef Beach Resort and Waterpark
With waterpark in the actual name of the resort, you know they mean business for kids! The award-winning waterpark at Crown Reef towers nearly 40 feet above ground and features 600 feet of slides: a 278-foot-long two-person tube waterslide, a single-person 302-foot-long waterslide, and an 8-foot-tall 20-foot-long slide for the little ones. Salty's Splash House is also located within the park, complete with dump buckets, a treehouse, and silly sub to climb through.
The property also has 15 more water features and The Town Center Dining, Entertainment and Fun Zone, with an arcade, restaurant, and ice cream shop.
featured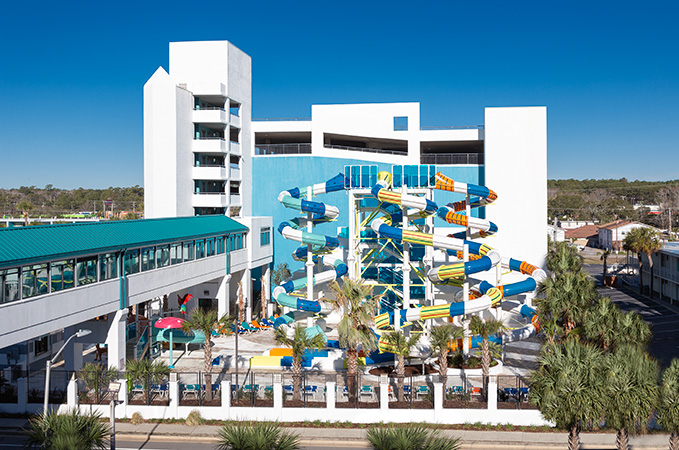 2.
Landmark Oceanfront Resort
Landmark's all-new expanded H2OASIS outdoor waterpark will wow your kids and give them hours of fun. The massive 9,800-square-foot waterpark features three 40-foot-tall slides, a smaller lion slide for the wee ones, a jungle-themed water splash area, plenty of lounge chairs for parents to sunbathe and relax, and a snack hut. Also impressive at the oceanfront Landmark Resort are the kid-friendly indoor water complex (heated pool, 300-foot-long lazy river, and kiddie fun pool, an oceanfront pool and lazy river, and appearances from Salty the Shark on the pool deck.
featured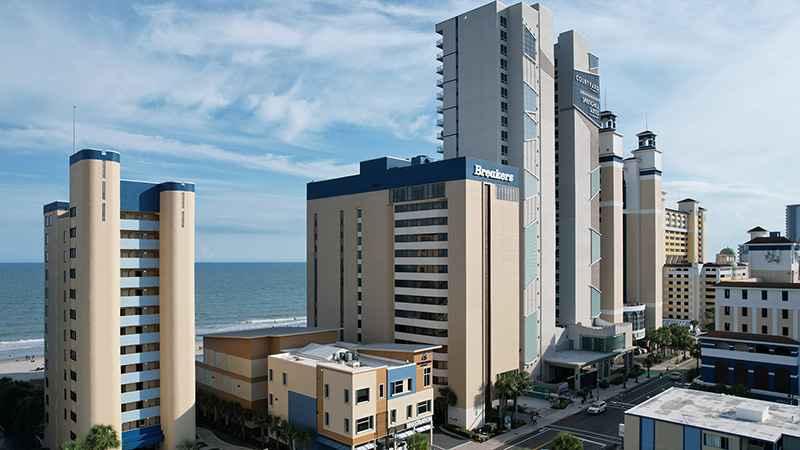 You and the kids will want to immerse yourselves for days in The Breakers' 19 water amenities, indoors and out, including their brand-new indoor Cove Waterpark that features the Myrtle Mayhem, Riptide Racers, Torpedo Shoot, and Twisted Typhoon. Then there are the kid-friendly indoor and outdoor pools, indoor lazy river, the sunken pirate ship, hot tubs. Ben & Jerry's ice cream parlor, shuffleboard, cornhole, and live pool deck dance party with DJ Ice Box in the summer.
featured
4.
Compass Cove Oceanfront Resort
Compass Cove can't wait for your kids to try out their new water slides: the Schooner Screamer and the Compass Cruiser. But there are 23 water features to splash your days away, including six indoor and outdoor pools, three indoor and outdoor oceanside lazy rivers, seven hot tubs, kiddie pools and Silly Submarine. More kid-friendly amenities include the Cove's game room, giant chess and checkerboard, shuffleboard, and a fire pit and outdoor grills to gather the family around.
featured
The kids will never want to leave the tropical paradise at Ocean Reef Resort's Shipwreck Water Park, where they can pirate the seven seas and discover adventure swimming at every turn, from giant tiki men, to sunken treasure, and a sea serpent that all wraps around the Lagoon Launcher water slide, kiddie water park, lazy river, outdoor pool deck, and indoor pool and kids' pool. Playtime continues at the resort's beach volleyball court, chess or checkers on the giant board, and shuffleboard.
featured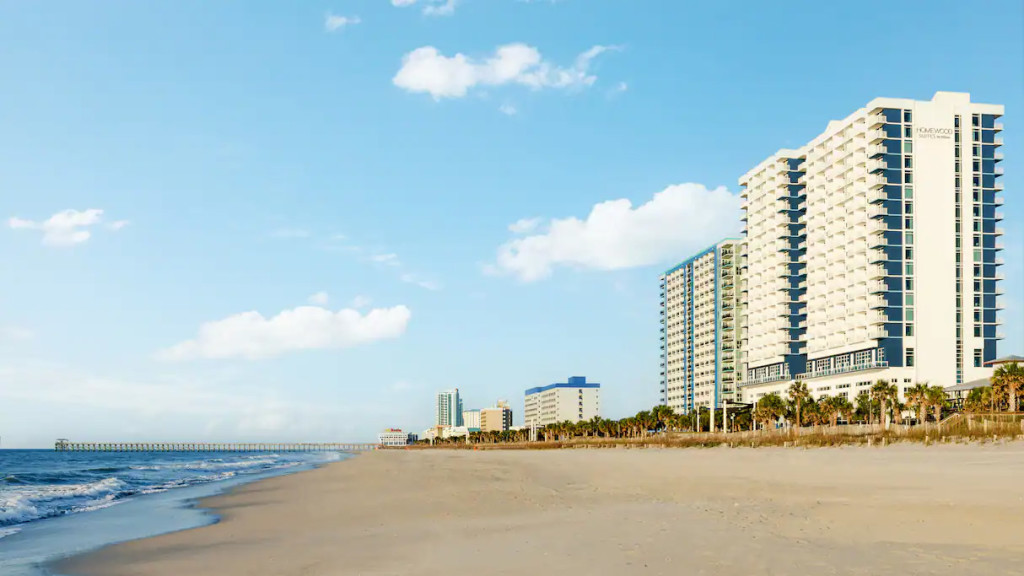 6.
Homewood Suites by Hilton Myrtle Beach Oceanfront
First, the oceanfront Homewood Suites is located near the Myrtle Beach Boardwalk, which is a great destination for family time, with the SkyWheel, restaurants, and arcades. Onsite, they also offer a water park with slides, lazy river, and a splash pad.
featured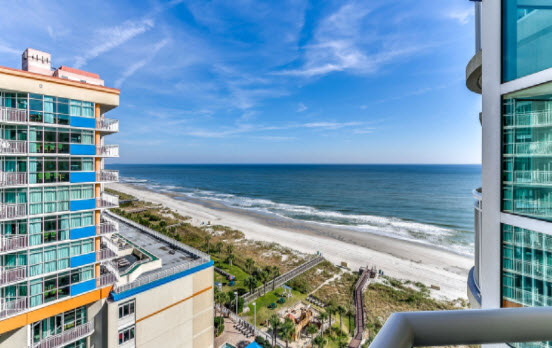 Dunes Village Resort is home of one of Myrtle Beach's best indoor waterparks, which features a speed water slide or winding slide, indoor and outdoor pools, indoor and outdoor lazy rivers, Silly Submarine splash area, and three whirlpools.
Play days rule Sea Crest, where they offer indoor and outdoor pools and lazy rivers, a children's activity pool, oceanfront children's water park complete with a 50-foot water slide, and large outdoor splash area designed with interactive topsy-turvy buckets, mushroom rain makers, and a large silly submarine.
featured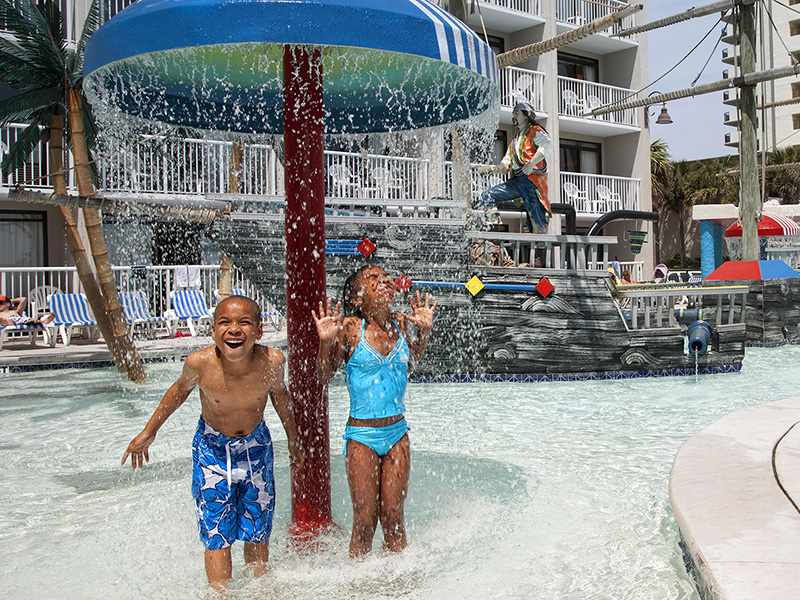 9.
Captain's Quarters Oceanfront Resort
The oceanfront Captain Quarters Resort is headquarters for 15 water features: indoor and outdoor pools, indoor and outdoor lazy rivers, indoor and outdoor kiddie pools, and the Shipwreck Lagoon Kids' Waterpark, equipped with water cannons, mushroom waterfalls, leaky barrels, and water-dumping buckets. Indoors, make your way to the sixth floor, where the Level 6 Entertainment Center features 20 AMF bowling lanes and a video arcade.
featured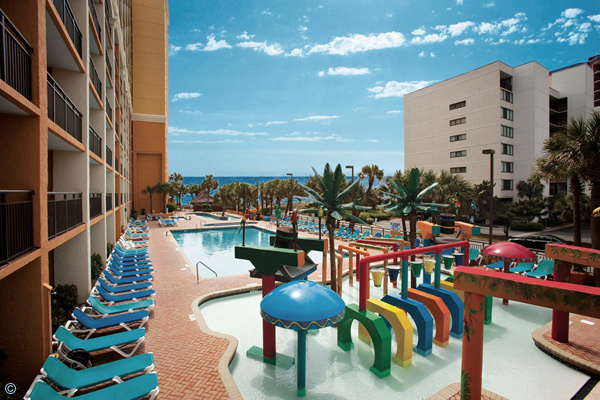 Make memories with the kids at Caravelle's renowned block-long poolscape that stretches from the beach access to the boulevard. Jump right into the large heated pool, whirlpool, lazy river, a more shallow kiddie lazy river, and the Wild Water Pool splash area. More fun is to be had at the game room or any of the summer fire luau shows performed right on the beach.
featured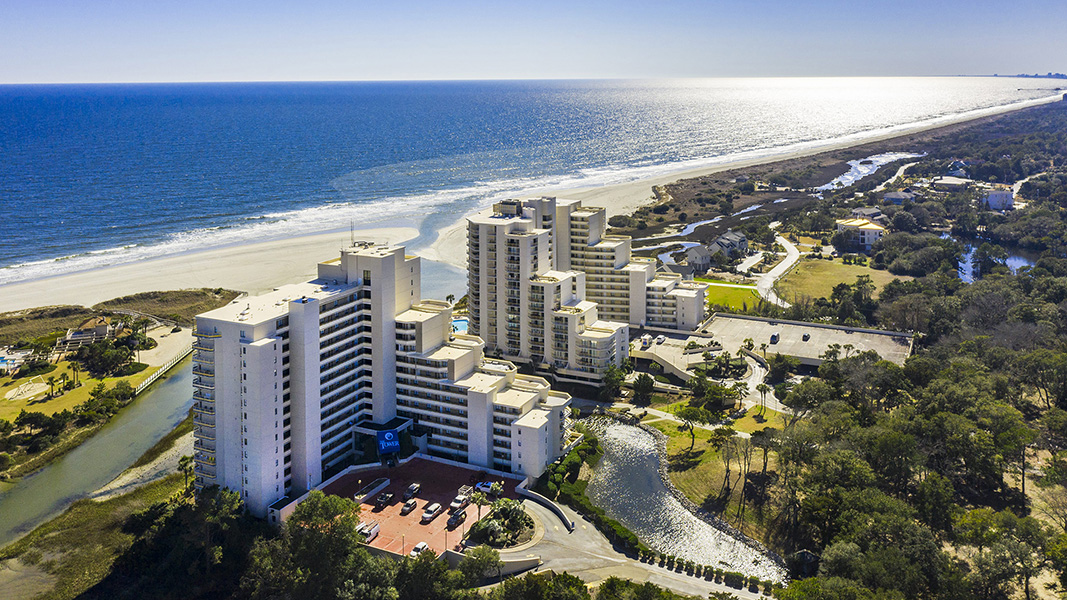 Check into this unique family experience at Ocean Creek, an oceanfront resort that stretches across 57 acres, from Highway 17 to the ocean. The property has a cool oceanfront creek that is home to aquatic and aviary species in the wading pool when the tide comes in, and there is also a pond filled with turtles, ducks, and fish. Other kid-friendly amenities include outdoor/indoor pools, an oceanfront playground, onsite putting green, tennis center, and oceanfront beach volleyball courts.
featured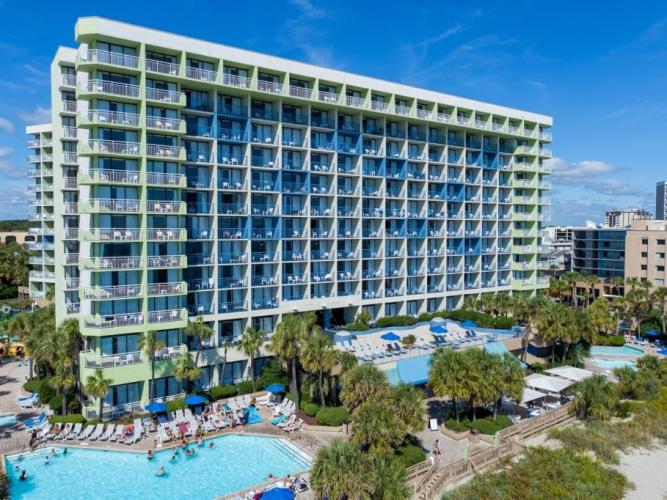 12.
Coral Beach Resort & Suites
Kids love the oceanfront Coral Beach Resort, which features indoor and outdoor pools, a children's water park, an outdoor lazy river, a kiddie pool, and the Entertainment Zone that offers bowling, arcade games, a snack bar, and ice cream shop.