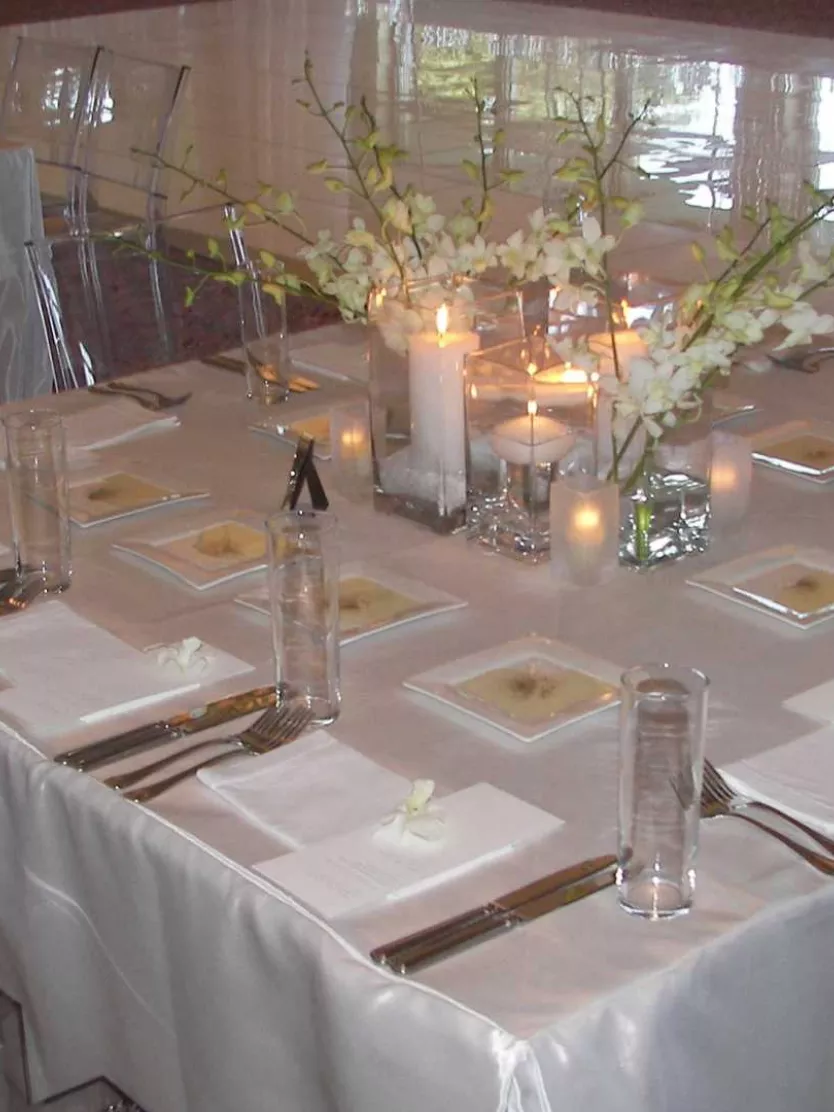 Catering, Flowers, Cake & More
Catering
One of the greatest things about Myrtle Beach, South Carolina, destination weddings is the ability to incorporate local cuisine into your reception menu. The Myrtle Beach area is well known for its fantastic fresh seafood and traditional Southern cooking, and many area caterers incorporate these into their delicious Coastal Carolina cuisine options. Just as with event venues and accommodations go, the key to Myrtle Beach's popularity as a destination wedding site is its variety-and Myrtle Beach area caterers are no different. No matter your preferred style, budget or wedding size, there is a caterer right for you. Whether you choose to do research on your own, utilize your event venue's caterer or work through a coordinator, in Myrtle Beach, South Carolina, there's no shortage of good eating!
In the Spotlight
Featured Places
Catering, Flowers, Cake & More
Flowers
The spring and summer in the South welcome a bounty of beautiful flowers native to the region, perfect if you're embracing a traditional Southern wedding in Myrtle Beach. But whatever your preferred bloom, the florists and floral designers of Myrtle Beach, South Carolina, will help ensure the vision for your destination wedding comes to life. Often hotels, resorts and event venues will have floral arrangers that they work with on a regular basis, but with such a wide variety of floral vendors in the Myrtle Beach area, doing your own research can be fun. Most Myrtle Beach area floral arrangers are well accustomed to working with out-of-town brides, so planning your flowers for your destination wedding won't have to be difficult.
Click here for Myrtle Beach area Florists.
Bakeries and Sweets
Wedding guests will likely arrive in Myrtle Beach, South Carolina, with a sweet tooth, and brides and grooms can ensure no one is disappointed by enlisting the help of one of the area's many award-winning and fantastic bakeries. As with everything in Myrtle Beach, variety is affordability, make the destination ideal-even when it comes to selecting and ordering the perfect wedding cake. A local wedding coordinator can help connect you with bakeries brides and grooms will like, or you can consult on your own with other Myrtle Beach area online wedding resources to find the perfect baker for your wedding day. Either way, rest assured that the ideal cake, or cupcakes, are waiting right here in Myrtle Beach for you to say 'I do.'
Music and Entertainment
Whether in search of a beach music band, soul music or DJ entertainment, Myrtle Beach, South Carolina, offers plenty of options for planning your destination wedding events. Weddings on a budget may call for the services of a premier Myrtle Beach DJ playing current hits and other wedding favorites, while others might decide to incorporate the area's native dance, the Shag, into their wedding reception with Southern beach music. Wedding coordinators at different venues can help to steer you in the way that might best suit your destination wedding desire as they'll know availability of space and needed size, but exploring the many Myrtle Beach area music and entertainment vendors on your own can also offer great ideas during wedding planning.
Click here for Myrtle Beach area Entertainment/Disc Jockeys.
Salons and Spas
Maybe you're planning your bachelorette party or a girls' getaway in advance of the big day, or maybe you're just in need of some pampering on the day of your nuptials. Whatever your motivation around wedding time, Myrtle Beach, South Carolina, salons and spas surpass expectations and are sure to set the right tone for any destination wedding celebrations. Some Myrtle Beach resorts have award-winning spas inside their doors, but plenty worth discovering exist throughout the area. Whatever service you opt for, making sure you take time to rest and relax before your wedding day is important, and a trip to the spa is just what the doctor ordered.
Click here for Myrtle Beach area Day Spas.
Click here for Myrtle Beach area Hair Salons.
Transportation
One key aspect of planning any destination wedding is ensuring reliable transportation. Guests flying in to the Myrtle Beach area will likely do so through the Myrtle Beach International Airport. Once they've arrived taxis or rental cars are available to help get them to their final destination: your wedding. Once everyone is in town, a variety of outstanding transportation vendors gives the bride and groom options, whether they're looking to book a limousine or bus to transport guests from wedding site to reception venue. Myrtle Beach area wedding planners know the transportation vendors well, but many resources are available to help you locate the driver and automobile for you, should you wish to do it yourself.