Explore the Restaurants in the Myrtle Beach Mysteries Series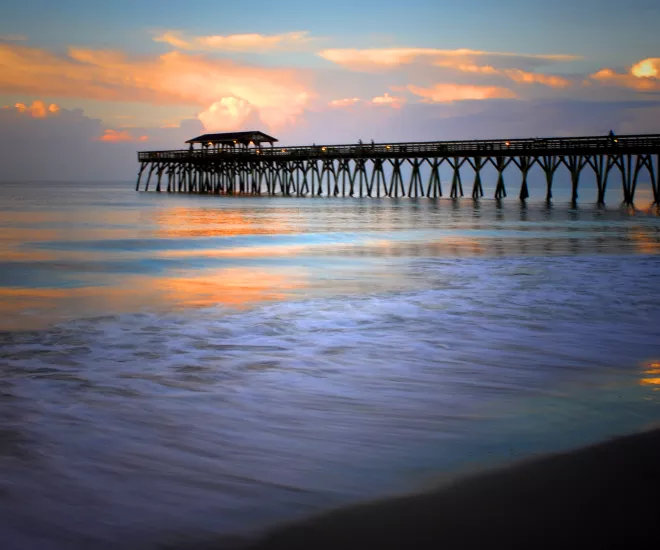 Readers love being swept away in a story. Ones of mystery, intrigue, adventure and romance. During the summer months, everyone wants to sit on the beach with a book in their hands (or tablet). It's the season of the Beach Read.
Thousands have discovered the Myrtle Beach Mystery Series, starting with the award-winning first book, DEATH ON THE BOARDWALK. The series follows Clark Thomas, who owns a bookstore on the Myrtle Beach Boardwalk. He discovers the body of a friend and well-known local businesswoman at the start of the first book. He gets entangled in the investigation, tries to figure out who did it, and learns more than he bargains for along the way, which is what sets up the rest of the series.
During the books, Clark's investigations take him all over the Grand Strand. Many of the locations, landmarks, and businesses in which he goes are real, which an aspect of the series readers love. When you read a book in the series, not only do you get swept up in page-turning mysteries, but you also discover many restaurants. I've had readers pull out papers at book signings, showing me where they've written down and tried all the Grand Strand Restaurants mentioned in the books. They tell me how much they enjoyed each one of them and thank me for letting them know they exist.
Here a few of the restaurants, bakeries, and coffee shops mentioned in the series.
These are a sampling of the many restaurants named in the Myrtle Beach Mystery Series. You can use them as a guide during your culinary journey. Who knows? You might discover a new favorite.
Happy Reading and Happy Eating!
Read more about Caleb Wygal and the Myrtle Beach Mysteries at CalebWygal.com.