Make It An Adrenaline Adventure Day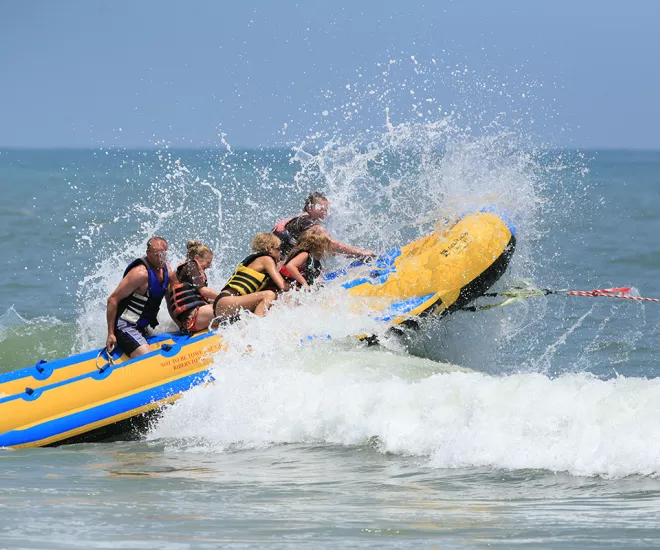 With water pretty much everywhere here in Myrtle Beach, ! Up and down our gorgeous 60 miles of white sandy beaches are endless opportunities to surf or learn to surf (in smaller waves of one to three feet in the spring and summer, with swells up to 8 feet). While at the beach, take a friend on a parasailing adventure at Express Watersports. You'll fly 200 feet over Atlantic waves in an amazing life-changing experience! Have a large fun-seeking group? Up to 6 people at a time can enjoy the thrill of a wave splashing banana boat ride at Crazy Sister Marina or Banana Boat Express. Just hang on for speeds of up to 35 mph! Have a smaller group? Go jet skiing with Action Water Sportz and cruise the ocean at speeds of 45 mph!  Want a speed boat? Feeling super daring? Then strap yourself into the Slingshot and get propelled up over 300 feet at speeds up to 100 miles an hour.
Of course, the choices for an adrenaline-filled day in Myrtle Beach never end with a day at Family Kingdom Amusement Park with 35 thrilling rides like the Slingshot or the Swamp Fox rollercoaster. Zipline fan? Great fun awaits you at The Track and Soar + Explore located right in Myrtle Beach. Zoom 50 feet up on a 1000 foot-long zip line course from tower to tower! 
The Funplex is a new amusement park to downtown Myrtle Beach, just one block from the Boardwalk. The Funplex features 7 amusement park rides that provide twists and spins for all ages. If you are feeling daring, try Mach Fun - the tallest 360 degree jet simulator ride in North America! There is a restaurant serving up drinks and themed food for when you need to take a break from all the adrenaline. 
Any time is the best time to visit the SkyWheel located in downtown Myrtle Beach as you sit back and relax and tower nearly 200 feet above the oceanfront Boardwalk and Promenade area. Bring a camera!
Don't miss all the wild fun in Myrtle Beach, it's sure to get your heart pumping! Be sure to book your accommodation to rest up for your fun-filled adventure at The Beach. 
Slingshot - Myrtle Beach, South Carolina