On Location: Garden City Beach, South Carolina
We are headed to the charming beach community of Garden City Beach, located just south of Surfside Beach and Myrtle Beach. Garden City is where the inlet meets the Atlantic Ocean and it is filled with cozy beach houses and fun, family-friendly attractions, and fresh, local restaurants that bring the beach town nostalgia.
First, we are stopping by the scenic Garden City Pier, which stretches 668 feet off the coast. This pier is perfect for fishing, but it is also home to live music, karaoke, and family-fun entertainment. We recommend taking a walk up and down the pier to take in the salty breeze and gorgeous views!
Located next to the pier, the Garden City Pavilion Arcade brings nostalgic entertainment to life with classic arcade games like Skee ball, Whack-a-Mole, Pac Man, and more. The arcade is two story with the classic games upstairs and the modern games downstairs, so there is plenty of room for the whole family to spread out and see who can get the highest score.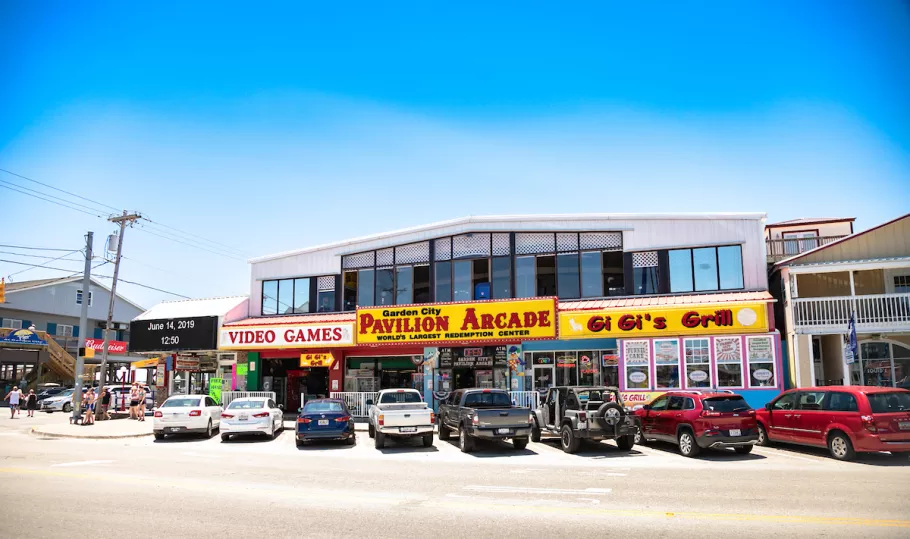 And then if you are hungry, grab a bite at Sam's Corner, an iconic diner for many visitors to the Grand Strand for years and neighbors to the Garden City Pavilion Arcade. This diner has been a staple in Garden City since 1976, serving up classic hot dogs, fries, patty melts, and more all-American food that tastes extra yummy at the beach.
Garden City Beach is the perfect beach for the whole family to enjoy – even those who want to try their hand at surfing! While you may not be surfing the pipeline like in the movies, there are plenty of rolling waves for you to hang ten. Check out the Village Surf Shoppe for lessons, surfboard rentals, and some rad gear. This surf shop has been open since 1969, so you know they are experts on all things Garden City.
After surfing you may be looking for a delicious on-the-beach dining experience. Head on over to the Conch Café for some fresh seafood and cold drinks. Their menu ranges from fried shrimp to crab cake salads, as well as some non-seafood options with everything made fresh.  
For another restaurant with a stunning view, try the Gulfstream Café, located on the marsh side of Garden City Beach. They serve some of the freshest seafood options as well as laid-back seafood baskets and decadent desserts.
Before you travel home, stop by Tsunami Surf Shop for a unique souvenir that will always remind you of The Beach. From high-end brands to classic Myrtle Beach apparel, Tsunami Surf Shop is filled to the brim with the perfect keepsake.
Garden City Beach is filled with cozy beach houses, elegant larger homes, and fully equipped condos that you and your family can rent year-around. Garden City Realty will help you find exactly what you and your family are looking for with property options ranging across the Grand Strand. Dunes Realty also offers the largest rental home inventory in Garden City Beach with oceanfront properties, pet-friendly options and more. Search for more accommodations on our website.
The town of Garden City Beach organizes golf cart parades and other events for every major holiday throughout the year - so whenever you travel to the beach, there is always something to celebrate!
Garden City Beach Videos
Explore Garden City Beach, SC
Garden City Beach is one of the Grand Strand's 14 unique communities. Located just a few minutes south of Myrtle Beach, it's a great little town and a destination unto itself.