While we celebrate coffee every single day at my house, it turns out that September 29 officially marks National Coffee Day! As a mom of three kids ages 5 and under, I consume my fair share of caffeine. Thankfully, the Myrtle Beach area is home to a number of great coffee shops throughout its 60-miles. In honor of National Coffee Day, I've put together a list of some of our favorite places to grab a morning (or afternoon) coffee:
Croissants Bistro & Bakery
Croissants has two locations along the Grand Strand (3751 Robert M Grissom Parkway, MB, and 8014 N Kings Highway, MB) but their N. Kings Highway location is especially fun. Not only is it closer to my house, it also houses their impressive coffee roaster, used to roast their coffee beans in-house each day. And while you can certainly get your coffee to-go here, this cozy American bistro is worth making a full morning of it with an impressive breakfast/brunch menu and delicious pastries. In celebration of National Coffee Day, they're giving away free cups of freshly roasted regular coffee Monday through Friday from 7 to 8 a.m. through the end of October at BOTH locations.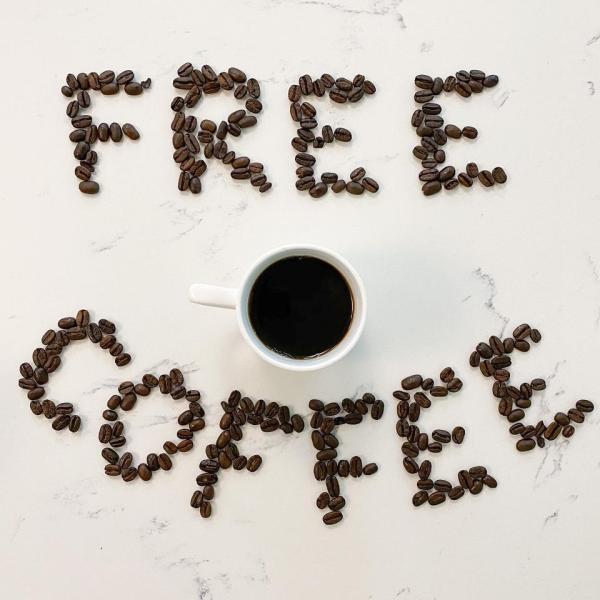 Boardwalk Coffeehouse
If you're in search of coffee with a view, the Boardwalk Coffeehouse will not disappoint. Located in downtown Myrtle Beach (104 9th Avenue N., MB), this coffee shop serves up a wide variety of coffee beverages throughout the day and an incredible breakfast from 8 to 11:30 a.m. right on the Myrtle Beach boardwalk. The atmosphere is fun and lighthearted inside, but you'll want to sit outside since they're located just steps from the sparkling Atlantic Ocean.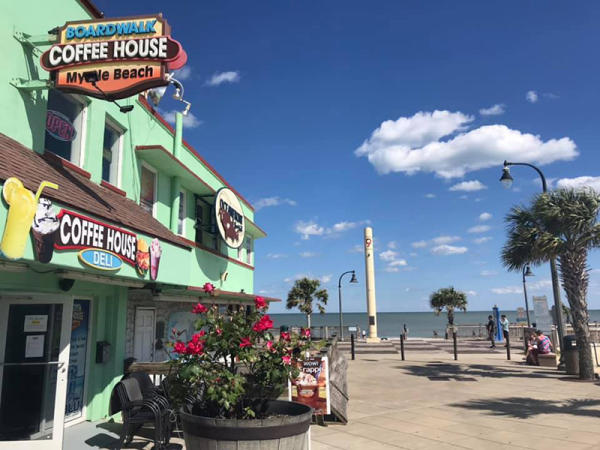 Fresh Brewed Coffee House
This local coffee shop is also located in downtown Myrtle Beach (933 Broadway Street, MB) but tends to be more of a draw for locals. The coffee is great, and the atmosphere quiet and cool. Fresh Brewed Coffee House hosts live music, art shows, open mic nights and other live events throughout the year. For more information on upcoming events, you can check them out at www.freshbrewedlife.org.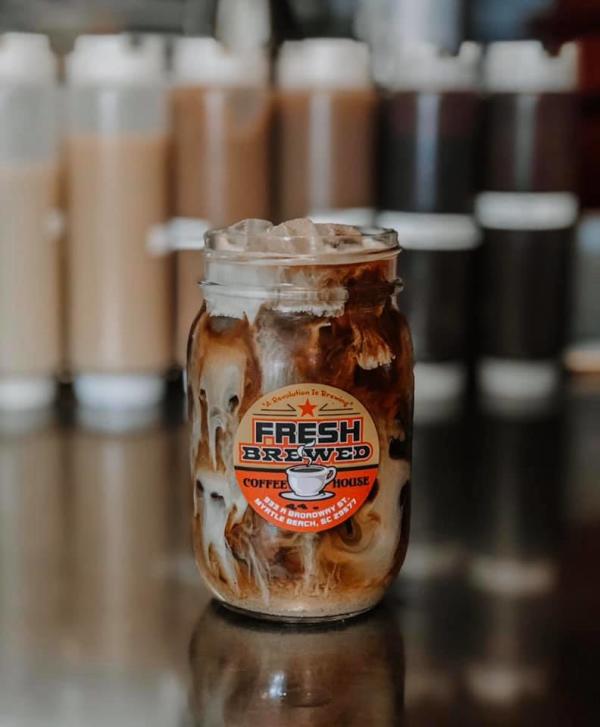 Beach Dreams Market
For those visiting the north end of the Grand Strand, Beach Dreams Market (817 2nd Avenue North, NMB) is a hidden coffee gem. Their coffee bar offers a large array of locally roasted organic, gourmet and fair trade coffee beans, while they also sell specialty teas, handcrafted soaps, body butters and scrubs. The vibe is breezy and beachy, and it's a good spot to get a one-of-a-kind souvenir as well.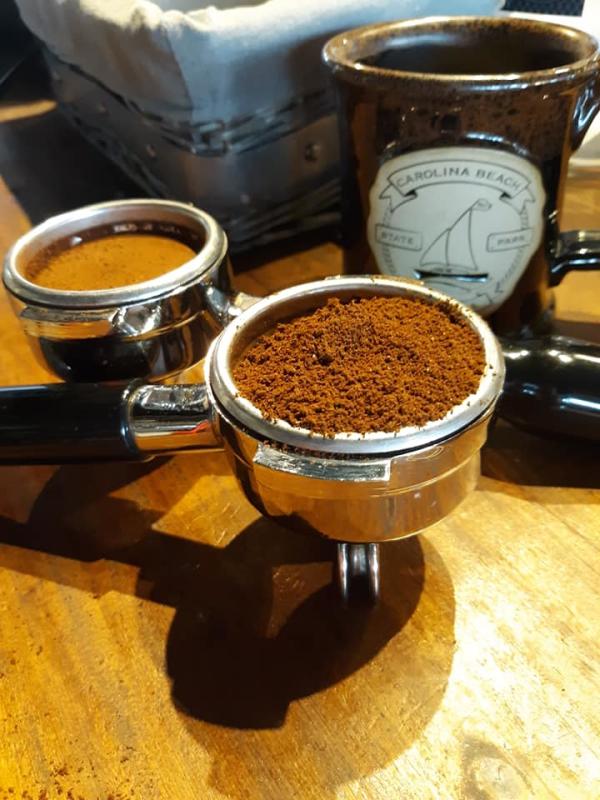 Cafe Gelato
This is one of the Myrtle Beach area's newest spots to grab a coffee beverage. We've enjoyed it this year especially, thanks to their drive-thru service. The cafe has both indoor and outdoor seating, but we've always enjoyed our coffee on the go. They serve up healthy food (smoothies, soups, salads) and more indulgent fare (namely, gelato), and everything we've tried has been delicious. It's located at 7901 N. Kings Highway in Myrtle Beach.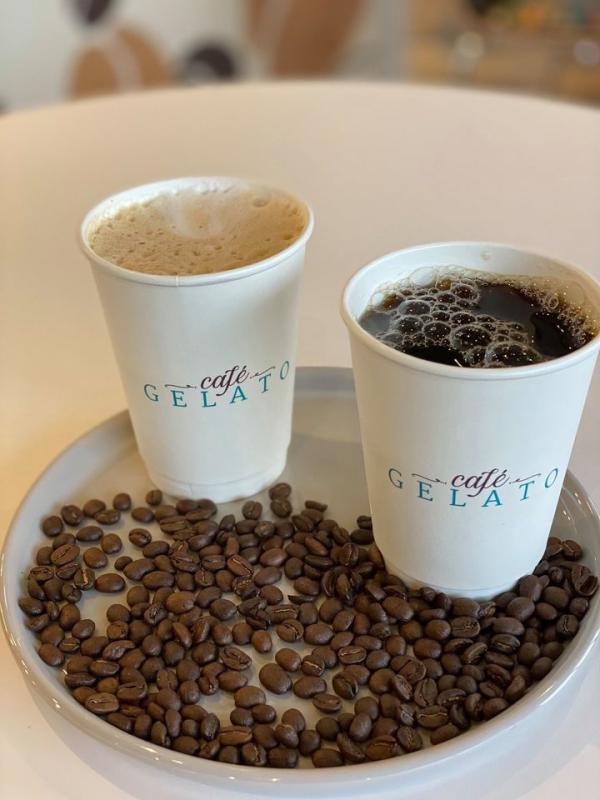 Benjamin's Bakery & Coffee Roasters
Benjamin's has served the Grand Strand for over 20 years, and it's definitely a favorite with locals and visitors alike. Their location at 810 3rd Avenue S. in Surfside Beach serves up coffee, espresso, bagels, breads, sweets, breakfast and lunch, so plan on coming thirsty AND hungry. The bagels are regularly given rave reviews from sworn bagel aficionados and worth every single carb.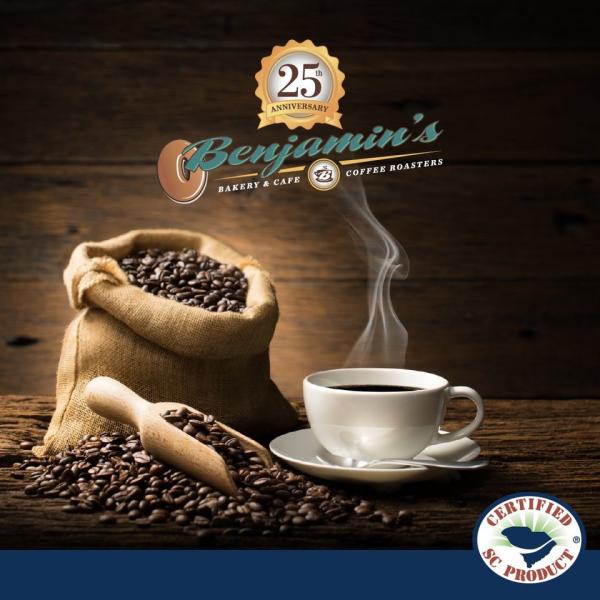 Brown Fox Coffee Co.
Brown Fox Coffee Box is a mobile 'grab & go' coffee shop located between Catfish Johnny's and Creek Ratz (4065 Highway 17 Business, Murrells Inlet, SC) on the beautiful Marsh Walk in Murrells Inlet, S.C. This super cute coffee 'box' serves up locally roasted coffee, teas, and smoothies, and we love how kid-friendly this coffee shop's concept is. It's nice to let the kids run around outside while waiting on our coffee and the views of the scenic marsh can't be beat.