Top Places for BBQ on the Grand Strand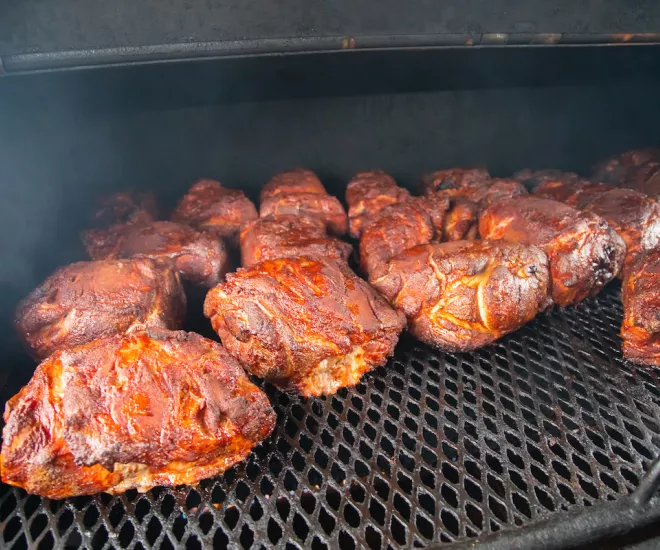 One staple here in the South is barbecue that's sauced up any way you like it and served up with all the fixins'. We've pulled together some of the top finger-lickin' good barbecue joints on the beach – from Pawleys to North Myrtle – for you to get a bite and experience for yourself. Dig in!
Hog Heaven
Situated on a gravel parking lot in the southern end of Pawleys off Ocean Highway, Hog Heaven is known for its Lowcountry, fresh-smoked pork barbecue, ribs, chicken, chicken bog, and more. The daily dinner buffet is heavenly, as is the Hog's fresh steamed seafood – don't forget their slew of sides. And save room for the banana pudding!
Fresh, Lowcountry-style barbecue is served at this locals' favorite is the guest of honor at this restaurant for lunch and dinner. Take a seat inside their barn-style setting and then go help yourself to the buffet laden with Southern comforts, like barbecue (and your choice of house-made sauces), fried chicken, chicken bog, biscuits, fried okra, and much more veggies and sides.
Certified pitmasters slow cook the meats onsite at Dickey's every night, and it shows. The best Texas-style barbecue and homestyle sides are the stars of the show in this nationwide franchise that first opened in Dallas in 1941, and Myrtle Beach locals and visitors welcome Dickey's with open arms.
This decades-long landmark on the north end of Myrtle Beach has kept up the South Carolina tradition of smoking whole pork shoulders rubbed in spices over burning hickory. The chopped, pulled meat is fall-off-the-bone tender. Choose to pile it on a bun with Little Pigs' vinegar-based sauce and slaw. Or choose from their other menu specialties, like ribs, Southern sides, fries, and hushpuppies.
Sweet Carolina's
This sweet spot smokes their barbecue in-house over hickory, apple, and pecan wood and rubs them with homemade spices and sauces. Start off your Southern meal with warm, homemade cornbread, and then move on to the main course of barbecue, baby back ribs, beef brisket, smoked chicken, or more. And finish it all off with favorites, like their homemade chocolate key lime pie or made-to-order skillet cookies.
Bar-B-Que House
Two locations of this family-owned restaurant offer one heckuva good menu! Bar-B-Que House specializes in slow-cooked South Carolina pork barbecue, as well as its famous barbecue chicken, and sauces to please any palette, from the Eastern North Carolina-style vinegar sauce to a Lexington-style red sauce, a South Carolina-style mustard sauce, and their own award-winning house sauce (in original and spicy). Fridays are Frogmore Stew Day, and any day is one for the House's peach cobbler.
Brisket
Located in North Myrtle Beach, this BBQ joint is bringing the flavors of Texas BBQ straight to the Grand Strand. They offer mouthwatering brisket, of course, along with all your southern favorites like fried green tomatoes and ribs. All the meats are smoked in house daily, so you can taste the care that goes into each dish. Enjoy happy hour with daily specials as well as dessert too! 
Moe's Original BBQ
Moe's, also known as a "Southern Soul Food Revival," is a small, laidback shack in Pawleys Island with a lot to offer. Choose from smoked chicken or turkey, Alabama-style pulled pork, or fried catfish with lots of flavor. Add to that their homemade sides and side of weekly live music, and Moe's is a destination.