Myrtle Beach Happy Hour Spots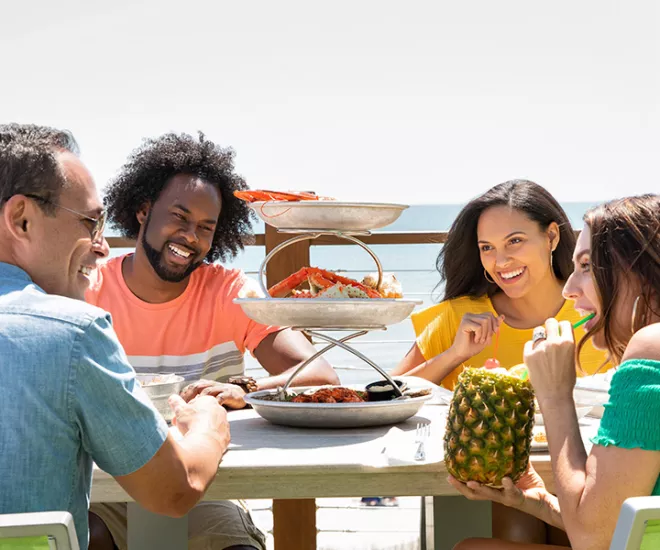 The Top Happiest Happy Hours
There are thousands of ways to stay happy by way of food and drink at a discount during happy hour in Myrtle Beach. But we think we've found a good way to start off on the right foot on your happy hour hop. (Just be sure to double-check on each restaurant's website or Facebook for time and day updates to happy hour.)
Cheers to many happy hours ahead!
You'll love every minute of happy hour hosted in this massive oceanfront entertainment venue, from the bar and dining floor to the rooftop bar, inside and out. Held Monday through Friday from 4-7 p.m., nightly happy hour features deep discounts on drinks, appetizers, and choice appetizers with a backdrop of oceanfront views and live music nightly.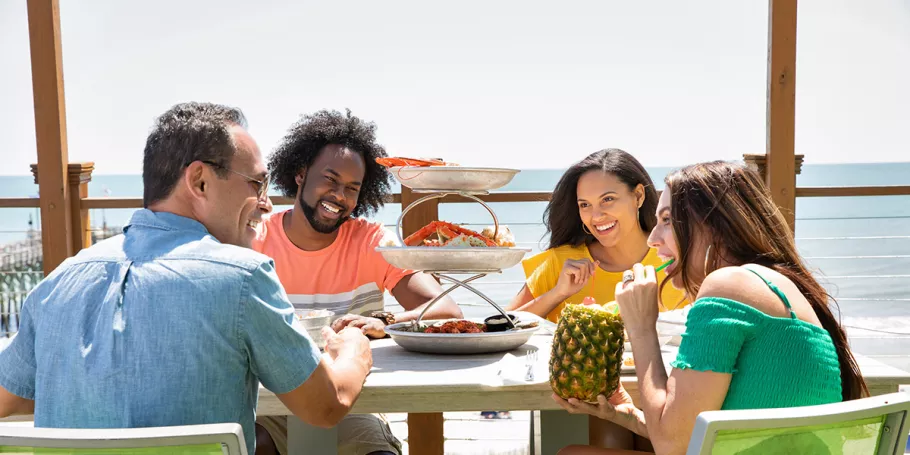 You can't go wrong stopping at this colorful, island-themed oceanfront landmark on the Myrtle Beach Boardwalk for some fresh food and a cold drink at happy hour. The Tiki Bar serves up twists on seafood starters and Momi's homemade hummus, some of the best you'll ever have. And then there's their full lineup of craft specialty cocktails, frozen blends, and beer on tap.
Stop by this all-American gastropub within Broadway at the Beach that proudly boasts more than 40 craft brews on tap, some of which are $3 during happy hour, 4-6 p.m. daily. Specials that will also make you happy: $3 well drinks, $4 Fireball and Rumple Minze, and discount appetizers, such as chicken wings, pretzel bites, calamari, sliders, and more.
Anchored at the end of the dock beside Marina Inn at Grande Dunes is this cool, open-air café that serves up the perfect setting for happy hour along the Intracoastal Waterway. Every day, from 4-7 p.m., you can snack on wings, Boom Boom shrimp, grouper bites, and more, as well as $5 well drinks, $4.50 house wines, and $4.50 beer drafts.
Open since 1979, Chuck's has set the standard for happy hour service, which is served daily from 4-7 p.m. Another sign of good times? Chuck's has been voted Best Happy Hour since 2014, Best Martini, and Best Signature Cocktail, so we're off to a good start. Try their $6 martinis and premium brands for only $4.50, choose from the mass of margaritas, wine, or beer, and savor special munchies, like Chuck's Bad Ax BBQ Sliders, Blackened Beef Tips, and Shrimp Scampi.
Family-owned with party in its name, this restaurant is destined to be a happy hour meeting place. Held daily from 4-7 p.m., happy hour here offers $6 jumbo margaritas, $3 sangrias, 32-ounce draft beers for $6, and so more from its fresh fare menu.
Raise the roof on happy hour at Tin Roof, where they're also known to host some of the hottest live bands and DJs on stage each night. Monday through Friday, 4-7 p.m., take advantage of Tin Roof's specials on a mega menu of craft beers, margaritas, mixed drinks, $1 off domestic drafts, wine, and cocktails, plus half-off select appetizers, aka made-from-scratch, Southern-inspired "Better Than Bar Food."
This brewery/restaurant within The Market Common taps into a regular rotation of happy hour specials on their German-style craft beer and bar munchies, like their legendary garlic fries, the house-made Bavarian soft pretzel, chicken schnitzel sliders, and crispy balsamic Brussels sprouts, to name a few that should meet your flavor.
Check out this trendy rooftop bar for a happy hour that's on another level! Available daily from 4-7 p.m. Soho's happy hour features $2 domestic bottles, $3 house liquor, $4 house wines, as well as specials on Soho's signature sushi and appetizers.
Choose from the Tavern's Surfside or Carolina Forest locations; either way, you'll have a seat at one of the best happy hours in town. It's a tiered menu, offering $3, $4, and $5 food and drink specials, which include drafts, house wines, Tavern Punch, and house liquor cocktails, plus onion straws, pizza slice of the day, fried pickles, wings, nachos, and more.