My Top 13 Favorite Things to Do at The Beach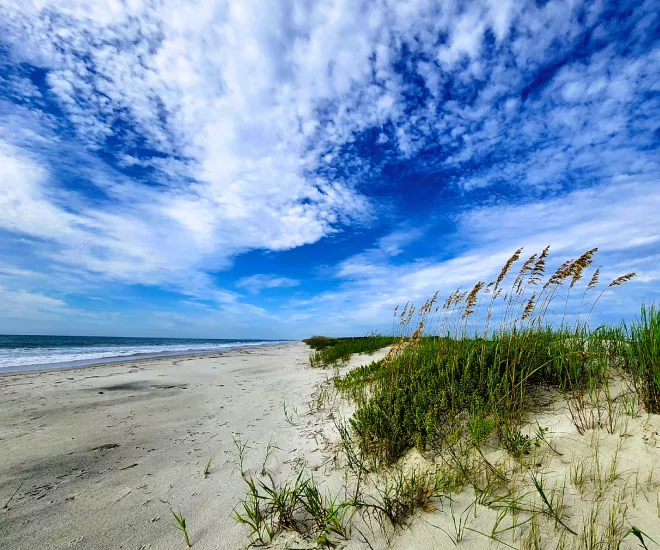 There are so many fun things to do in Myrtle Beach that it is impossible to narrow the list to just ten. But I'm an over-achiever, so I'm going with the lucky number 13!! This is my must-do list when company comes or when I just need a fun day playing tourist!
Huntington Beach has something for everyone: 
beach lover, birdwatcher (birders have spotted over 300 species), wildlife enthusiast, hiker, camper, coastal education junkie, kayaker, or history buff. This is your all-in-one spot! As you drive across the causeway, you will see shorebirds and waterfowl. And the kids will get a charge out of seeing the alligators. (Don't get too close, and for heaven's sake, don't feed them!! It is illegal!) The alligators are there because of the freshwater lakes in this fantastic park.
I love Huntington. I walk those three miles of pristine beach, rarely seeing another person. I know how crazy it sounds, but I like to imagine that it is mine—all mine!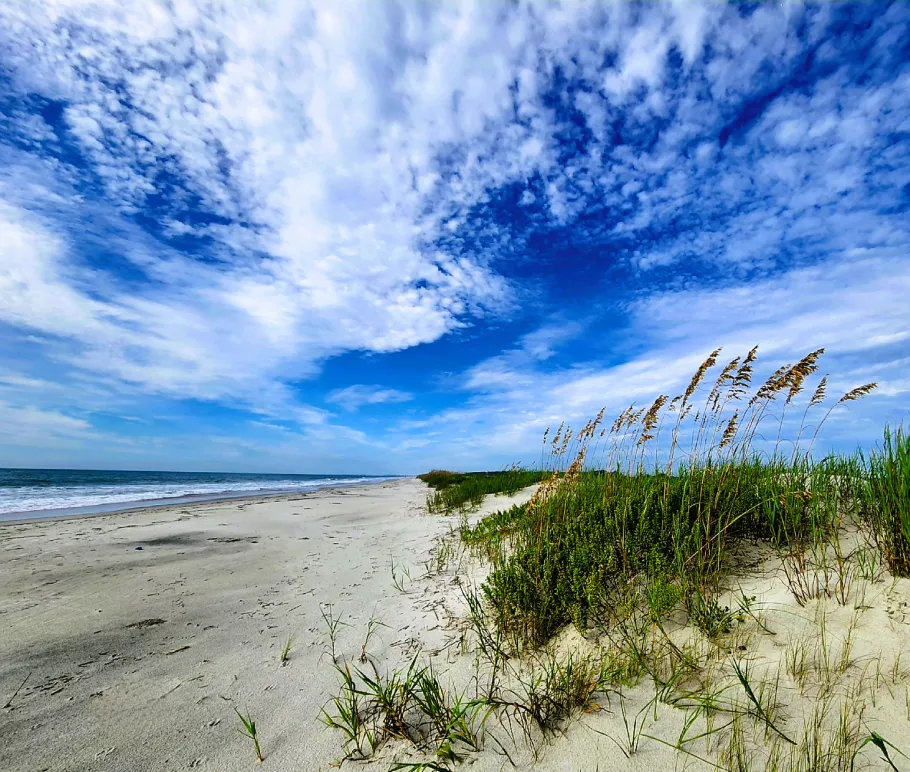 Atalaya is the winter home and sculpture studio of the philanthropists Archer and Anna Hyatt Huntington. Atalaya Castle was designed in the Moorish style, with wrought iron window grills and gates designed by Anna.
Atalaya Castle is on the Huntington Beach State Park property. It is open daily for self-guided tours of the 30-room castle and various holding pens for the bears, monkeys, and other animals Anna studied and sketched for her sculptures. In 1984, Atalaya was listed on the National Register of Historic Places.
Atalaya still comes alive every fall when it hosts a juried three-day art show. More than 100 artists and craftsmen display their creations throughout the castle and on the grounds. In addition, local food vendors set up, and a host of musicians perform throughout the weekend.
World-famous Brookgreen Gardens is right here in Myrtle Beach! Okay, technically, it is in Murrells Inlet, but Myrtle Beach loves to claim it! Lovely Oak Allée is what was once an entry walkway, framed by 250-year-old Live Oak trees. They were planted in the early 1700s when Brookgreen was four separate plantations. It has earned the Top Five Favorite Gardens award from Southern Living Magazine readers. And Garden Destinations magazine honored me with a spread of nine photos plus my article about one of my favorite places.
But Brookgreen is not just a fabulous garden; it is also an aviary, zoo, gallery, and education center. When you purchase your tickets, you will find they are good for seven consecutive days' admission—and believe me, you're going to need them! I could spend an entire day (or two!) just in the gardens.
Then, there are NOTC – Nights of a Thousand Candles. People buy tickets for this event a year in advance. I'm not kidding!! It has been named one of the 10 Best Botanical Garden Holiday Lights Display by USAToday and the Best Christmas Lights in South Carolina by Travel + Leisure Magazine.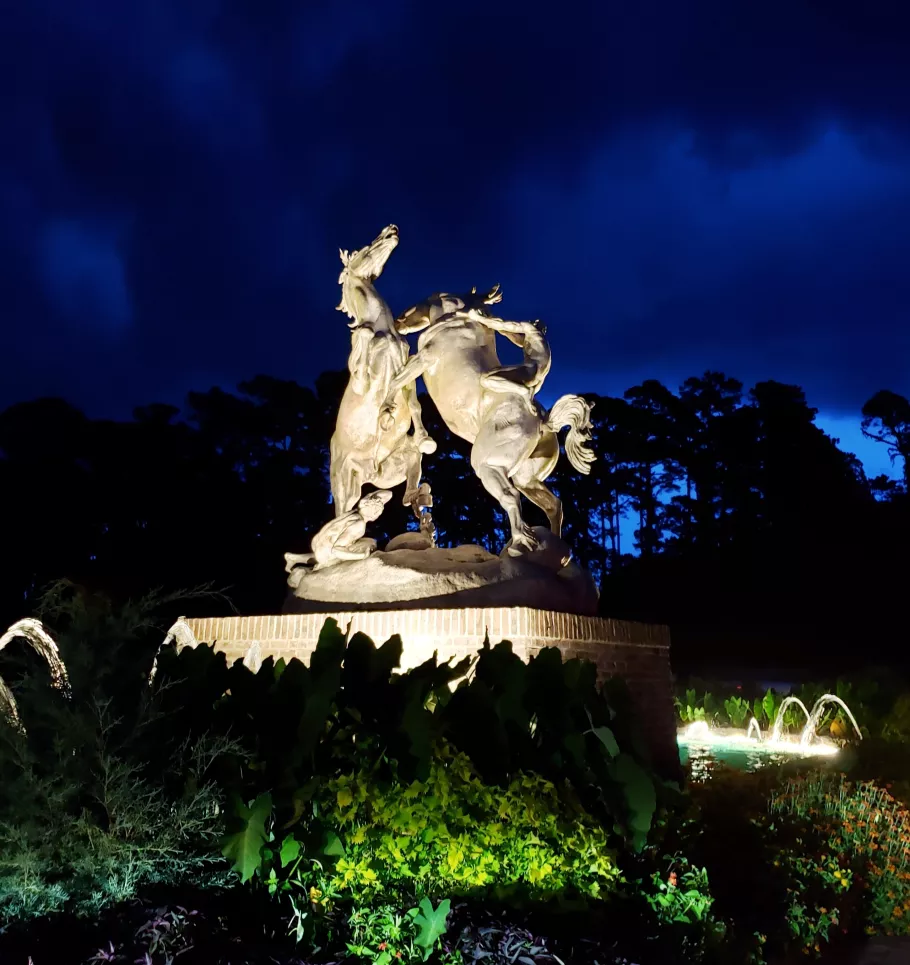 Attending Carolina Opry is guaranteed to put a smile on every face. The Opry will also put a song on your lips and start your toes tapping. Talent abounds in our area, supporting more than a few theatres. Most visitors see at least one show during a visit, promising themselves to see the show up the road on their next trip to The Beach.
The Opry show is my favorite—I have to be honest—but the Christmas show is something I look forward to every year. Then too, it's hard to beat Time Warp, a night of oldies from the 60s, 70s, and 80s. Okay…so I like them all. Sue me! *smile*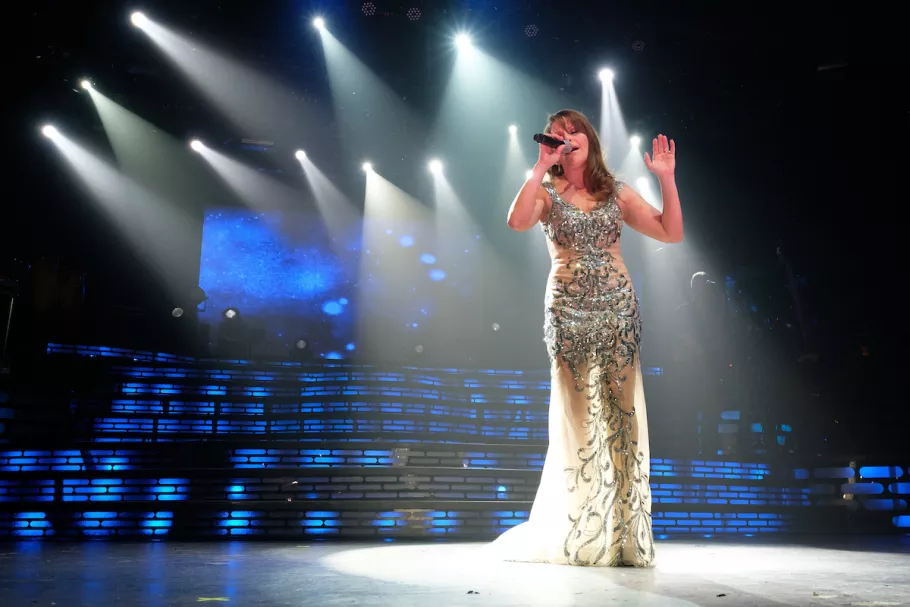 Pier fishing or just walking on one of our eight beautiful piers is a perfect way to spend your day or evening! Piers are located up and down our coastline, making it easy to stroll along and enjoy the view and the ocean breeze.
Watching the anglers trying their best to bring home the bacon…er, fillets is always fun! And sometimes, there's a bit of excitement when one snags a shark!
Cherry Grove has a 985-foot pier with a two-story observation deck. This pier, built in the early 1950s, has been the host to many record catches—including a world record for a Tiger Shark. That bad boy was 1,780 pounds!
Soon, Surfside Beach will have a new pier. Category 5 Hurricane Matthew damaged the old one beyond repair in 2016. The newly constructed concrete pier will be 25 feet tall and will have stairs, access ramps, and an elevator. It will be the only all-concrete pier in South Carolina. This structure will give a whole new meaning to "Surfside Strong".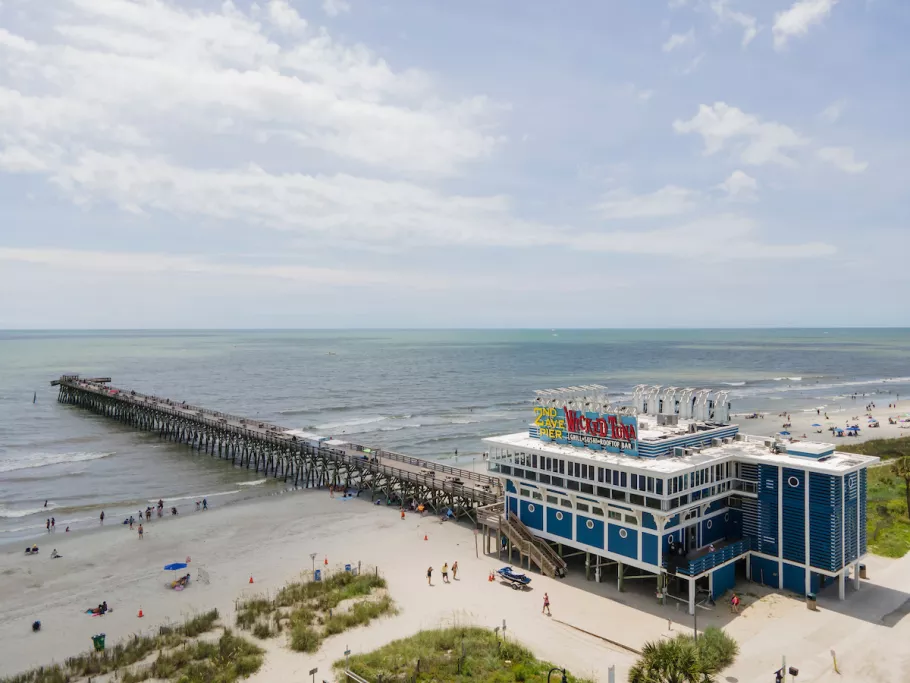 The boys from the group Alabama and The Beach have had an ongoing love affair since they started entertaining us back in 1973! So naturally, the band wanted to give back to the beach where they got their start, so they built a theatre to serve as a music venue for their house show and major-name visiting artists. Alabama Theatre has live music nightly; when the ICONIC cast takes a night off, guest artists are scheduled on the stage. Never a dull moment!
ICONIC has performances most nights of the week from January through October. Shortly after that, they switch to the fabulous The South's Grandest Christmas Show.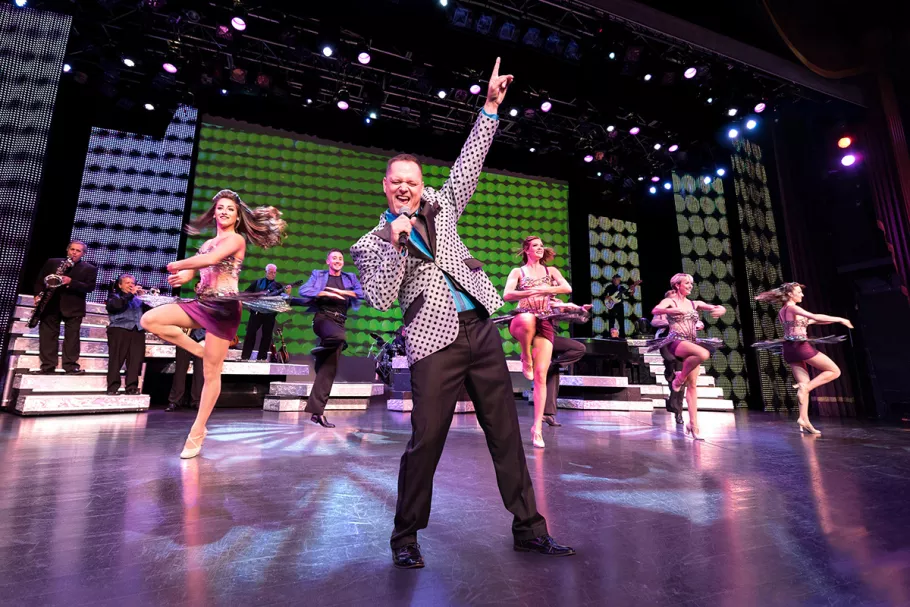 The Beach is incredible. I walk on that Grand Strand every day. But there is so much more to The Beach than sand and waves (and shark's teeth!) Getting out on the water in the salt marsh, cypress forest, or swamp lets you see the Myrtle Beach area from an entirely different angle.
Black River Outdoors is an adventure company with kayak tours to all those places, full moon kayak adventures, and even kayak fishing trips! You can select from trips to a variety of areas and one that suits your time frame. They offer 2-hour and 4-hour tours and have put-ins ranging from Huntington Beach State Park to Thorofare Island on the Waccamaw near Conway.
The guides ensure you are safe and comfortable before setting out on your trip. Then, as you paddle, they give mini-history lessons and birding and wildlife lectures, providing painless learning! And Mike waited patiently for the pokey paddler (me), who stopped for frequent photo ops!
The 8th Wonder of the World is right here at The Beach! Yes, really! And that trademark is registered, folks! Go in for a beer, some music, and to pay homage to the local icons who've made The Bowery a force of musical nature! Like Scuba Osbourne, who made it onto Ripley's Believe It Or Not and in the Guinness Book of Records for his ability to carry 34 mugs of beer 100 feet—and not a drop spilled!
Back in 1973, the summer house band was Wild Country. Now, Bowery house bands worked for tips (and beer!) The band was good (I know—I was there!), and harmonizing together six nights a week only improved them. So, they returned for six more summers. With their name changed to Alabama, they went on to sign a record deal, and in little time at all, they had 42 number-one singles! They appeared to be an overnight sensation, but we beach bums knew the truth! By then, we'd been in love with those Bama Boys for ten years!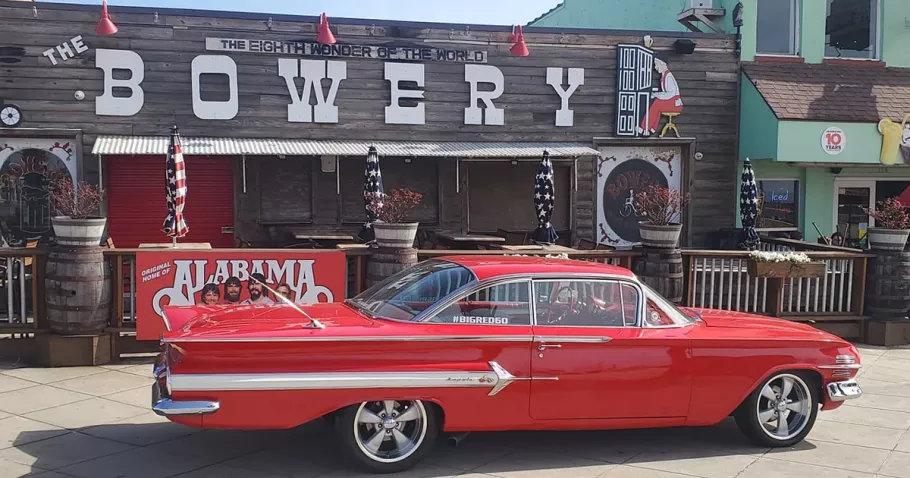 Yoga on the Beach
Locals and visitors alike enjoy stretching and breathing in the sea air. So why not do it during a yoga class—right on the sand? We often spot dolphins in the waves (yes, we have a particular pose for dolphin sightings, and we stop class and grab our cameras!) Yoga with Hope holds morning and evening classes and frequently offers special classes for Full Moon and Sunrise. There will be a time or day that fits your schedule. And never fear, she gives clear instructions (and does each move with the class). Even beginners will feel right at ease. So sign up, grab a towel or yoga mat, and we'll see you on the sand! Namaste, y'all!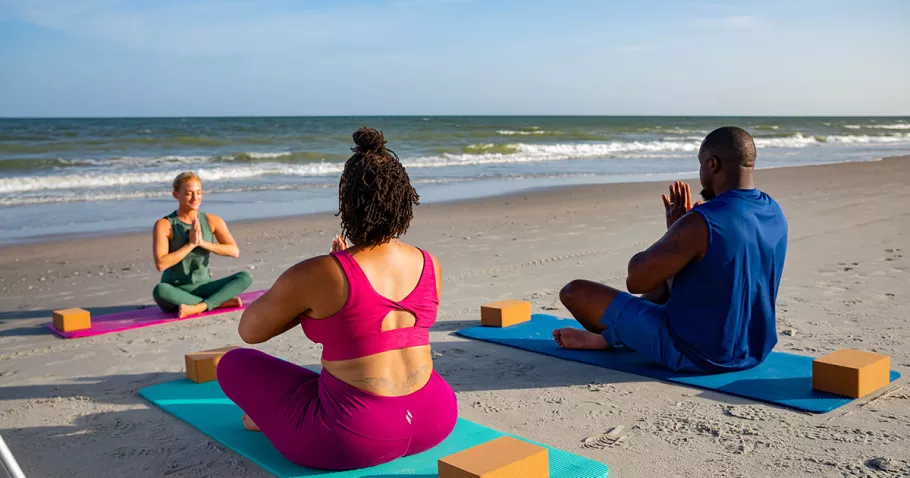 No trip to Myrtle Beach is complete without a souvenir. The family-owned Gay Dolphin Gift Cove has the distinction of being The Beach's largest, oldest, and most unusual gift emporium. Entertaining visitors since 1946, this store is eight floors, has a glass tower, and over 70,000 items of merchandise, from sea shells to collectibles.
Stop in and browse. And take a selfie or two! If you haven't been to the Gay Dolphin, have you really been to Myrtle Beach?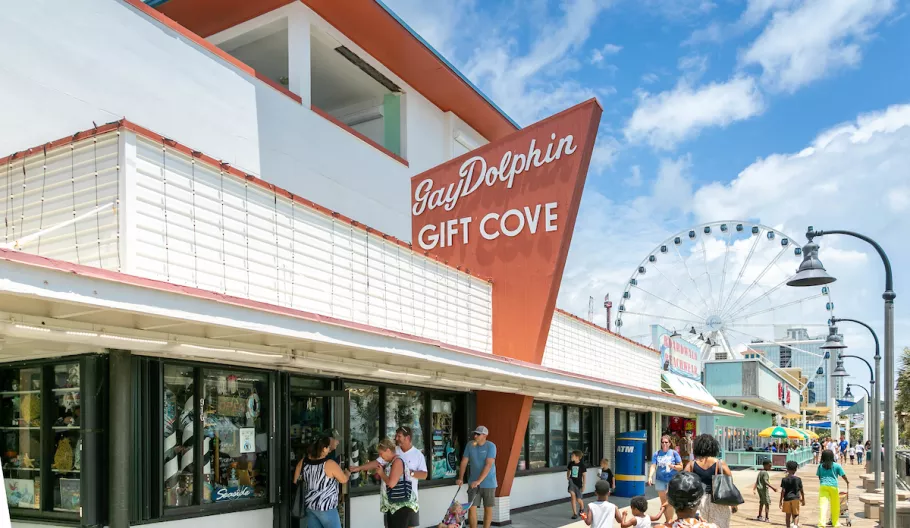 GTS Theatre has an intimate 175-seat Cabaret-style theatre with five different shows. But Motown is my favorite (well, so far!) You will get to know your neighbors—by the second song, you'll be singing with them! The words to hits (or oldies) from your childhood roll off your tongue. I may not remember why I walked into the kitchen, but I can sing every word of "My Girl" and "Shop Around" without a second thought! And the Marvelettes "Please Mr. Postman" was Motown's first number 1 hit from 60 years ago (No! It can't be that long ago!!) I've got you humming, don't I?
Book your tickets—you know you wanna! Jump!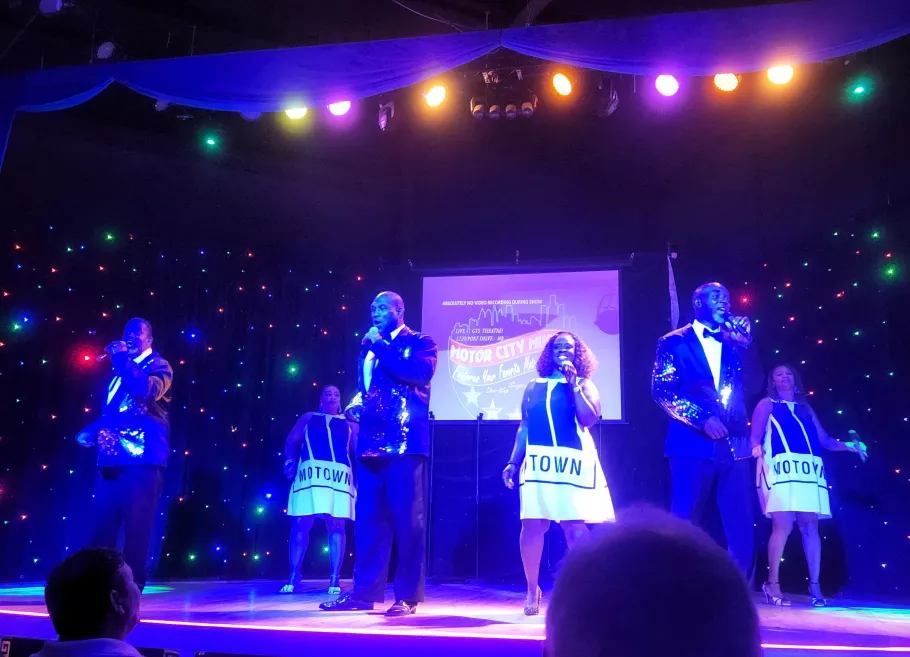 The MarshWalk
What? You thought I wouldn't list food on my top 10 or 13 things to do? Don't y'all know me at all? The Seafood Capitol of the World is right here in Murrell's Inlet, where you find seafood at its finest. And all you have to do is walk along the MarshWalk and pick one, or two, or three…you can have an appetizer and move on to the next spot for another appetizer. (Follow me for more valuable tips on eating! LOL!)
The marshwalk also provides the perfect after-dinner walking spot. You can hear bands playing at various eateries and bars as you walk along, enjoying the cool evening. Then, when you hear a song you like, take a break. There are benches and chairs and beers to be had. You are on vacation, after all!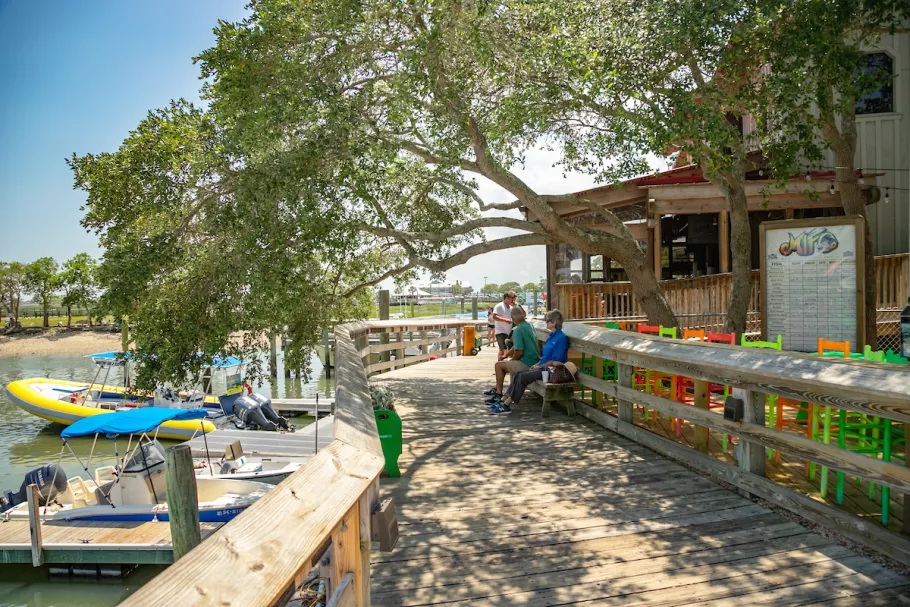 And, what's food without wine? For that matter, what is a Saturday without a concert at a vineyard? La Belle Amie had something happening in the vineyard nearly every Wednesday and Saturday year-round. So, even in February, you'll find locals sitting around the fire pits, cups of hot mulled wine in their hands.
Now that you know my favorite things to do, the odds are pretty good you can find me at one of these! So, when you spot me, come over and say hello! And tell me your top 10/13 things to do!