Exploring Myrtle Beach Area Piers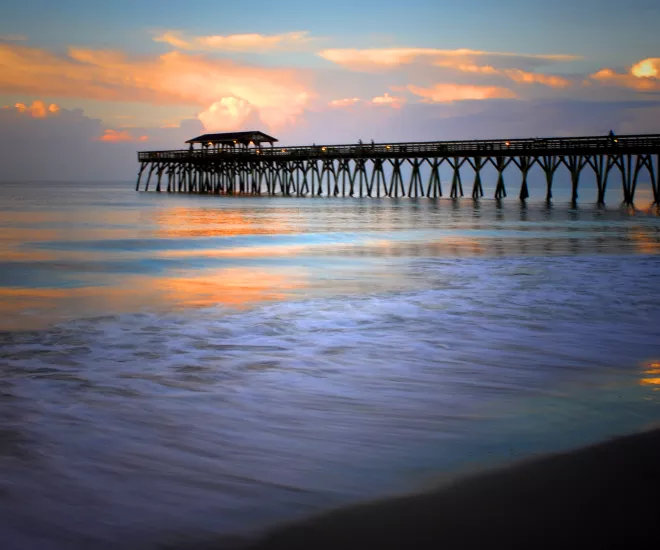 Longtime visitors to the Grand Strand tend to always have a few 'must do's' on their annual vacation itinerary, and a visit to a nearby fishing pier is usually one. Hot spots for decades, Myrtle Beach's eight popular piers are good for so much more than fishing. Some boast fabulous on-pier restaurants and many host excellent live entertainment. Two are even home to much-beloved arcades! Spread out along 60 miles of picturesque shoreline, they range from as far north as Cherry Grove all the way down to Garden City. Here is a round up of the piers that call the Myrtle Beach area home and how to make the most of your visit to each:
Apache Pier is a part of the very popular Apache Campground, a family campground complex located near many great attractions, including Tanger Outlets and Barefoot Landing. It is the longest wooden fishing pier along the entire east coast, with a length of 1,206 feet, and is open 365 days a year. Beyond full-service bait fishing and an on-site tackle shop, Apache Pier is also home to Croakers, the pier restaurant, as well as an arcade. From Memorial Day through Labor Day, the pier hosts live music on the center stage under their signature big yellow pagoda. While campground visitors spend plenty of time at the pier, it's accessible to those not staying within the campground as well. Guests can access the pier through the main campground entrance located at the corner of Kings Road and Lake Arrowhead Road. Let the attendant know you're visiting the pier, and they will direct you to the right parking area. Apache Pier's hours are 6 a.m. to 10 p.m. Walking the pier costs $2 per person during the day and $3 per person during live entertainment. Daily fishing rates are $10.50 per person and includes 2 rods. Kids under age 10 are discounted.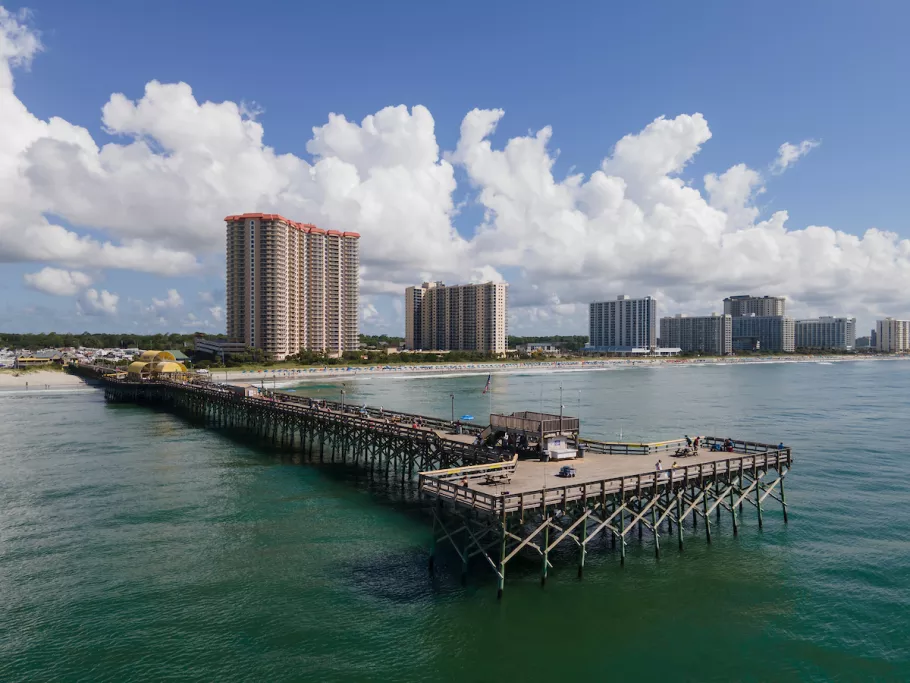 The 14th Avenue Pier in Myrtle Beach originally opened in 1926, and while a portion was damaged by Hurricane Hugo in 1989, it's safe to say the pier is in better shape than it ever has
been. It's home to a much-loved restaurant (serving up fresh seafood, steaks and other specialties) and is also currently the home of the www.visitmyrtlebeach.com webcam! The pier is 600 feet long and is great for fishing or a date night out to dinner. Situated along the award-winning 1.2-mile Myrtle Beach Boardwalk, it's a perfect way to extend your boardwalk stroll out over the Atlantic Ocean. The on-site tackle and gift shop is a good spot for a rod rental or souvenir, and the friendly staff is always ready to help out families wanting to fish. 14th Avenue Pier is located at 1304 North Ocean Boulevard in Myrtle Beach. Pier hours are roughly 7 a.m. to 11 p.m. but are subject to change based on the season and Pier 14 restaurant is open from 11:30 a.m. to 9 p.m. A fishing pass is $7. For more information, call (843) 448-4314.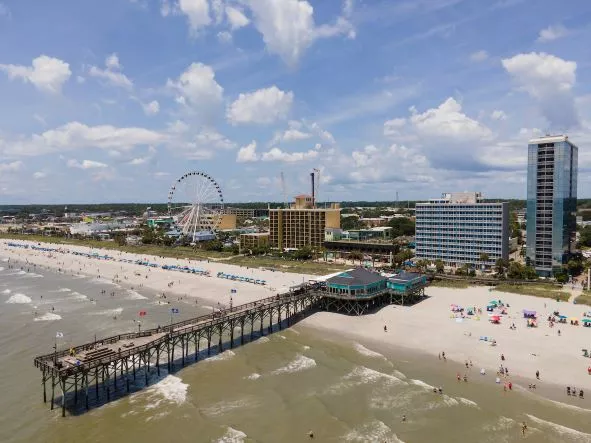 Also located along the beautiful Myrtle Beach Boardwalk, 2nd Avenue Pier was built in 1936 and destroyed by hurricanes and rebuilt twice over its lifetime. Close to all of the fun summertime festivals that take place in downtown Myrtle Beach, 2nd Avenue Pier's location is great, but many argue the fishing is even better! Anglers reel in mullet, trout, flounder, mackerel and even barracuda, and the views down the shoreline and boardwalk can't be beat. The Pier House restaurant is both a local and visitor favorite and open for breakfast, lunch and dinner. Delicacies like lowcountry egg rolls, grilled grouper salads and lump crab remoulade can be found in the restaurant, while the second story Pier View open-air bar is ready to serve up frozen refreshments and craft beers. Second Avenue Pier is located at 110 North Ocean Boulevard in Myrtle Beach and open from 7 a.m. to 9 p.m. most days. A fishing pass is $9. For more information on visiting the pier call (843) 626-8480 or find them on Facebook.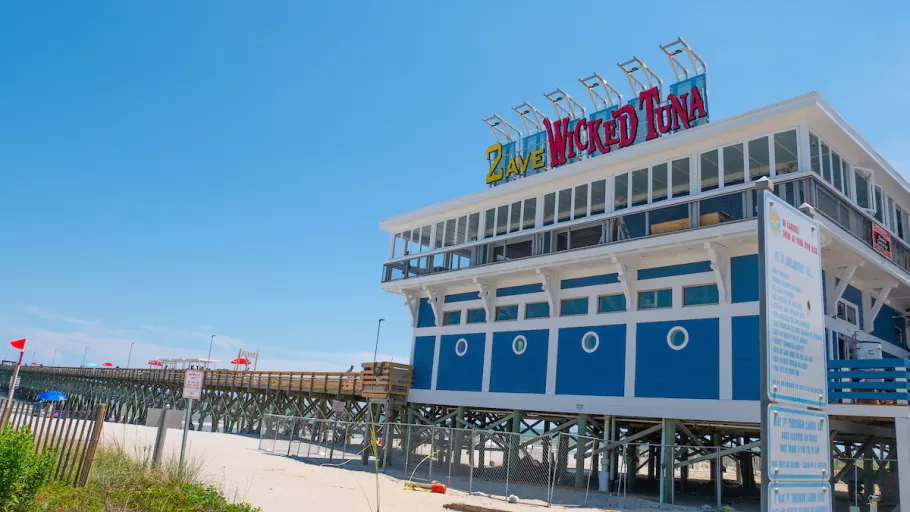 Cherry Grove Pier is the home of a lot of local history. It was first built in the 1950s and held the world record for largest Tiger Shark catch at 1,789 pounds for decades. Today, it's the record for the second largest–but largest in the United States! The 985-foot long, classic, wooden pier boasts some of the best fishing along the Grand Strand. A full-service tackle and gift shop makes it easy for families wanting to fish, and the Boardwalk Beach Cafe is a great spot on the pier to enjoy a frozen drink and beach-friendly fare like hamburgers, hotdogs and fish baskets. The Cherry Grove Pier is located the furthest north along the Grand Strand and is home to a two-story observation deck offering sweeping views of the Atlantic Ocean and Myrtle Beach area shoreline. Fishing season runs from February 1st through December 1st, and fishing admission is $2, with rod rentals priced at $6. The pier is located at 3500 North Ocean Boulevard in North Myrtle Beach and open from 6 a.m to midnight daily. For more information, call (843) 249-1625.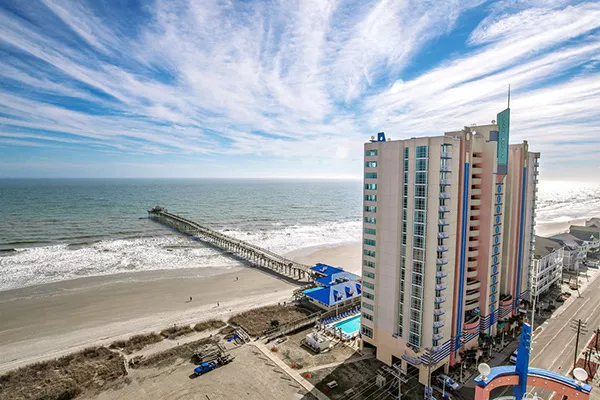 The Pier at Garden City is a longtime family favorite, thanks to its karaoke, free-spirited live entertainment and super fun Pier Arcade. In fact, it's known to locals as the party pier! Located just 8 miles south of Myrtle Beach, and directly in the heart of Garden City Beach, the 668-foot long pier boasts a rain shelter at the end and is free for visitors to walk and enjoy. The Deck Bar and Cafe is open from 7 a.m. to midnight, seven days a week throughout the summer season, and is a great spot to get a hand-dipped ice cream cone. The cafe also serves up seaside favorites like hot dogs, hamburgers and french fries. Live entertainment or karaoke is usually hosted on Friday, Saturday and Sunday nights, and the pier is also located to many other outstanding seafood restaurants and the Murrells Inlet Marshwalk. The pier is located at 110 Waccamaw Drive in Garden City Beach. Fishing is $9.50 for ages 13 or older and $4.75 for ages 12 and under. For more information, call (843) 651-9700.
Myrtle Beach State Park was one of the first state parks to open in South Carolina in 1936. The park is popular for its miles of walking trails, its oceanside campsites, educational programs and its pier. Nature lovers and anglers alike are able to relish in the lush maritime surroundings as Myrtle Beach State Park Pier is perhaps the most quiet and natural pier setting in the Myrtle Beach area. The pier is also home to tackle and gift shop. Visitors to the Myrtle Beach State Park pier enjoy fishing and crabbing from the pier, and rangers are usually around to help anglers and bystanders identify the different species reeled in. Fishing rods can be rented from the pier gift shop for $20 a day. Located just three miles south of central Myrtle Beach along U.S. Highway 17, park hours are 6 a.m. to 8 p.m. Daily fishing pier passes are $8 for ages 16 and older, $5 for adults over age 65, $3 for children ages 6 to 15, and free for children under 5. For more information, call (843) 238-5326.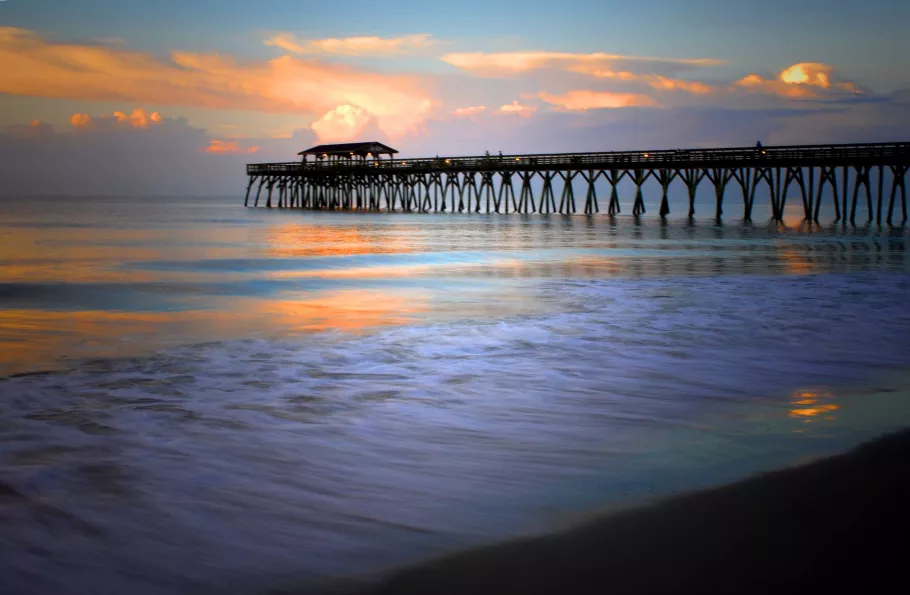 Springmaid Pier
Springmaid Pier is one of the longest and most accommodating piers in South Carolina. It stands at 1,060 feet long and 36 feet wide, with a 110-foot T structure at the end, and it has been voted 'Best of the Beach' more than once over the years. It's the home of numerous fishing tournaments, and also holds the record for the largest Spanish Mackerel catch at 125 pounds. The view is memorable and beyond fishing, vactionners love visiting the pier for its live entertainment and happy hour. Barnacles Bar and Grille serves up great beach eats and cold drinks, and the Doubletree Resort by Hilton Myrtle Beach Oceanfront has a tackle and gift shop for any and all pier visiting needs. Springmaid Pier is open from 6 a.m. to 10 p.m. and it costs $12 per day to fish from the pier. The pier is located at 3200 Springmaid Boulevard in Myrtle Beach. For more information, call (843) 315-7156.
The Surfside Beach Pier was a charming 830-foot long pier, originally constructed in 1953. It was first destroyed by Hurricane Hugo in 1989 before being rebuilt, and then it suffered substantial damage again during Hurricane Matthew in 2016. Currently, the pier is closed to fishing as it's still under reconstruction. Surfside Beach town officials have said they hope for the new Surfside Beach Pier to be open and operational by Summer 2023. Surfside Beach is known locally as the 'Family Beach,' and the pier is equally family-friendly. To get to the pier, follow U.S. Highway 17 South (business) to Surfside Drive and drive all the way to the shoreline. For more information, follow Surfside Beach Pier on Facebook or call (843) 238-0121.