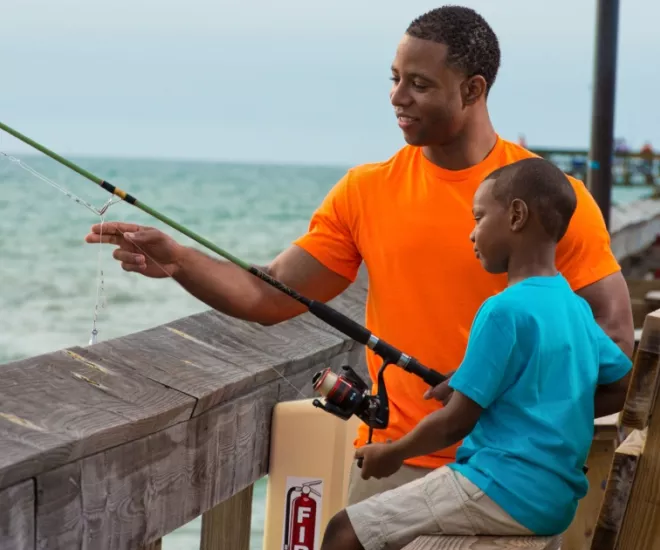 Make It A Fishing Day
Right here in the Myrtle Beach area, we have 60 miles of Atlantic coastline that offers some of the best fishing for those who are looking for the perfect Fisherman's Day!
There is a wide variety of fishing options from saltwater surf fishing, pier fishing, charter fishing boats, freshwater lakes and streams, estuaries, or marsh and lake fishing - you could easily fish in a different spot every day during your stay in Myrtle Beach. There is a variety of fish that frequents the coastal and inland waters from whiting, croaker and spot tail bass to redfish, bull red drum, flounder, to name a few.

For those serious about their fishing, plan a deep-sea fishing charter for a few friends or a larger group with the many professional fishing charters from the Little River area down to Georgetown. These local businesses offer custom, hourly, half-day, full-day, or overnight fishing trips.

If you are more a leisurely fisherman that just likes to relax and let the fish bite, many area resorts and campgrounds have fishing lakes that will provide that low-key fishing time.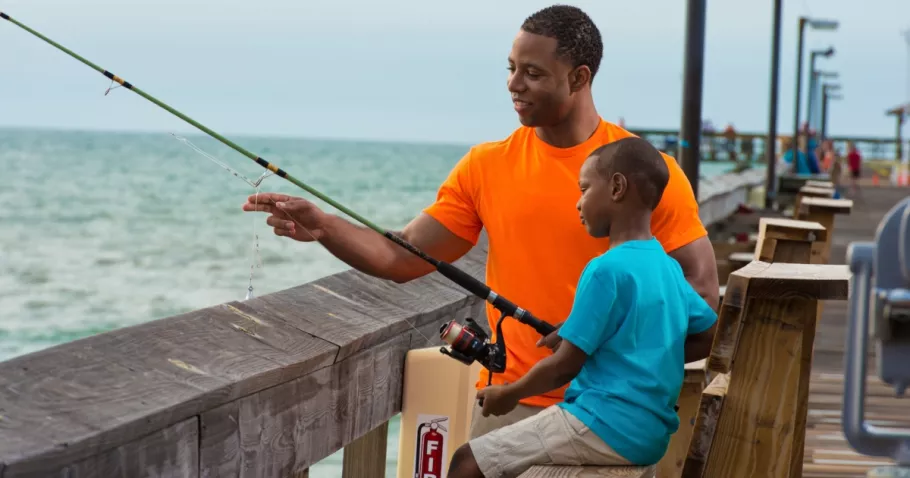 The Myrtle Beach area's 8 piers are a great place to people watch, see a bit of entertainment and of course, spend the day fishing with the family. Bait, rod rentals, and licenses are easily found on nearly every pier in our area. From North Myrtle Beach to Garden City, we have so much to offer pier fishermen.
Apache Pier is the East coast's longest wooden fishing pier and is open every day, year-round, and is located at the north end of Myrtle Beach.
Cherry Grove Pier was built in the early 1950s and is located in North Myrtle Beach and also has a tackle shop, gift shop, and cafe.
14th Avenue Pier is in the heart of Myrtle Beach at 1304 N. Ocean Blvd. and is home to the famous Pier 14 restaurant.
2nd Avenue Pier is the southernmost point of the Boardwalk, at 110 N. Ocean Blvd., and is also home to Wicked Tuna restaurant.
Springmaid Pier recently reopened after repairs were completed due to damage by recent storms. The pier is located at the Doubletree Resort by Hilton, 3200 Springmaid Blvd. this pier has consistently been voted "Best of the Beach".
The Myrtle Beach State Park Pier, located three miles south of Myrtle Beach on U.S. 17, the pier is open during park hours.
The Surfside Pier located at Surfside Drive in Surfside Beach is closed and a new pier is being built after heavy damage due to Hurricane Matthew.
The Pier at Garden City Beach located at 110 Waccamaw Drive is consistently voted "Best Fishing Pier" and is known for live entertainment. 24 hours!
Learn more about the Myrtle Beach area piers.
Get in on the many tournaments! Grab the rush of adventure from a private boat or charter. Go shore fishing or angling on the Intracoastal Waterway or the Waccamaw River. Myrtle Beach has it all! Get on the water for fantastic low country fishing!
Coupons for fishing excursions are online, just select your favorite and print!
Accommodations for fishermen are easily found on our 60 miles of Myrtle Beach coast and lodging deals are year-round! Book your perfect fishing vacation today!