Chicken Bog: In Pursuit of the Myrtle Beach Area's Most Quintessential Local Dish
I'll never forget the moment when I first learned that the whole world didn't know what chicken bog was. It was in the early 80s when I was a teenager. I hadn't given it much thought up until then but had grown up thinking that chicken bog was just as common to everyone as meatloaf or pizza.
The culinary bombshell was dropped on me by our family minister. I'm not sure how our casual conversation outside of church turned to chicken bog, but then we were Baptists, a food-oriented denomination to say the least.
He explained that, outside of Horry County where Myrtle Beach is located, people had really never heard of chicken bog. I was astonished. I had traveled a good bit around the country with my family on summer vacations by that point, but it had never occurred to me that I had never seen chicken bog on a menu elsewhere.
Frankly, I had never seen chicken bog on a menu around here. Aside, from diners or restaurants that specialized in country cooking, as they called it, chicken bog was something that was made at home and only by certain people. I'm not sure how they were chosen, but there were only a handful of specialists within a family, church or community who created it and they never shared their recipe.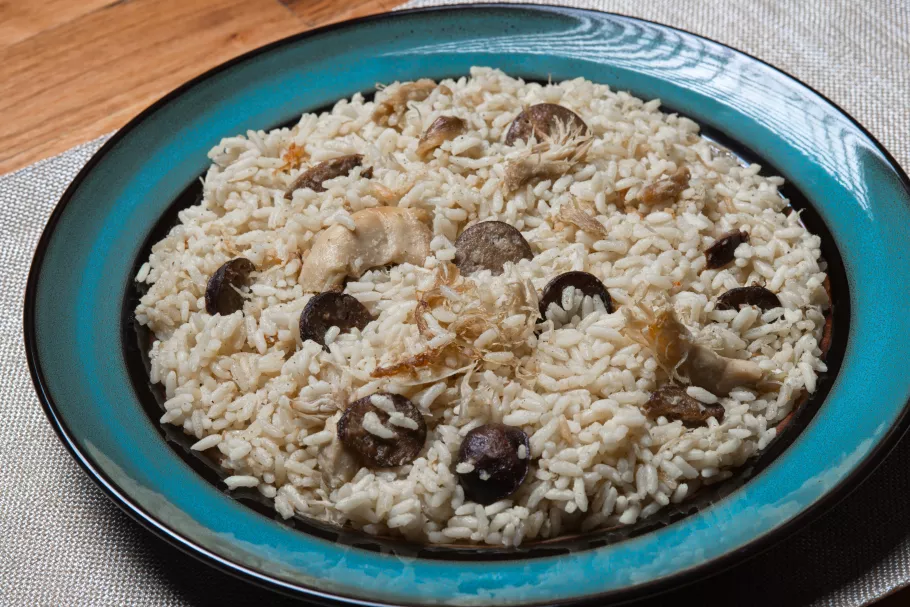 The three main ingredients are chicken, rice, and sausage. Everything else is kept secret. You would never see it in a cookbook. I cringe when I search the Internet and find countless recipes for it now. It feels like sacrilege. Don't they realize that only revered elders or beloved church ladies are allowed to make it? Well, I will reluctantly accept that the whole world now has access to it  (I had always thought they did to start with).
Chicken bog can be a side dish, an entrée, or an event. It was understood that, if a church in Horry County was having a potluck (a.k.a. an eatin' meetin') or the like there would be a few different selections of chicken bog on the table. And you had better sample every one for fear of offending any of the cooks. No one was ever officially declared as having the best, but everyone had their favorites. I would always make a beeline to the pot that had my dad's Aunt Lucille's name on it. You simply couldn't have a church dinner without it.
Chicken bog featured prominently in both church and state functions in these parts. Specifically, it has always been the entrée served at the biannual Stump Meeting at Galivants Ferry. Since the late 1800s, the Holliday Family of the Galivants Ferry community has hosted political candidates up on the stage that is attached to their country store.  As the name implies, those Nineteenth Century speakers who started this tradition would step up on an old tree stump to address the crowds. Today, spectators gather-- parking nearby in the family's pecan grove-- and grab a plate of chicken bog before listening to the political hopefuls.
But the mecca for chicken bog lovers is the annual Loris Bog-Off. It's that small town's major festival that shuts down the streets and fills up the stomachs of all who make the pilgrimage there each fall.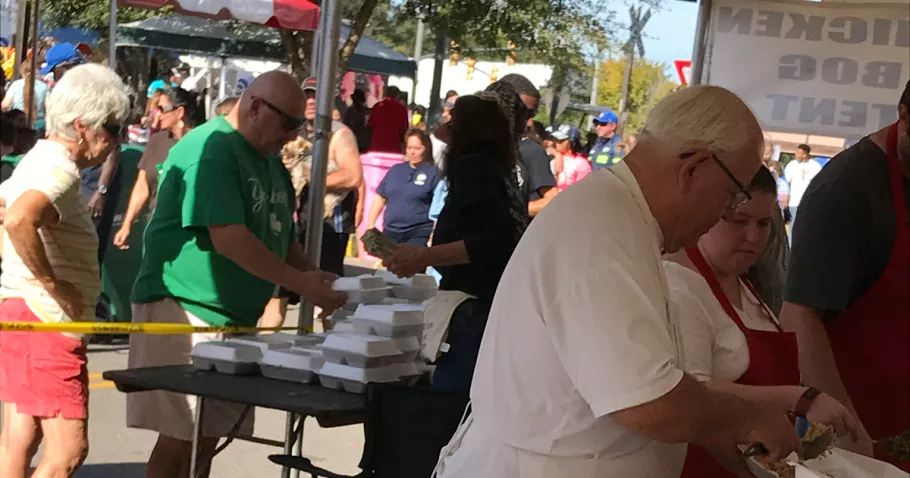 However, during the time that you are in the area, if there isn't a church dinner, stump meeting, or bog-off going on for you to attend, you can still enjoy the experience of discovering chicken bog for yourself. The relatively few restaurants that carry it only serve it as a side, and it may not even show up on their online menus. But I know of a couple on which it does.
Affectionately known as "The Trough" to most Horryites, Big D's BBQ Trough is an institution over in Conway.  If you want to go where the working locals of this area eat lunch, then The Trough is for you. My mouth is literally watering as I write this. We have had them cater parties, and reunions, and now, as the cooks in our family are getting on up in age, we have them provide our annual Christmas dinner.
For most of the meals that we order, the BBQ or fried chicken is the entrée with the chicken bog as a side. Be sure to have the slaw with the BBQ. It is a heavenly combination. However, if we are hosting a political fundraiser, then the chicken bog takes center stage. Theirs is a menu that will make any occasion memorable.
Here is their online invitation to you:
Our buffet is all you can eat! We have been in the BBQ business since 1972. Our recipes have been gathered over generations from our family with strong roots in the south and its tradition of barbeque and soul food. Bring the whole family and experience our down home cookin' for yourself. You'll never forget your first time! You'll be back for more.
In Myrtle Beach, try Simply Southern Smokehouse. Their website invites you to enjoy both their food and the talents of their staff who sing while bussing tables. One of those folks has become a local legend.
In the words of our former governor, Nikki Haley, to Isaac Collington, Jr., "You make South Carolina proud." This was her handwritten note at the bottom of a letter she sent to him in September 2016, after reading a local newspaper article about the impact his life has had on others for decades as a busboy in Myrtle Beach. In her letter, she says, "You are a wonderful example of what can be achieved through faith and determination, and I thank you for serving as such an awesome inspiration for others."
The article spanned almost his entire life from when he started as a busboy at 14 to the present day. He's essentially worked for the same restaurant the entire time. The restaurant itself, however, has been owned by four different families under three different names in two different locations serving two different types of buffets. Isaac is the one constant. He busses tables at lightening-speed, sings gospel songs between table clearings, and sometimes sculpts balloons into hats and animals for his adoring fans. The joy he brings to his work is inspiration enough but add to that his testimony of personal triumph over drug addiction with the help of his first employer, church, and wife of 30 years, and the impact he has on those he serves is taken to a whole new level.
Parents and grandparents who know what he's been through, bring the teens and pre-teens in their lives to meet Isaac and hear what drugs did to him and how he was able to overcome their influence. High school and college coaches who have brought hundreds of teams from the Ripken Experience to eat at the restaurant want their teams to know Isaac's story. One lady on a return visit from out of town told the manager that, by profession, she is a motivational speaker and that she always tells her audiences about Isaac as he is an example of making the most of your profession no matter what it is. Families arriving in Myrtle Beach for a week in the summer call the restaurant first to find out which nights Isaac's working. They literally plan their vacation around his schedule and usually come more than once.
His reputation has grown with the advent of social media. Through the years, there have been dozens of posts on the Internet of Isaac footage clearing tables, singing gospel, or giving his signature Woo Woo when he collects a tip left for him after a meal. Among the restaurant's good reviews online, some patrons use those platforms to devote heartfelt reviews of Isaac himself who has touched them more deeply than anyone else in the hospitality industry could.
It's as if he never has a bad day. If you ask how he is, he often replies, "Blessed, and highly favored." Whatever issues he may have, he checks those at the door when he clocks in and devotes himself entirely to the people he serves. He doesn't just sing "This little light of mine, I'm going to let it shine." He lives it. Because of his unparalleled enthusiasm for his work and the inspiration that he is, Isaac was named the Myrtle Beach Area Chamber of Commerce's Hospitality Employee of the Year in 2017.