Celebrate Memorial Day Weekend with the Myrtle Beach Military Appreciation Days Parade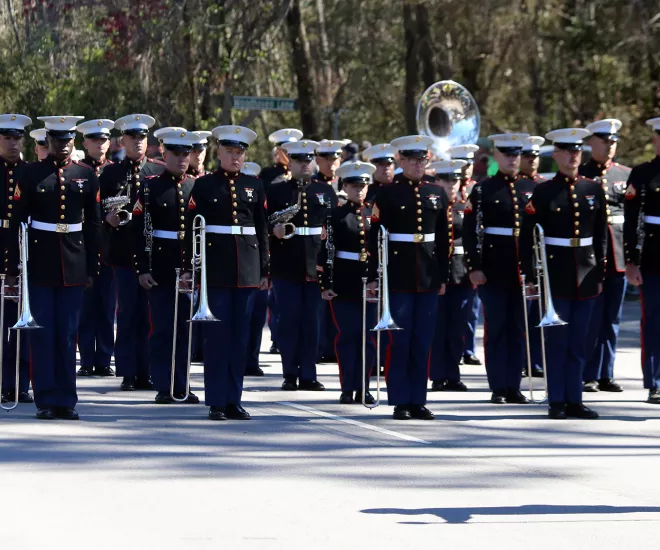 Weather Notice: Due to inclement weather expected in the area, the Military Appreciation Days Parade 2023 has been canceled. An alternate date will not be scheduled.
Myrtle Beach has always been a wonderful beach resort, but from World War II to 1993, it doubled as an impactful military town as well.  Our rich military history is particularly honored throughout the month of May with our Military Appreciation Days celebration.  One of the highlights of those festivities is the Myrtle Beach Military Appreciation Days Parade.
This year's parade will be held on Saturday, May 27, 2023, from 10:30 AM to noon.  And its route is quite significant as it will be winding throughout the Market Common District which was once the Myrtle Beach Air Force Base.  Spectators can line the streets of Pampas, Howard and Farrow to see all of the participants. 
What they may not realize is the significance that those latter two street names hold. They are two of the district's most prominent thoroughfares, but neither of the men for whom they are named were ever stationed in Myrtle Beach. 
Brigadier General Jim Howard was a WWII fighter pilot who was the recipient of the Congressional Medal of Honor.  He earned that distinction in the skies over Germany in 1944, when he single-handedly disrupted an enemy attack on a formation of B-17 bombers in an engagement that witnesses called the greatest display of combat flying ever seen. 
He was invited to Myrtle Beach on December 7, 1956, as the guest of honor at the Reactivation Ceremony of the 354th Fighter Day Wing (later called the 354th Fighter Tactical Wing).  That was the unit assigned to our base. 
Howard had been a veteran of the original 354th during WWII.  That specific number was used again in 1956, to honor the heroes such as Howard and the men who flew with him in that unit.  The mustang that appears on the later 354th shield is a nod to the P-51 Mustangs Howard and the others flew during the war. 
An even more prominent roadway is Farrow Parkway named for Lieutenant William Farrow, a native of Darlington, South Carolina.  He was the pilot of the last plane to take off in one of the highest profile secret missions during World War II.  On April 18, 1942, eighty men on sixteen B-25 bombers took off from an aircraft carrier, the USS Hornet, and were the first to bomb Japanese soil after the attack on Pearl Harbor.  They were the Doolittle Raiders.
Named for the aviation legend and the mission's mastermind, Lieutenant Colonel Jimmy Doolittle, who led them, each crew completed their assignment, but all of them ran out of gas and couldn't make it to the rendezvous point in China.  Most survived by bailing out, crash-landing or ditching in the water.  Some were taken as prisoners of war by the Japanese.  Farrow was one of them.  He was executed the following October by firing squad and his ashes are interred at Arlington National Cemetery. 
During the base's time, there was a prominent street called Farrow Boulevard.  The commander who oversaw the construction of the base from 1954 to 1956, was Colonel Robert Emmens.  He too was a Doolittle Raider.  My guess is that it was he who chose to honor his fallen comrade in such a significant way.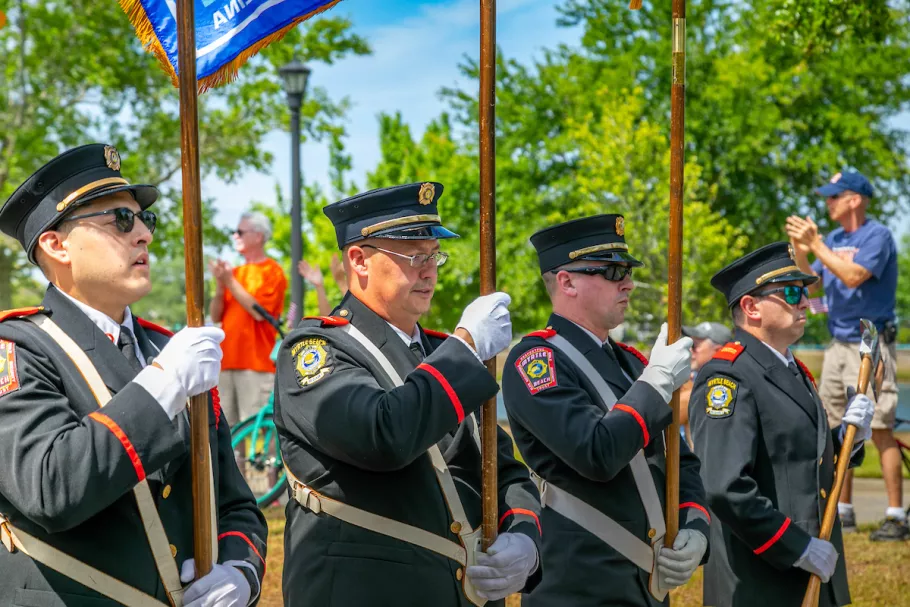 The parade route will pass by Valor Memorial Gardens known to us locals as Valor Park.  It not only honors those who are or have been MIA or a POW, it is the site of many fun public gatherings and after the parade will be another, the annual Family Picnic.
Everyone is invited for a free lunch, live music and to see military exhibits and displays.  A short walk away across the bridge over Grand Lake (which is where the dormitories were back in the base's time when there was no water feature there at all) they can visit The Vietnam Traveling Memorial Wall that will be next to Crabtree Memorial Gym.  A Remembrance Ceremony is scheduled for 2 PM that Saturday.  It is sure to be a meaningful recognition following the picnic.
Part of the live music during the picnic will be performed by a Vietnam War veteran, Steve Bassett.  He and his wife, Judy, relocated to Myrtle Beach about ten years ago from Howard County, Maryland.  In addition to being a musician, Steve is a pilot, business owner and a former sports broadcaster.  Judy is also a vocalist and a horsewomen.  While in Maryland, she worked for the National Parks Service in Washington, DC. 
If they weren't interesting enough, they have a daughter who now thinks of Myrtle Beach as her second home.  You may have heard of her.  She stars on NBC's Quantum Leap as Addison Augustine.  She is the actress, Caitlin Bassett.
There is a tradition when selecting the Grand Marshal of the Military Appreciation Days parade.  They are all celebrities who have a military background.  We've had Buzz Aldrin, Montel Williams, John McCain, and many distinguished others.  This year is no exception.  United States Army Staff Sergeant, Retired, Caitlin Bassett will do the honors in 2023. 
She grew up on her family's small horse farm outside of Baltimore, Maryland, and joined the Army at the age of 18.  According to her biography distributed by the City of Myrtle Beach, "Caitlin spent seven years as an intelligence analyst, attaining the rank of staff sergeant.  She completed three combat deployments, two in Afghanistan and one in Qatar.  She also worked at the U.S. National Security Agency (NSA) in Hawaii and NSA Main in Maryland before being honorably discharged in 2015."
After she leads the parade, Caitlin will be on hand at the Family Picnic to greet fans. "I'm so excited to be included in this wonderful memorial alongside my father," Caitlin says.  "I'm incredibly honored to have the opportunity to join the Military Appreciation Days celebrations with the great community of Myrtle Beach."
The Military Appreciation Committee spearheads the efforts of many local groups and organizations, the City of Myrtle Beach and the Myrtle Beach Area Chamber of Commerce to bring this celebration to life each year. 
Other events include: 
Fourth Annual Veterans Victory Walk – 6:00 a.m., Saturday, May 27, 2023, Grand Park, 1119 Farrow Parkway, https://bit.ly/4thAnnualVictoryWalk
Jack Platt Veterans' March with Battlefield Cross Ceremony – 9:00 a.m., Monday, May 29, 2023, Along Ocean Boulevard, 16th to Ninth Avenues North
Memorial Day Remembrance Ceremony – 11:00 a.m., Monday, May 29, 2023, Myrtle Beach Convention Center, 2101 North Oak Street
Courage in Korea:  A Soldier's Story (Free Military Documentary) – 2:00 p.m., Monday, May 29, 2023, Grand 14 Cinema, 4002 DeVille Street
Festive Brass Concert Performance – 7:00 p.m., Tuesday, May 30, 2023, Ballroom ABC, Myrtle Beach Convention Center, 2101 North Oak Street
Also, The Beach is a great place to plan your next military reunion! There are opportunities for self-guided military experiences, but there are also, from September to March, monthly military history trolley tours with a catered reception hosted by a historic figure who was part of the Myrtle Beach Air Force Base's past.  Discount tickets are available.  Custom tours can also be created for your group. 
There is a lot of military history to be shared in Myrtle Beach.  We look forward to introducing you to it.  Thank you for your service!