Celebrate Memorial Day Weekend with the Myrtle Beach Military Appreciation Days Parade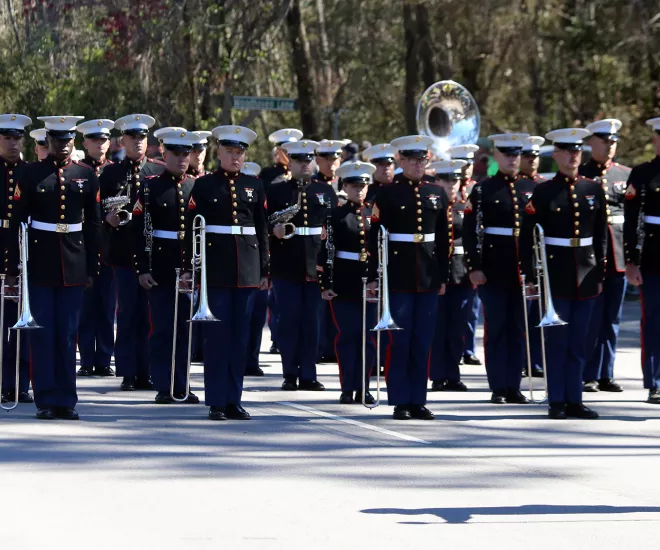 Celebrate Memorial Day Weekend with the Myrtle Beach Military Appreciation Days Parade
WWII Veterans Will Have a Special Honor
We are proud to uphold and honor Myrtle Beach's military history during Military Appreciation Days over Memorial Day Weekend. We salute all those who have served, are currently serving, or who have lost a loved one for their service to our country. A highlight of this celebration is the annual parade through the Market Common District.
The City of Myrtle Beach is doing something a little different this year in order to acknowledge our quickly-disappearing, WWII  Community.  In lieu of one Grand Marshall for the parade, veterans of the Second World War will be our Honorary Marshalls. 
They will be joined that day by the Parris Island Marine Corps Band.  Established in 1915, their primary purpose is to provide musical support for approximately 40 Marine recruit graduations a year and perform at other military ceremonies and events.
The Military Appreciation Days Parade is sponsored by the Myrtle Beach Area Chamber of Commerce and begins at 10:30 AM on Saturday, May 28th, on Farrow Parkway in the Market Common District. After the parade, the festivities continue at the Family Picnic held in Valor Memorial Garden, located between Farrow Parkway and Howard Avenue at the intersections of Nevers Street and Hackler Street.
If you are an active or retired military member, please check out our Military Discounts packages for your next vacation at The Beach. Thank you for your service!