Best Pizza Places on the Grand Strand
Mama mia! There are oodles of pizza places on the Grand Strand – nearly one on every corner. But before you decide on where to spend your dough, I'd like to share a list of some of the best pizza in Myrtle Beach, whether dine-in or delivery. 
A bite about it: Quirky and fun atmosphere for the whole family to dine in (or carry out), Mellow's creative stone-baked pizza pie varieties are finished in their buttery parm crusts. The menu also includes a fair share of other fare, including sandwiches, salads, and a lineup of craft beer.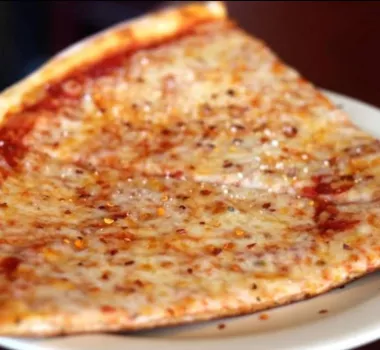 A bite about it: This south-end pizza place is a locals' favorite restaurant, serving up traditional Italian pies for dine-in, carryout or delivery.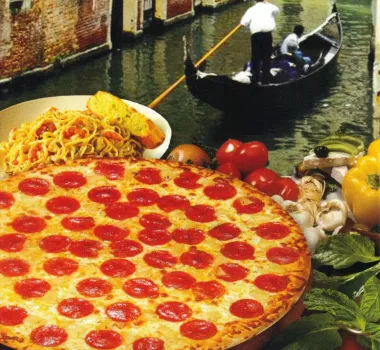 A bite about it: Located within the Food Lion shopping complex in Myrtle Beach, Capriccio has been a long-standing storefront – and for good reason. Their tradition and mantra has been to serve "authentic Italian food, just like grandma's."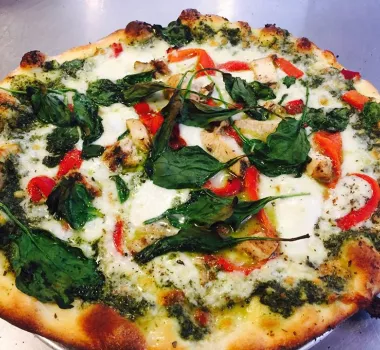 A bite about it: This Italian bakery/deli/pizzeria has been around for decades in The Market Common – going back as far as the tail end of the lifeline of the Myrtle Beach Air Force Base. They're known for their pizza, but also their legendary Italian hoagie, fresh-baked cannoli, and outdoor bocce ball court.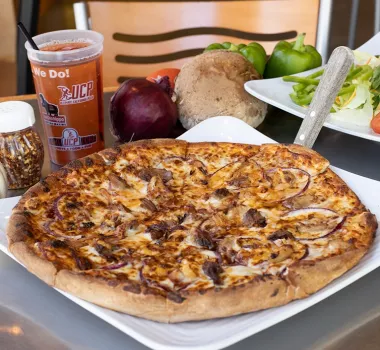 5.
Ultimate California Pizza (UCP)
A bite about it: Surf's up! This local pizza franchise reigns big among the crowds on the coast, with UCP's menu of pizza, subs and more to dine in or carry out.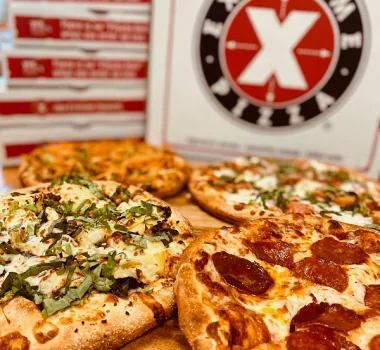 A bite about it: Located with the Broadway at the Beach entertainment complex, the Extreme Pizza franchise definitely takes its name seriously, featuring fresh-baked, handcrafted gourmet pizzas, salads, subs, and more.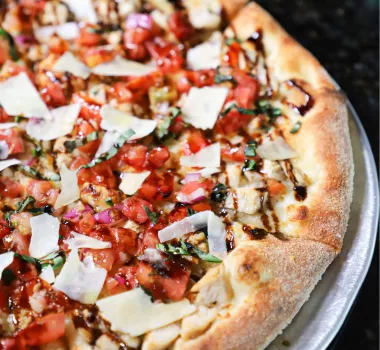 7.
Hot Tomato Italian Restaurant and Brick Oven
A bite about it: Sandwiched in between Dirty Don's Oyster Bar and River City Café (and only a couple blocks from the beach), Hot Tomato is a hotspot for their New York-style brick oven pizzas – and tiramisu made from scratch daily.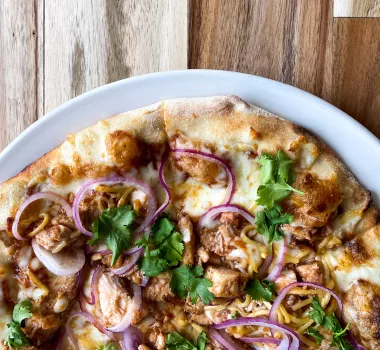 8.
Brixx Wood Fired Pizza & Craft Bar
A bite about it: Dine in or carry out from this regional chain on the north end of the beach that focuses on locally sourced ingredients and thin crust pizzas pulled from their brick oven.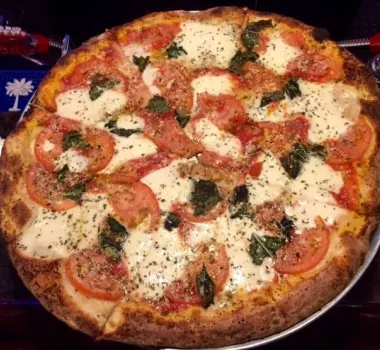 9.
Calda's Coal Fire Pizza
A bite about it: Calda's is actually a standout section of the menu offered at Ron Jon's Sports Bar that patrons have fallen in love with over the years because of its New York-style pies and unapologetic sports bar surroundings.
A bite about it: This Carolina Forest landmark is known by its neighbors for some of the best pizza south of New York City, homemade cheesecake, and affordable prices.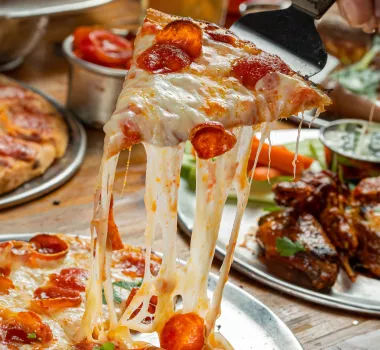 A bite about it: Sit outside the Hyena and feel the ocean breeze right off the Surfside Beach Pier. You'll love the wild-fired pizza, laughs and beer served up here, with names like the Hyena Balls, S'nailed It escargot pizza, and much more.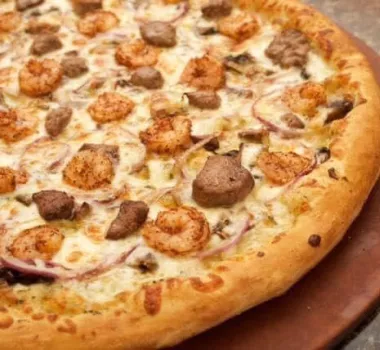 A bite about it: Not to get too cheesy, but that's exactly why patrons remain loyal to AJ's: their quality, melted mozzarella – and their habit for not skimping on it. (Available for takeout or delivery only.)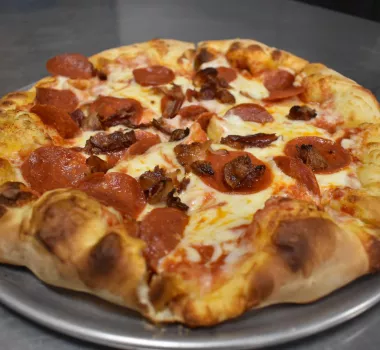 A bite about it: Little Italy stays true to serving authentic Italian pies and dishes, including pastas to pesce to pollo creations and more.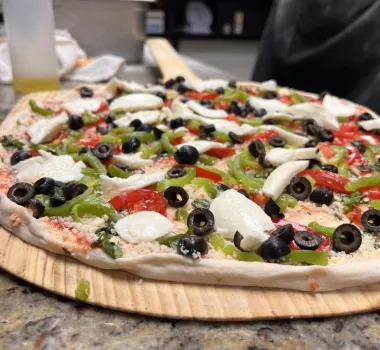 14.
Vicini's Restaurant and Pizzeria
A bite about it: Calling Rainbow Harbor home since 2015, Vicini's features a small, intimate space and some of the best pizza around, from the crisp crust, cheese and sweet tang to the sauce.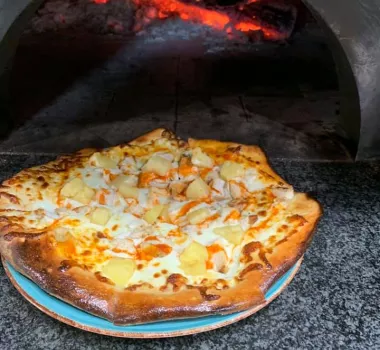 A bite about it: Located within Broadway at the Beach, Melt puts a spin on the typical pizza offerings, with wood-fired options like the baked potato pie pizza and pulled pork pizza. They also have artisan grilled sandwiches available and relaxing patio seating.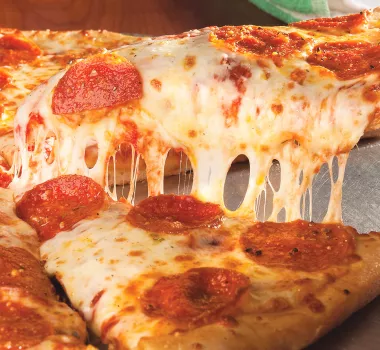 16.
Dough Boys New York Style Pizzeria
A bite about it: Dine in, take out, or order delivery from this longtime Surfside Beach area staple that's been around for nearly two decades. Their specialty is in the name: hand-tossed, New York-style thin crust pizza. They make fresh dough for the pies, homemade bread for the subs, and grate their own blend of mozzarella cheeses.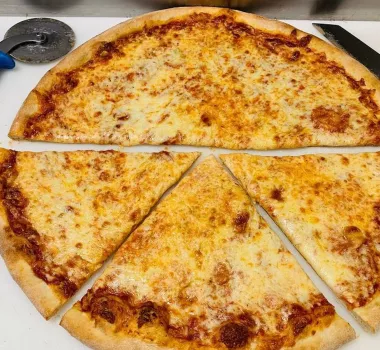 17.
Scatori's Pizzeria & Italian Restaurant
A bite about it: This pizzeria, located within the South Strand Commons plaza, doubles as a bustling takeout and casual dine-in eatery and, on the opposite side, a more upscale Italian restaurant. Either way, you can't go wrong.