Make It A Simply Relaxing Day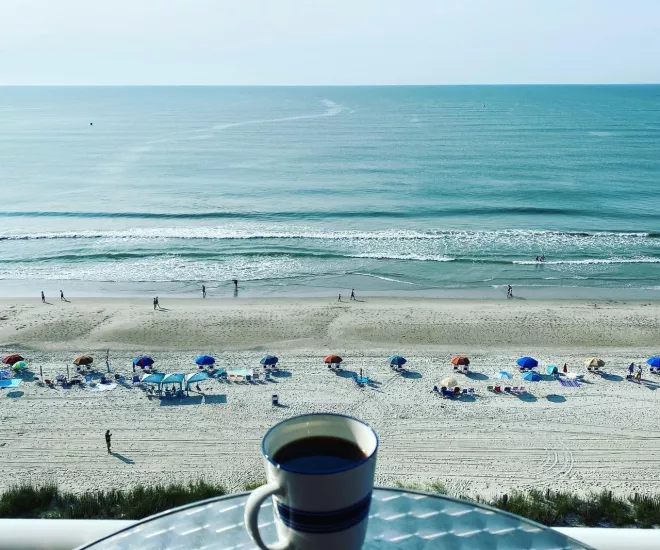 If The Beach is your happy place where you can finally relax and de-stress, then this is the itinerary for you! Myrtle Beach is filled with exciting attractions and an hundreds of things to do, but it is also the perfect place to slow down and enjoy the comfort of the ocean waves rolling in. Here in Myrtle Beach we are all about Southern hospitality, characterized by slower way of life, cherishing moments with family and the people you love.
It all starts with finding the perfect hotel or rental beach house that allows you to unpack your suitcase and feel at home. You can browse our wonderful accommodations - we recommend finding a place to stay with a balcony or porch, where you can feel the ocean breeze or watch the sunrise. 
Wake up each morning with a cup of coffee and soak in the glorious sunshine. The Beach is sunny 215 days a year, so you will have plenty of sun to enjoy whenever you decide to visit. Then, you can head down to the beach for a long, relaxing walk, or just to sit in the sun all day. Bring a good book, your favorite snack or some music to listen to - this is your day at the beach, so make it filled with your favorite things! 
For a truly relaxing experience, book a massage or facial at one of the many spas in the Myrtle Beach area. Several of the resorts also have in-house spas and packages when you book your stay. This is a great way to relieve any built-up tension and return home after your beach vacation stress-free. Browse a few of your options on our blog!
If you don't want to sit on the beach every day of your vacation, book a tee time at one of the 90 golf courses in the Grand Strand. You can either walk or ride the course and take in the beauty of your surroundings. Many of our golf courses are located on marshes or the Intracoastal Waterway, giving your stunning views as well as a leisurely day outdoors. 
You can also stroll around Brookgreen Gardens in Murrells Inlet, the largest outdoor sculpture garden in the world. The gardens are immaculate and set off the beautiful sculpture perfectly under magnificent oak trees. It is easy to spend an entire afternoon walking around the gardens and exhibits, as well as relaxing on benches throughout the garden. 
In the evening, watch the sunset over the marsh at the MarshWalk in Murrells Inlet. There are seven different restaurants located along the MarshWalk, a boardwalk and pier, where the sounds of live music and smell of fresh seafood drift over the saltwater marsh and inlet. Sit and relax with a beverage and some excellent food - you don't need to be in a hurry!