The month of April is special for families with autism. It is a national month of recognition, celebration and education for the general public about autism. The SkyWheel® in Myrtle Beach took this celebration one step further and lit the wheel with autism colors of red, blue and yellow! What an amazing tribute! To top it off, I was able to take a ride too!
The Myrtle Beach SkyWheel is like many of the large ferris wheels found around the world. They range in size from 200-300 feet tall. Most major cities like London, Niagara Falls, and Singapore offer rides to give their visitors a bird's eye view of their city. But a few of them offer spectacular views of the shoreline too and the Myrtle Beach SkyWheel, the first of its kind in the United States, is one of them. I took my ride with three other people including two adults and an 11 year old boy with autism. I think I was the most nervous of the bunch, but as soon as we were on board, I felt safe and excited. One huge perk of visiting the Myrtle Beach Skywheel is that if you show your CAN card when you buy your tickets you can skip the line and avoid the loading wait.
Loading is very simple and a family of 6 can fit comfortably. It can also accommodate a wheelchair or scooter. Each individual car is fully enclosed and climate controlled. The ride is so smooth that you hardly realize you are suspended in the air! However, should anyone in your party need to get off, there is a help button and you will be assisted off the next time you reach the unloading station. If you are super adventurous, there is a car with a glass bottom and you can also invest in the VIP treatment for an extra cost which gives you a double flight, lanyard and photo package. Other options include sunrise rides and special occasion rides. Check their website for more details.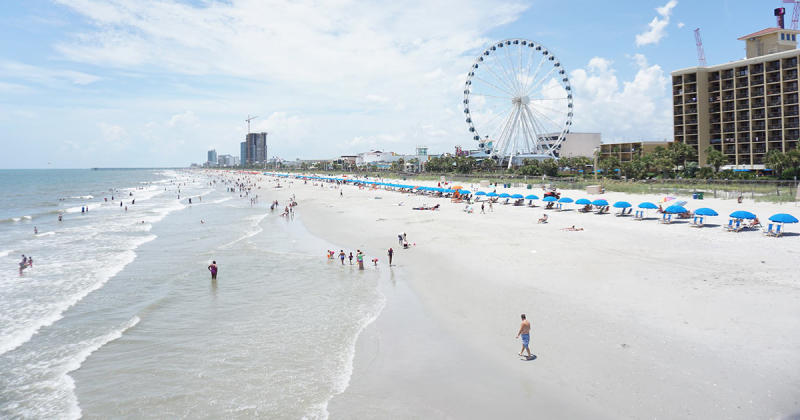 But let's not forget what we saw from the wheel. I took a sunset ride, and it was amazing! We had the darkness pouring over the ocean on one side and the city lights glowing on the other. Amusement park rides, reflective windows and brightly lit cars were everywhere. My young companion enjoyed seeing all of the cars from up top, and he could identify them all by make and model. The cars that were painted with chameleon finishes and lit hubcaps took most of our attention.
I was delighted by the loving treatment our party received. Even when our youngest guest informed the photographer that the bright light was bothersome, the photographer took it all in stride. We did bring some challenges, but it was all received with grace. In order to get to the front of the boarding line be sure to invest in your CAN card. Champion Autism Network, based in Surfside Beach, has a collaboration with businesses to offer perks to their card holders. It's useful at many attractions, resorts, restaurants and service providers and one card works for the whole family. You can get your card for Grand Strand attractions and learn more about the Sensory-Friendly resources in Myrtle Beach by visiting our Autism-Friendly Travel page.