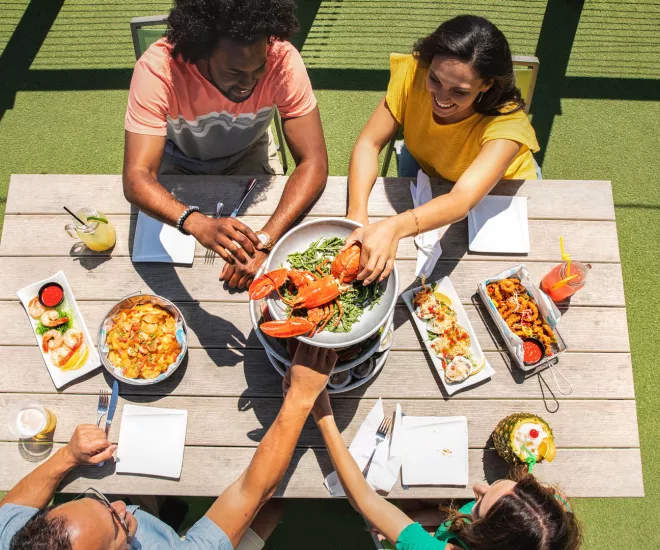 What's a trip to The Beach without finding the perfect beach cocktail to match? There are dozens of beach bars up and down the Grand Strand that serve everything from Rum Runners and Bucket drinks to cold draught beers and frozen piña coladas. Here are the Top 10 oceanfront bars and restaurants to stop for a drink or a bite to eat (plus a few more we just couldn't leave off).

Two Myrtle Beach locations
Loco Gecko Beach Shak serves up "Hot nights and Cool drinks" at both of their Myrtle Beach locations. Enjoy views of the Atlantic and sip on cold beer or frozen specialty drink while snacking on seafood baskets, burgers, pizzas, sandwiches and fresh wraps. You'll love the casual atmosphere and easy-going spirit at Loco Gecko.
1210 N. Ocean Blvd., Myrtle Beach, SC
RipTydz Oceanfront Grille and Rooftop Bar is located right along the Myrtle Beach Boardwalk and is a great place to stop for a drink and a snack and even a delicious meal. They've got more than 17,000 square feet of restaurant and bar space plus an additional beach spot for cornhole. Enjoy live music daily!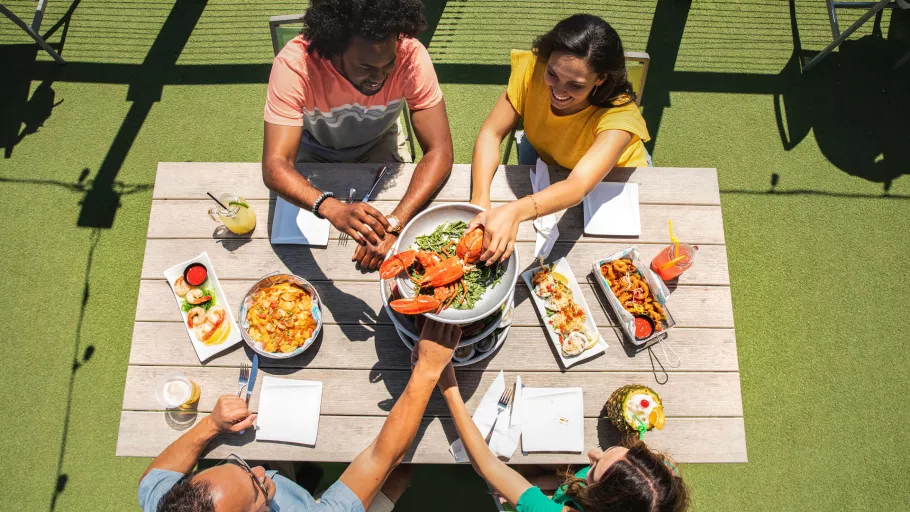 2002 N. Ocean Blvd., Myrtle Beach, SC
Bummz Beach Café has been a beach bar staple in Myrtle Beach for several decades and that doesn't seem to be changing anytime soon. They have a small indoor bar and a large outdoor deck with another bar and plenty of seating – all with beach views. Grab a chair in the salty ocean air as you sip on a famous Bummz Beach Relief made with raspberry vodka, coconut rum and pineapple and cranberry juices.
Coconuts Tiki Bar & Grill
400 N. Ocean Blvd., North Myrtle Beach, SC
Coconuts is the only oceanfront tiki bar in North Myrtle Beach and the perfect way to spend your day watching the waves crash in. The super casual beach bar has great outdoor seating, happy hour specials and plenty of drinks featuring The Naked Turtle White Rum!
1110 N. Ocean Blvd., Myrtle Beach, SC
Ask for your favorite frozen concoction at this beach bar along the Myrtle Beach Boardwalk. LandShark Bar and Grill also serves up the beer with its very name along with a long list of Margaritas (Fins to the Left) and more specialty drinks (Fins to the Right) on the drink menu. Enjoy amazing ocean views and even a light show during the night from the SkyWheel next door.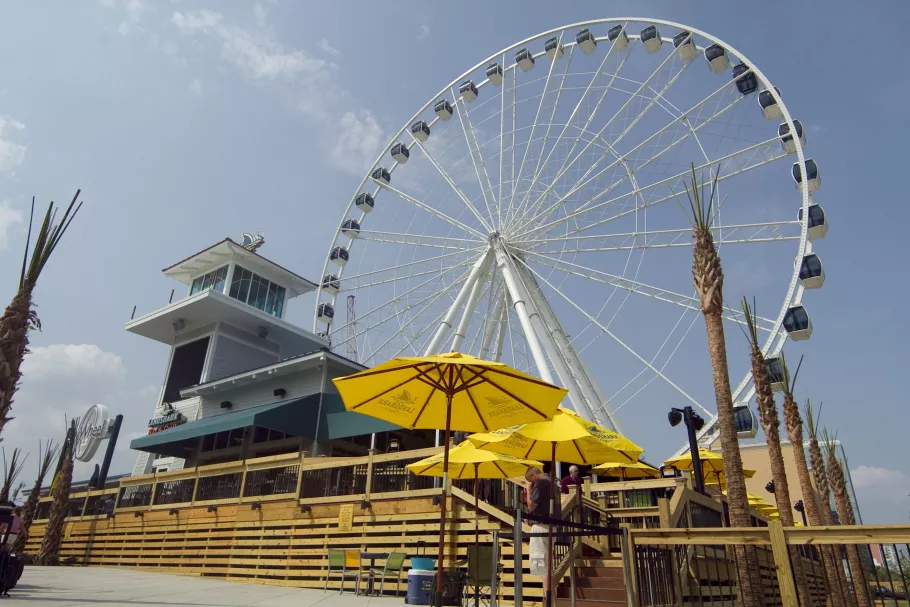 1701 S. Ocean Blvd., North Myrtle Beach, SC
Molly Darcy's is a famous oceanfront bar in the heart of the Crescent Beach section of North Myrtle Beach. They have a stage indoors for live DJs and entertainers and a huge deck out back with fantastic ocean views. As the name suggests they also serve up plenty of Irish fare and beers!
9550 Shore Dr., Myrtle Beach, SC
The open-air bar at Ocean Annie's is the perfect setting for happy hour or a beach cocktail all summer long! This iconic beach bar has tons of outdoor seating as well as spots around the bar plus a stage for live music. Grab a cold beer or frozen drink, hop in the pool and dance to your heart's delight at one of the hottest party spots on the beach.

100 9th Ave. N., Myrtle Beach, SC
There's nothing quite like a corner bar right along the Myrtle Beach Boardwalk to welcome you to town. Ocean Front Bar and Grill is a casual bar and restaurant that offers great food, good company and phenomenal views (plus great people watching). This historic site even dates all the way back to the 1930s as a beer garden built over the beach!
600 N. Ocean Blvd., Myrtle Beach, SC
This laid-back beachfront restaurant and bar is great for families and casual gatherings with friends. Sharkey's Beach Club offers a long list of cold beverages including the Hula Hooch Bucket filled with 32 ounces of tropical juices and three types of Cruzan rums. They also have fantastic lunch, dinner and late night menus.
1410 N. Ocean Blvd., Myrtle Beach, SC
Tin Roof has three bar spaces plus an open-air rooftop bar to serve up some great spirits to its many guests. They have a stage for live music and have an amazing list of rotating bands and artists throughout the year. Try out one of their 16 draught beers or a long list of cocktails including the Salty Watermelon Margarita, Frose, Painkiller or the Kentucky Kool-Aid.
More Myrtle Beach Bars Worth Mentioning
8th Ave Tiki Bar & Grill

Funky downtown bar with an eclectic menu and more than a dozen drinks and draught beers.
Sea Captain's House Outdoor Bar

The ShipYard Open Air Bar out back at this famous Myrtle Beach restaurant can't be beat!
Scotty's Beach Bar

One of the top bars in Surfside Beach for karaoke, drink specials and ocean views!
St. Clement's Beach Bar

This local favorite is tucked behind a resort in Myrtle Beach with a non-descript order up bar.