Savannah's Playground: The Southeast's First Enabling Playground
I have so many photos of my son at playgrounds around the country. It didn't matter where we were traveling, we were going to seek out a playground. We've been to wooden ones, vintage ones and modernized ones but never have I seen a playground as beautiful as Savannah's Playground in Market Common.
Savannah's Playground is open to the public, free and fabulous for kids of all types but especially those with special needs. This playground was developed and designed with a special person in mind, Savannah Thompson, who has Williams Syndrome.  Savannah's playground is a three million dollar, multi-acre park, filled with ADA compliant equipment and is wheelchair accessible. To meet the needs of all ages and abilities, the playground is broken into zones such as early childhood playground, school age playground, and interactive playground. There is also a section called Harmony Music Park which encourages creativity and music making right on the spot. Some of the more specialized equipment at the playground includes adaptive chairs on the zip line  and on the swings.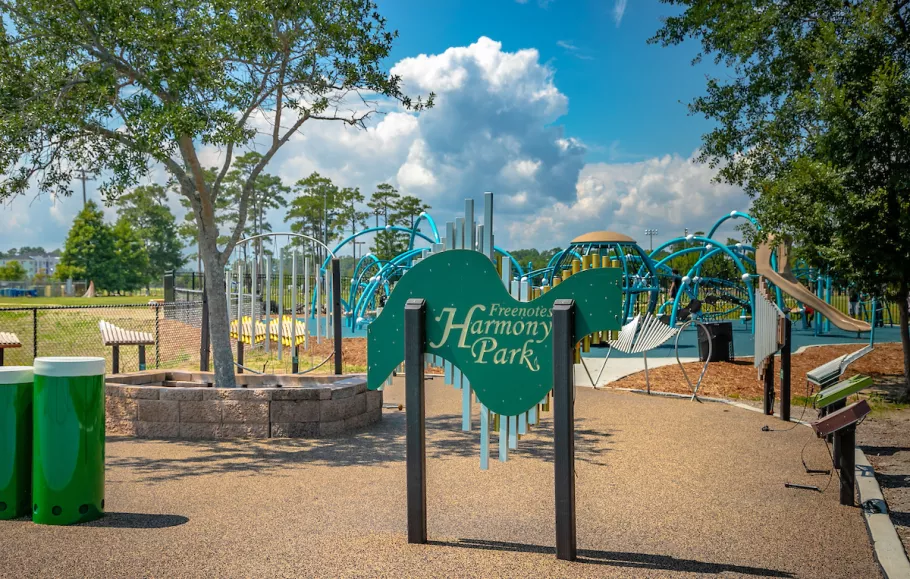 There are many specialized details at this park good for any kind of child. The footing is made of soft, springy rubber. Throughout the park, children will find items that exercise eyes, ears and hands. Near the parking lot is a garden maintained by the Myrtle Beach Gardening Club. Its main purpose is to supply a sensory experience of texture, color and scent but it also adds a whole lot of beauty. If your child likes slides they have choices of straight slides, fully covered tunnel slides and open-topped spiral slides. Climbing structures are available in all heights and styles. Sit and spin structures are available in all areas of the park. If you'd like to experience some spinning or rocking with your child, a few of these rides easily fit bigger kids like yourself! Another delightful design feature is the use of umbrellas over the play equipment, copious benches and a watering station to refill your bottles. The one thing that makes all parents happy is the easily reached public restroom. 
I know when my son was young his gross motor skills were not strong so I had to accompany him around the equipment. If you have a child that is strong and independent, and likes to escape fenced areas, keep in mind that the gates exit the park right to the beautiful ponds and are often wide open.
It's guaranteed that your little ones are going to get hungry but you won't have to go far to find food. Just outside the main gate is a collection of food trucks. The day I was there, there was only one, but it was a pretty special one. Southern Scoops and Treats is a family run business from Murrells Inlet. Their truck, named Granny, is a tribute to their grandmother and treat chef who makes the cakes, cookies and brownies. Other offerings include ice cream and drinks in many forms. I must go back and try the southern tradition, banana pudding ice cream! They even offer food for people with lactose or gluten sensitivities. Southern Scoops and Treats is at the playground Monday through Friday from 10 until 4 P.M. or later. If you need something more substantial, all of the Market Common restaurants are a short distance away. Another advantage to this fabulous location is that more independent family members can visit the stores, catch a movie, go bowling or walk around the lakes. They may even catch a softball or soccer game while family members are at the playground. Options abound!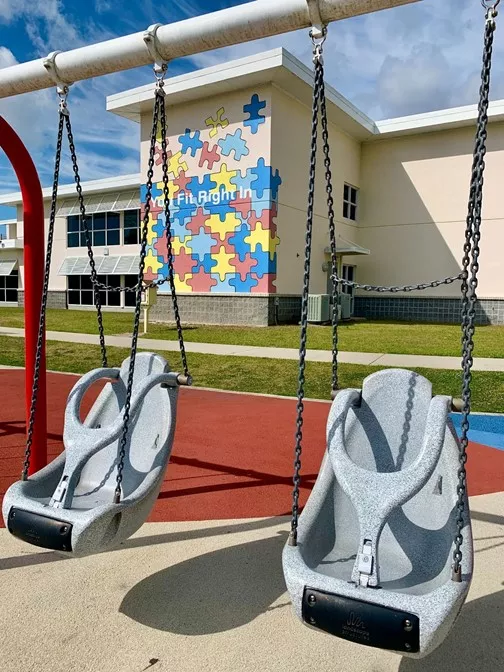 Savannah's Playground is open from 8:00 a.m. to 8:00 p.m., May through September.  Each Tuesday is maintenance day, so Savannah's Playground opens later at 12:00 p.m. Hours are shorter during off-season months. Check their facebook page for updates.