On Location: Murrells Inlet, South Carolina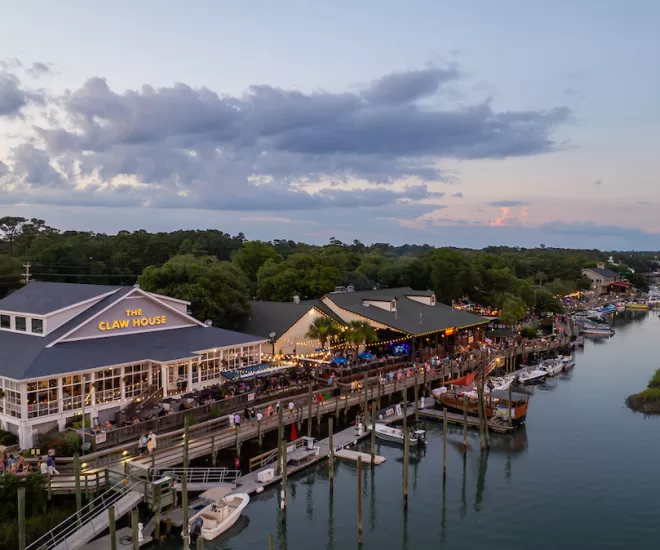 Today we are visiting the Seafood Capital of South Carolina! Where are we talking about? That's right - we are in Murrells Inlet, South Carolina, only 13 miles south of the heart of Myrtle Beach! This historic fishing town is both quaint and swanky at the same time, with live music on the MarshWalk almost every night.
The MarshWalk is a half-mile long boardwalk that spans along the marsh and is home to eight unique establishments that serve up the best of coastal cuisine, a staple of the Myrtle Beach area. You will find iconic restaurants like Drunken Jack's, Dead Dog Saloon, Wicked Tuna, and a new restaurant, Neptune's, along this trail of seafood eateries. Read about all the MarshWalk restaurants in this blog post. There is really nothing like it!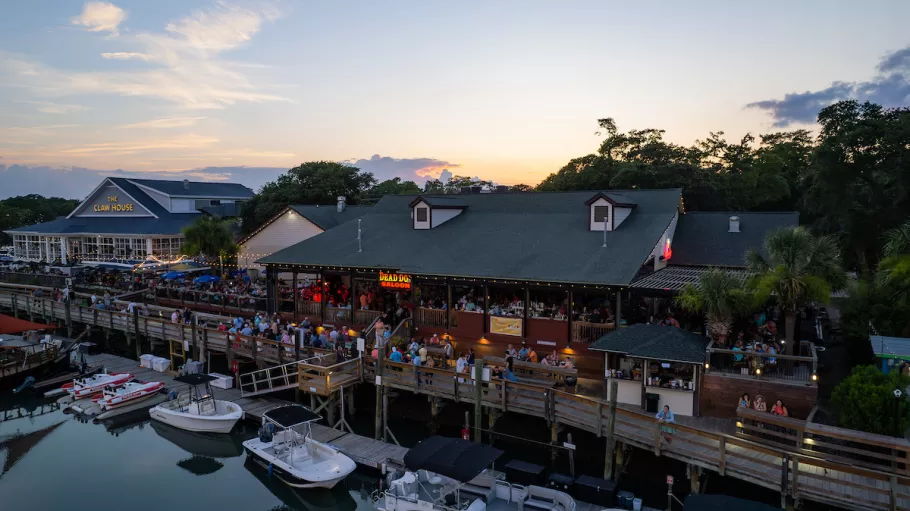 Since Murrells Inlet is located, well, on the inlet, the water is calm and wave-free making it the perfect location for fishing and watersports, such as kayaking and stand up paddleboarding. Visit Express Watersports where you can rent paddleboards, kayaks, jet skis and more or sign up for a guided tour. There are multiple fishing charters that leave from the Crazy Sister Marina, and other locations along the MarshWalk that feature both inshore and offshore fishing.
Blue Wave Adventures offers relaxing sunset cruises and dolphin tours. These cruises may be one of the best ways to see the inlet and the spectacular nature that resides in it.
Grab a casual dinner at the Hot Fish Club, one of the oldest restaurants in the Grand Strand. History has it that this restaurant has been operating in some form since the 1700s. The Hot Fish Club is always ready for good times, cold drinks, and fresh seafood!
For more gorgeous scenery, visit Brookgreen Gardens, a vast sculpture garden that blends art, nature and history together. Archer and Anna Huntington founded Brookgreen in 1931 as a cultural center for the community and it is now home to more than 900 sculpture works strategically presented among the outdoor garden. Many of the sculptures were actually created by Anna Huntington and displayed as an ode to her dedication to the arts.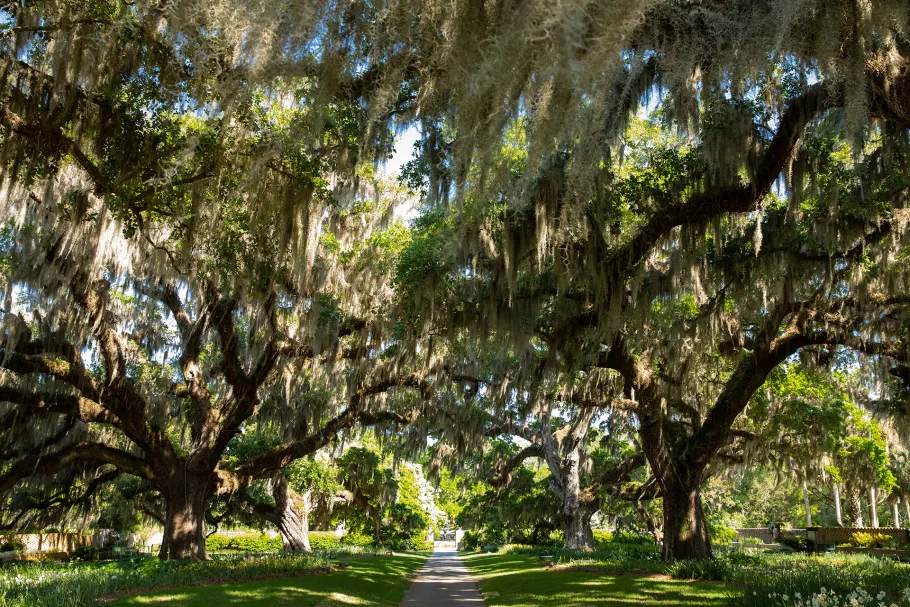 Brookgreen Gardens hosts an award winning event during the holidays called "Nights of a Thousand Candles", where the entire garden is lit with twinkle lights. It is truly a sight to behold that visitors and locals have been marveling over for years. For more information, visit our event calendar.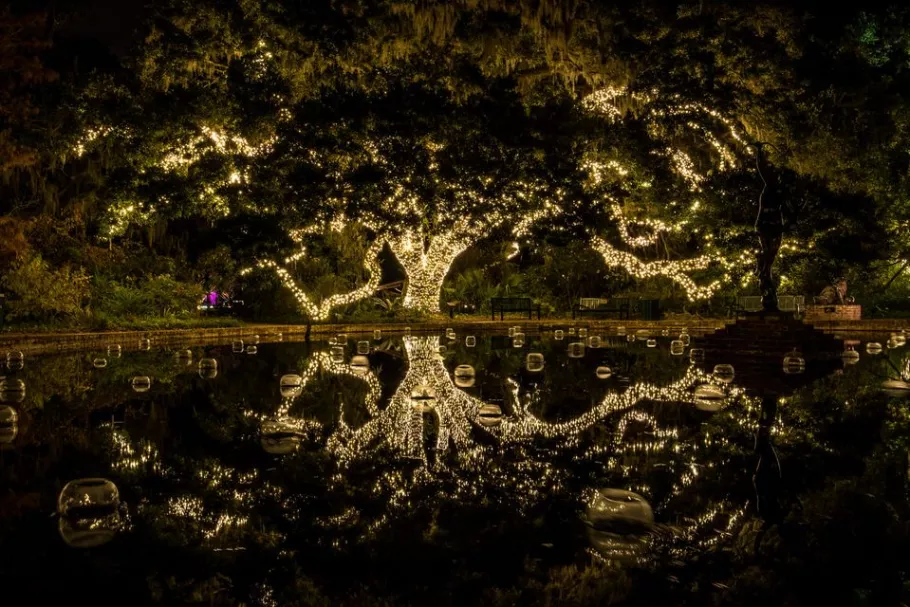 Near Brookgreen Gardens is the beautiful Huntington Beach State Park, the second state park in the Myrtle Beach area. Huntington Beach State Park spans 2500 acres of coastal land preserve, boasting some of the best bird watching in the area. Huntington Beach offers educational classes for all ages as well as a public beach access. Also located inside the state park is Atalaya Castle, the Moorish-style winter home of Archer and Anna Huntington. Atalaya Castle is open for tours during the week and the picture-perfect backdrop for your next photoshoot.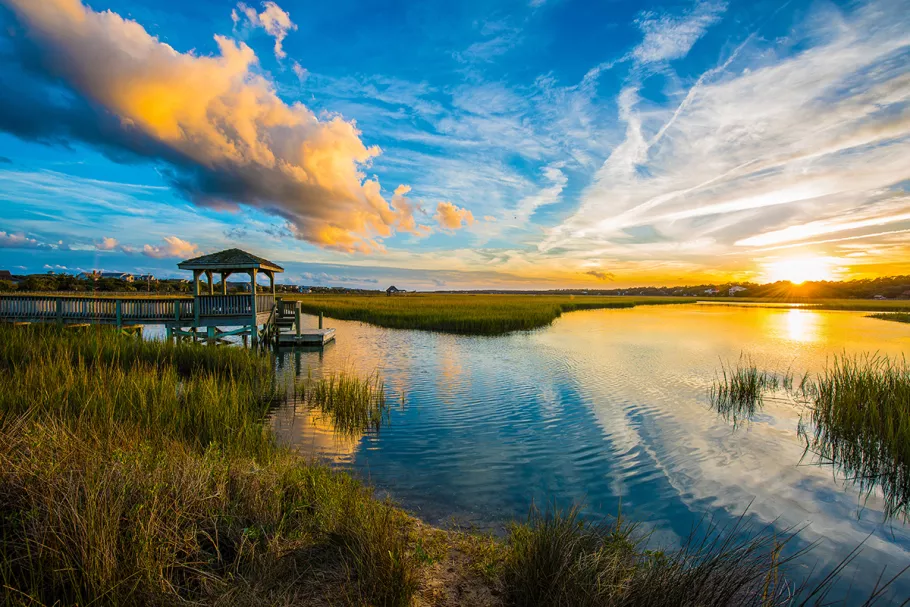 Murrells Inlet is the epitome of slow, Lowcountry living, with fresh seafood and live music galore, making this community a must-see while visiting the Grand Strand. Learn more about the other 14 communities across the Grand Strand! 
Murrells Inlet Videos
How to Cook a New Orleans Favorite, Crawfish Monica
It's spicy but packed with flavor - Chef Dylan is making Crawfish Monica, which he called Crawfish Angela after his wife. This dish is easy and comes together in minutes. You can also able to sub out shrimp or chicken if you don't have crawfish on hand. Try this New Orleans dish the next time you need to kick it into high gear in the kitchen!
How to Cook a Scamp Grouper Sandwich
Dylan is cooking up a scamp grouper sandwich with a fresh brussel sprout slaw with red peppers and carrots on this episode of On the Hook! This recipe is perfect for a warm summer day to get dinner on the table fast and packed with flavor.
How to Peel and Clean White Shrimp
Peeling a shrimp can be a mystery if you aren't familiar with all the tricks and tips! Dylan shows us the easy way to peel a shrimp and the tools that can help make it a breeze.
Beyond The Beach: Explore Murrells Inlet, SC
Murrells Inlet is a fantastic destination just south of Myrtle Beach, SC! It's the seafood capital of South Carolina and it's a lot of fun! For fishing, watersports, and dining and entertainment enjoyment, check out Murrells Inlet!
Myrtle Beach Karaoke at the MarshWalk
Julio and crew head down to the Murells Inlet Marshwalk to check out some of the area's best seafood & live music spots including Dead Dog Saloon, Wahoo's, Creek Ratz. Sing along with local musicians and visitors to songs by Zach Brown Band, Eric Church, Edwin McCain and plenty more!